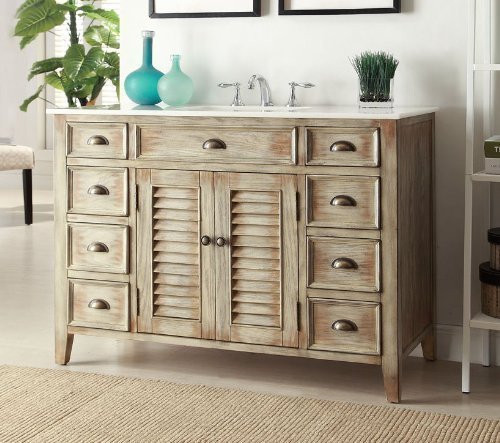 The 46 Inch Bathroom Sink Vanity – Benton Cottage Style Abbeville is Only curbside delivery is available.
Please provide a daytime phone number for delivery purposes.
The Abbeville Vanity 46  has a plantation-inspired look. And this cottage-style sink cabinet will add casual elegance to any bathroom decor.
With shutter-style doors and faux finish. This bathroom vanity offers a look that will create a relaxing retreat in any home.
The digital images on our listing are as accurate as possible.
You will receive your 46 Inch Bathroom Sink Vanity – Benton Cottage Style Abbeville
Fully assembled by the manufacturer. With sink and countertop pre-installed
You need to know that the white marble countertop is one large genuine piece.
And that due to the nature of natural stones, it's normal for stone countertops and sinks to have variation.
These Variations can be in color and texture. So it is possible you will find discolored spots, pores and veins. Those are what we call "birthmarks" and not imperfections.
Therefore, these AAbbeville Vanity 46 tops are NOT considered defective.
However, different monitors may cause colors to vary slightly
Disclaimer: Cabinet finish may appear darker in different lighting please be aware.
You need to avoid any dirt or stain to get into the stone. Therefore we highly recommend to seal any stone surfaces before installation & operation.
TIP
Backsplashes for the abbeville vanity 46 are optional. however. However, due to high freight damage occurrences. Most seller only ship a backsplash with a vanity. In addition there are no extra freight charges. As long as the vanity and the backsplash are shipped together.
In the event that the backsplash is received damaged or broken, it will not be replaced only refunded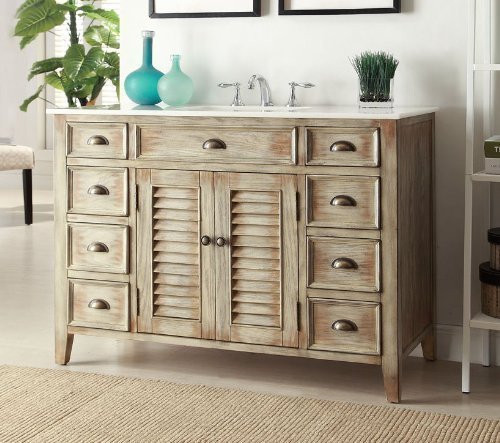 Abbeville Vanity 46 Features:

White under mount porcelain sink
All side drawers are functional, 8 in total.
Large storage compartment, back panel pre-cut opening for easy plumbing access
3 holes – 8″ widespread Faucet set sold separately for $125
Matching mirror NOT inclusive in price;
Size: 30 x 38″H, check out seller's other listing with the mirror listed
Optional backsplash available; Cost $75 contact seller to add (no additional freight when shipping with vanity together)

Order your new Abbeville Vanity 46 Today!
Price: $795.00 + $149.00 shipping
(as of 03-2019 )
We also have a smaller 24″ Bathroom Vanity
Purchase the perfect Faucet for your new Vanity:
Delta Windemere Bathroom Faucet with Metal Drain Assembly, Oil Rubbed Bronze
Q&A
What is the vanity made of? real wood? plywood? what?
Answer: Real wood. We really love it! I was nervous ordering online, but the price was so much cheaper than what we found in stores. We get so many compliments on this vanity. Make sure to specify in-home delivery if you want them to carry it to your bathroom!
By Kathleen D on February 19, 2017 I bought this vanity to install in a house at a beach community. It looks great. I found it to be sturdy and drawers work well. I cannot tell you what the materials are but it does not look cheap. Lots of compliments from people who have seen the vanity.
By NKB on February 19, 2017 We live on a really narrow street and they got to our house…I think it was a small truck? But I didn't specify in-home delivery and they left it on my front stoop! Our only complaint is the top drawers stick a little. Question:
How deep is this cabinet? Answer: The cabinet itself is exactly 21″ deep. The marble top extends over the top of the cabinet by 3/4 of an inch, therefore making the total depth of the cabinet 21 and 3/4 inches. Hope that helps you make a decision. It is a very well built piece of furniture.
By Katie on July 7, 2017 Hi
It is 34″
Question:
Is there a backsplash
Answer:
No there is no backsplash. We tiled a 6 in a mosaic backsplash on the wall in the back and side of the vanity
By P. on August 1, 2017 No
By Hunter on August 1, 2017 I see there is a backsplash if you order it online through them. https://chansfurniture.com/collections/abbeville-series-1/products/46-distress-beige-abbeville-bathroom-sink-vanity-w-matching-mirror-cf-28325w-mir Question:
what material are the drawer pulls, and do they come in antique bronze Answer: it is metal with antique- brownish finish Question:
how deep are the drawers Answer: 7 1/2″ wide x 13 1/2″ in length. There are two smaller drawers and six of the same size. In addition, you can store quite a bit under the sink.
By Gram in the Shadow on May 2, 2018 The drawer measures 7.5 x 13.5 inches Normal depth
By Christopher W. on May 2, 2018 Question:
What are the dimensions of the sink?
Answer: I'll measure tonight and get back with you tomorrow, although it is a bit smaller than expected, I added the brushed bronze fixtures and it looks great!
By Customer on January 23, 2018 15 1/2″ x 10 1/2″, approximately 6″ deep
By Customer on January 26, 2018 Approx. 15x12x7.5"
By Chans Furniture on January 23, 2018 Question:
Can you send me pictures and prices for the mirror and the backsplash on model # cf28325? thank you, Gilbert Pereira Answer: Yes we can
please send us a direct email for the pictures
By Chans Furniture on March 21, 2018