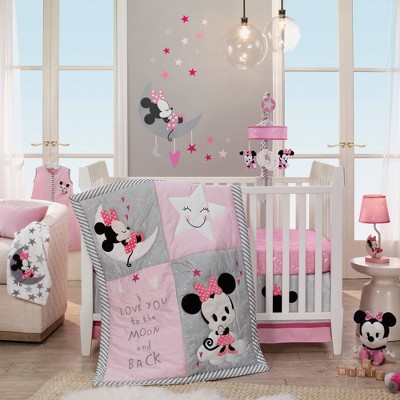 DECORATING IDEAS FOR A BABY NURSERY
First, Let's talk Color Scheme
As always when you redecorate we need to decide on a color scheme first, if you don't know your baby gender yet, it is best to stick to pale yellows, lilacs, or cream colors for a baby nursery. Each one of those will be a good foundation. And will be suitable for both boys and girls, infants and toddlers. If however, you are determined to go with pinks and blues, you can make the look more flexible by keeping the colors pale as well. Because should you picked wrong you can adjust the color theme by adding accent colors in bright primary colors.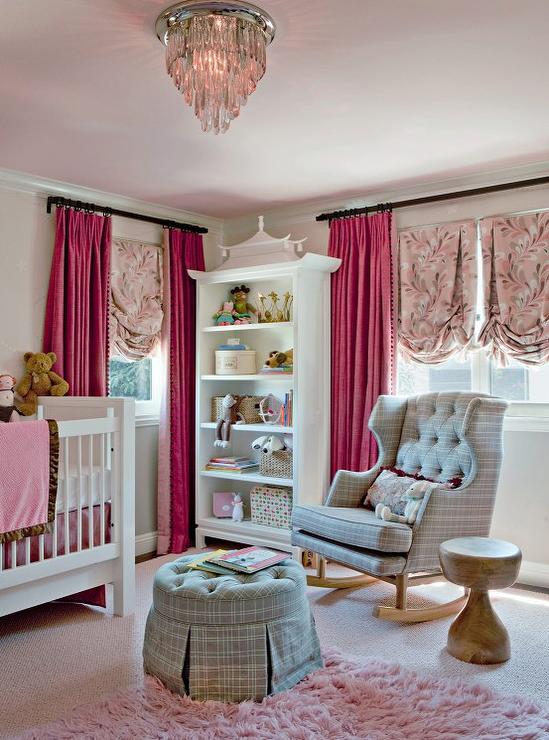 You can find a large assortment of stick-on borders that are easy to remove and change as your baby grows. Look at borders with blues, yellows, lavender, and sage or grass greens. Then pick up the border colors in your baby linens, lamps, curtains, mobiles, and dressers.
You can paint an existing dresser in one of the border colors, and then easily repaint it when your child decides he or she has a favorite color. You can also decorate dresses with stickers or hand paint designs on the wood.
Choose A Baby Room Decorating Theme
Decorating a baby nursery has more to do with eliminating options than coming up with new ideas. To give yourself a guide line you should decide on a theme for the room and select your decoration based on the chosen theme.
For example you could decide to go for a "sponge bob square pants theme" and paint your room halfway in a darker blue to create an ocean with fish and the sponge bob characters as stickers. And the upper part in a sky blue some birds and you can get a net to hang it into a corner of the room to catch some toys. Or go for Teddy Bears or Alphabet Letters and Dice or keep it plain since the little one most likely will not even spend that much time in there jet.
To choose a theme for baby room decorating, start by brainstorming those ideas for decorating baby room that you find most pleasing. Remember that you'll want it to be something that your baby will find enjoying to first learn and recognize.
For example, here are the steps to implement a teddy bear theme in yours baby room:
* Walls – to decorate the baby room walls with teddy bears, you can either stencil , paint a mural, or add some wallpaper. To me the easiest would be to use some wallpaper border that you can run on top or as a chair rail all around the room.
* Floors – many people don't even think about the floors as a part of decorating a baby room. However, the floors really do finish the look, with hardwood, soft carpeting, or pleasant throw rugs.
* Bedding – it is extremely simple to find adorable teddy bear baby room decorating ideas for bedding. There will be ample sets to choose from in every store you visit. Just make sure that they are of good quality, are machine washable (and dryable), hypoallergenic, and, of course, are very soft.
To finish your baby room decorating, you could start a collection of Bears on some floating shelves.
Furniture
Because of its classic & elegant look as well as its reliable quality solid wood furniture would be your best choice. However, I understand that this might not be in everybody's budget. If that's the case, you should pick pieces like a dresser, shelving or closets in a solid-wood quality. Because, those items you can continue to use for years to come. Other than for example the crib, that your little one outgrows in just a few years.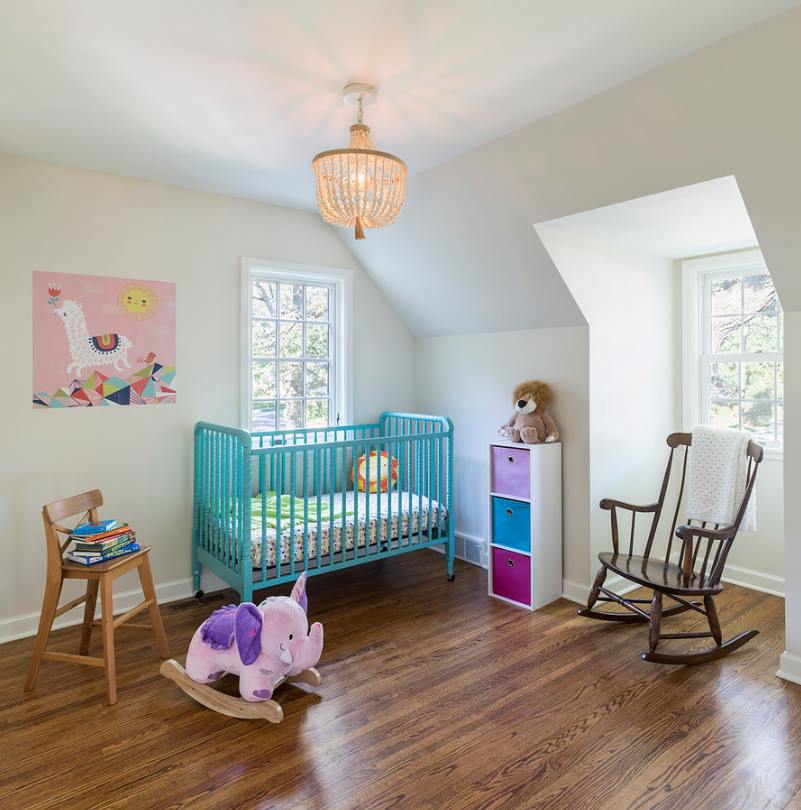 2. Next, we take a closer look at your baby nursery may the furniture
The Rocking Chair
If you are decorating a baby nursery, you absolutely must include a rocking chair. You will find this item to be a sanity saver as your baby finally falls asleep in your arms. And you may even drift off yourself if the rocker is sufficiently comfy.
Either make or buy soft, deep seat cushions and pillows for your back in one of the colors on the walls' border. Try a print fabric with an accent color for the seat cushion, and blue or lavender solid fabrics for the back rest pillows.
But how do you choose a good rocking chair. Below are some tips on how to choose a rocking chair that is right for you?
Rocking chairs began to appear in the late 1700s when someone ingeniously thought of adding skates or rockers to the bottoms of adult furniture, similar to a child's rocking cradle or rocking horse.
6 Tips on choosing a Baby Nursery Rocking Chair
1. The first thing to ask yourself is where are you going to put your rocking chair? If indoors by the fireplace or the family room, you can choose a cushioned or timber rocking chair made of light maple or yellowish oak. Or if outdoors in your garden or front porch, you can choose a sweetly-scented cedar, a painted Brazilian cherry wood or teakwood durable enough to withstand the elements.
2. A very important priority in rocking chairs is comfort. Rocking chairs have been used for therapeutic purposes – John F Kennedy's rocking chair being a famous example. It is said that President Kennedy found hours and hours of relief for his bad back from this Appalachian oak rocker which has a steam-bent curved backrest and woven seat made of Malaysian rattan.
To start with here are a few points that you want to find in your new rocking chair to optimize its comfort:
– The rocking chair should provide seating comfort and support
– The chair setting must be low enough for comfortable elbow support
– Both armrests best be wide enough to rest your arms and provide a good balance
– Seats better slant downward and the back should support the lower back as well.
3. Is the rocker pitched correctly?
In layman's terms, does the rocking chair provide a smooth and even rocking motion without tipping, even when you are in the reclining position? Or does it feel like you are about to flip backwards when you are rocking? Does a single push keep the rocking chair rocking for a few minutes or does it stop after only a few seconds?
4. Was the rocking chair constructed using techniques that have been proven to result in stronger and more durable rocking chairs that can withstand everyday use? Some of these techniques include construction without glue, interlocking joinery and the famous Maloof technique of using seven laminated strips of wood to strengthen each of the long, elegant skis that are used in his rocking chair designs.
5. What style of rocking chair will fit your decor? Do you want an upholstered rocking chair or do you want to see the timber's natural wood grain enlivened by an oil finish? Do you want charming white wicker chair or casual rattan? How would you prefer the back of your rocking chair – traditional ladder back horizontal slats, vertical slats or woven cane? Do you want it stained, oiled, varnished or painted?
6. What's your Budget?
Regardless what your budget is, it looks like you can find something in any price range like the $20,000 Sam Maloof with a two-year waiting list for the ultimate in rocking chair experience. Or a used white wicker rocking chair for $20 on eBay.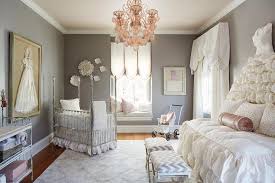 3. A Good Quality Baby Nursery Crib
In the beginning the Baby Crib will be just a crucial to your baby nursery as your rocking chair. Keeping your eye on safety element of the crib is Key. Look for Safety Certificates and test all function on the sales floor.
Bassinets for example, while beautiful as center piece in any nursery are sadly not you best choice for your baby. Its walls for example are not high enough to confine a crawler. You are usually better of to purchase a toddler bed with a front gate that you can lower to gain easier access to your infant.
Just make sure that you need to unlock the gate on both ends to move it.
Because, your little one watches you. And will find out how to open the gate. But he or she can't unlock both ends at once since they are not in your baby's reach.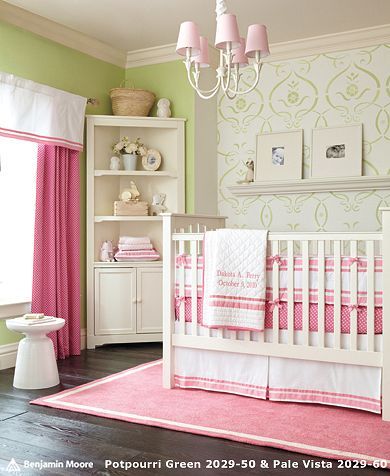 Also make sure that the gate slats a tight enough together so no baby can crawl right through A 3.5 Inch gap should work well. And at last you should be able to set the box spring on different level. That way you can lower the bedding as your baby grows to prevent it from climbing over the rails,
Baby Cribs come in a multitude of styles, colors, and materials. I recommend a good wood crib in a mid price range without any fancy other than a mobile chime to keep your baby occupied.
The Highlights
The crib might be your most important piece of baby furniture.
It needs to be safe for your baby
Convenient for you.
Look for cribs with adjustable mattress heights and
At least one drop side that does need you to
Use both hands to operate.
Convertible cribs can be turned into toddler beds
Some models can also be converted into full sized beds.
So, convertible cribs "grow" with your children and eliminate the need to buy more furniture when your children get older.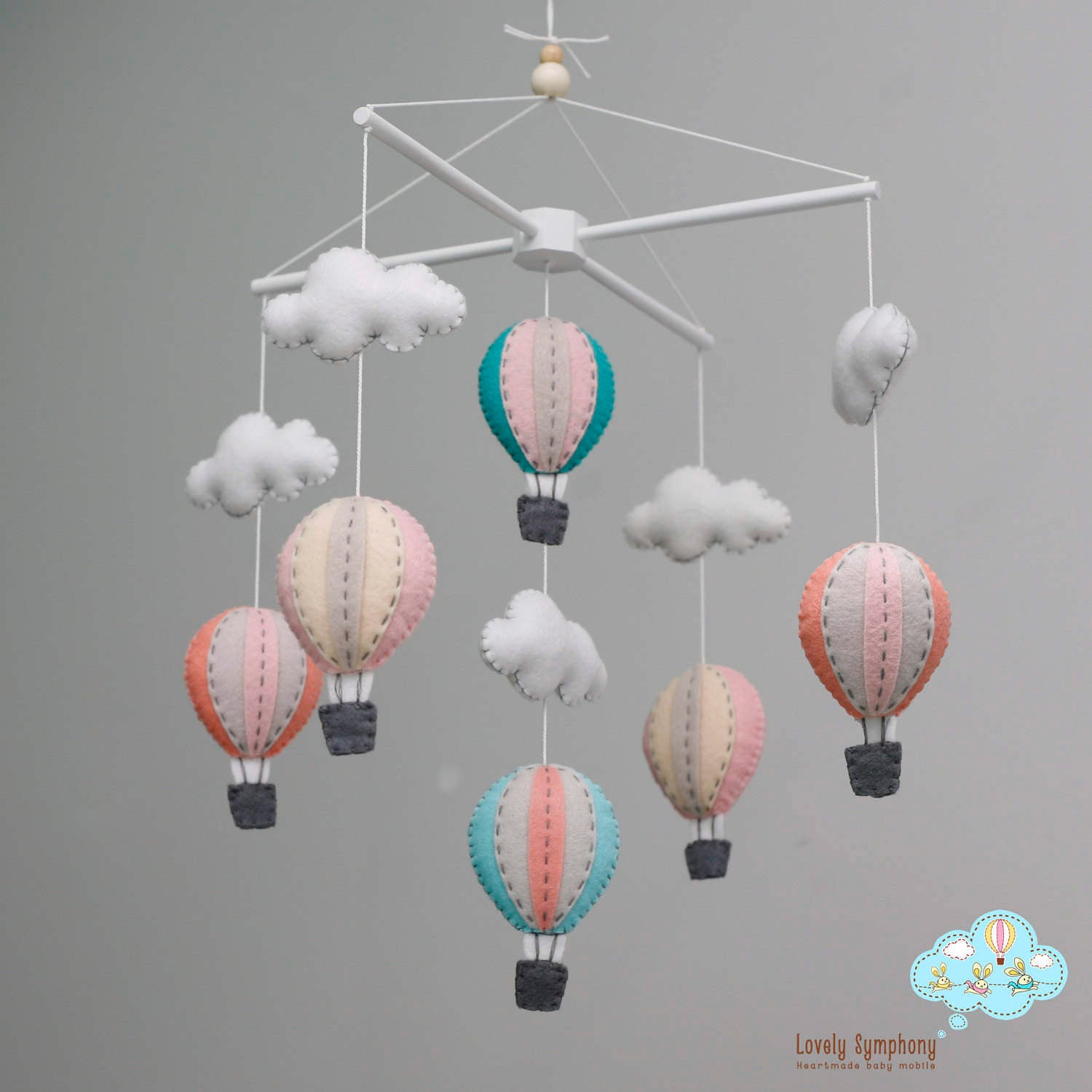 Crib Bedding
If you purchase a decent mid-range priced crib, the bedding will be in most cases included.
However, if not or you received a nice antique crib. And need new bedding here are some tips to help you to choose the best one for your baby.
It is important to see that the mattress fits properly and that it is firm. A firm mattress, one that does not bend easily when squeezed, is best because it allows babies to lift their heads in case they turn over in the night. In the case of coil mattresses, the higher the number of coils, the firmer the mattress usually is.
A multi-layered cover will last longer especially if it is vinyl or waterproof. Anti-microbial covers are effective to keep the germs out. Don't crowd the child's sleeping space with toys or heavy blankets to cut out the risk of suffocation.
If you are afraid of your baby's feet sticking out of the crib then a crib bumper could be an option. However, experts advise against one unless it is a mesh crib-shield bumper because regular ones could reduce air circulation and pose a safety threat.
Baby Bedding Online
Baby bedding is one of those things that many people are always on the look out for. The newest styles in baby bedding make it so people from all tastes and prices can make the best choice when it comes to the bedding that their baby will sleep in.
There are so many popular styles nowadays that most people find that it is a hard decision to make. The new styles are of course dictated by the current trends that are sweeping the world, such as cartoons and television programs but that is only part of the equation.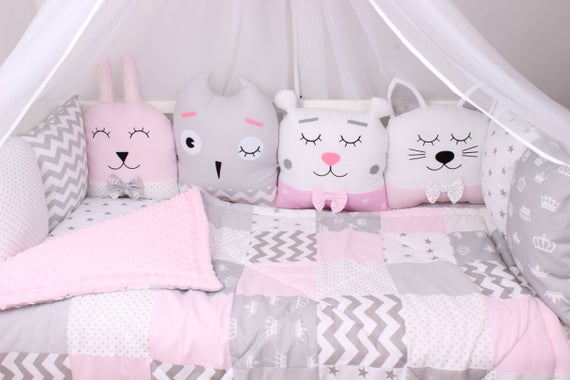 The other side would be the price ranges that affect the way most people in the world are buying right now because of a poor economy. If you look in the baby bedding section of most stores you will see that the prices vary widely and that means that you will have to determine if the quality of the lesser priced units is up to par with what you need to provide the child with.
This may be a difficult task to say the least.
The higher priced baby bedding sets are most often those that endorse a person, show or product in some way. This is all too common, and we all find ourselves paying top dollar based on the popularity of the endorsement rather than the product quality itself.
The newest rage in baby bedding purchases is the internet. All over the web you will find that places are cashing in on the baby items deal.
The baby industry is one of the biggest in the world.
People all over the globe go out and spend mega-bucks on the baby nursery and for the child that they have brought into this world. This is nothing out of the norm for sure. Nearly all parents, especially new ones, try their best to find only the best for their child and baby bedding is no exception in the slightest.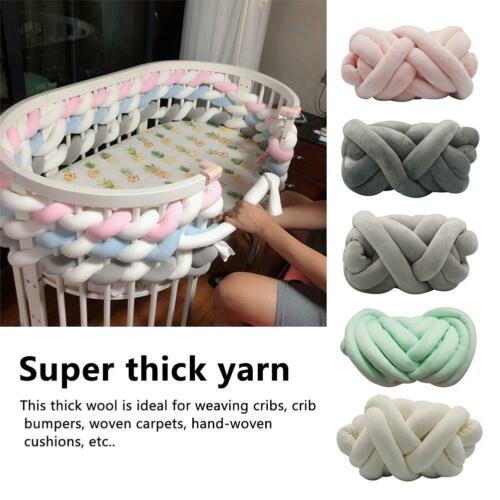 Take a look at all the baby bedding choices that are currently available and you will see that you certainly have your work cut out for you when it comes to making a selection. In the end it is all about the personal choices that we make and the ones that are best for the child, which is all that matters. Be sure to check all labels for any possible allergy issues that you child may have or contract. And check out also the quality of the workmanship! Too often a nice looking baby quilt is so poorly done that it falls apart at the first washing.
Some very original baby bedding can be found at art-ickles.com
They also sell unique handicrafts brightly colored with tropical themes. The baby bedding quilts, bumper pads, pillow covers shown in this website are of top quality, 100% hand made with the best American fabrics. There is also a very nice section with all kind of fun decoration for your nursery.
Assorted Baby Nursery Linens
Use your baby linens to change the look of the room when decorating a baby nursery. Sew or buy a number of washable duvets so you can change them often and wash them easily. Stock up on some plain white fitted crib sheets for those times when you know you'll be tossing them out. It's better than throwing away a beautiful patterned sheet that matches a number of elements in the nursery.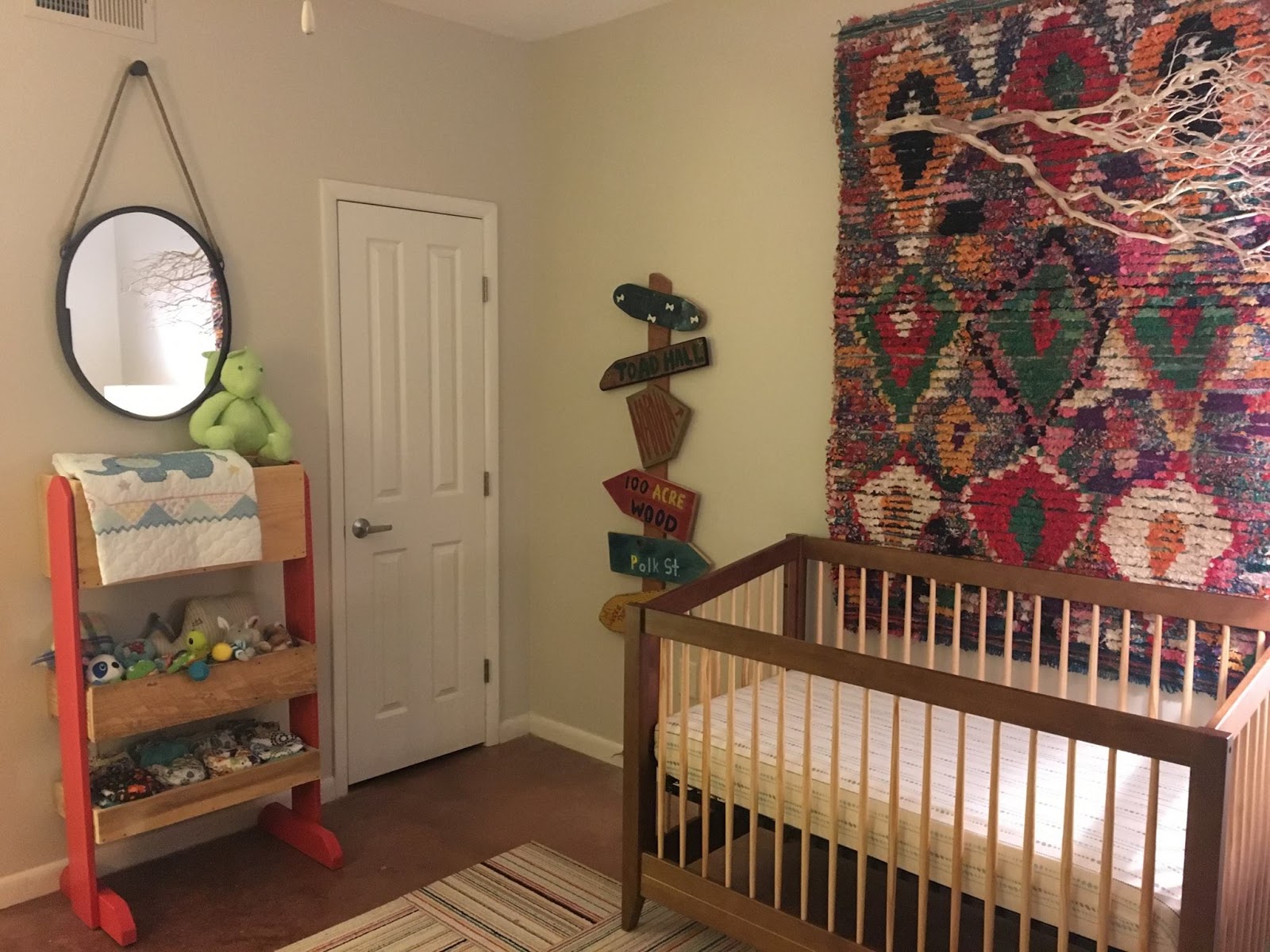 These are the fundamentals to get you started on decorating a baby nursery. After you have your color scheme and basic furnishings, you can move on to the fun, incredibly cute design elements available for decorating baby nurseries.
4. Infant Changing Tables
While this is an optional piece it certainly can make changing diapers a lot more comfortable for you. However, I changed on kitchen tables, sofas, and floors, as well as on the back seat of my car. This one is up to you and you can continue using the dresser part. One of those high-utility furniture items, changing tables come in different styles to add functionality. Any good changing table should have guardrails and also include safety straps. Additional features include draws and shelves and also wipe warmers. The unit can be used till the baby is about two years of age.
5. A Playpen for your Baby Nursery & The Road
If you need to run a household, cook and clean as well this is an absolute must have. Playpens are great to keep your toddler from getting lost or into dangerous areas. Give'em toys, a blanket, and a Sippy-cup. Now your little man or girl is set for a few hours of playtime between meals and diaper changes.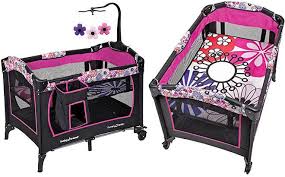 I must admit that I kept probably my sanity because of play pens when mine where little. You best go for a model that can be used as a crib. And that can be easily dissembled and mounted back for your travels.
6.Cradles
A cradle is useful for rocking the baby mine loft the bouncing. Till the baby can roll from side to side. They are normally accompanied with bumpers, fitted sheet, quilt and comforter.
7.High Chair
Even though this piece is more likely in your kitchen or dinning area. It certainly has it's place on our baby nursery furniture list. And you probably guessed it, you can get all kinds of high chairs for infants.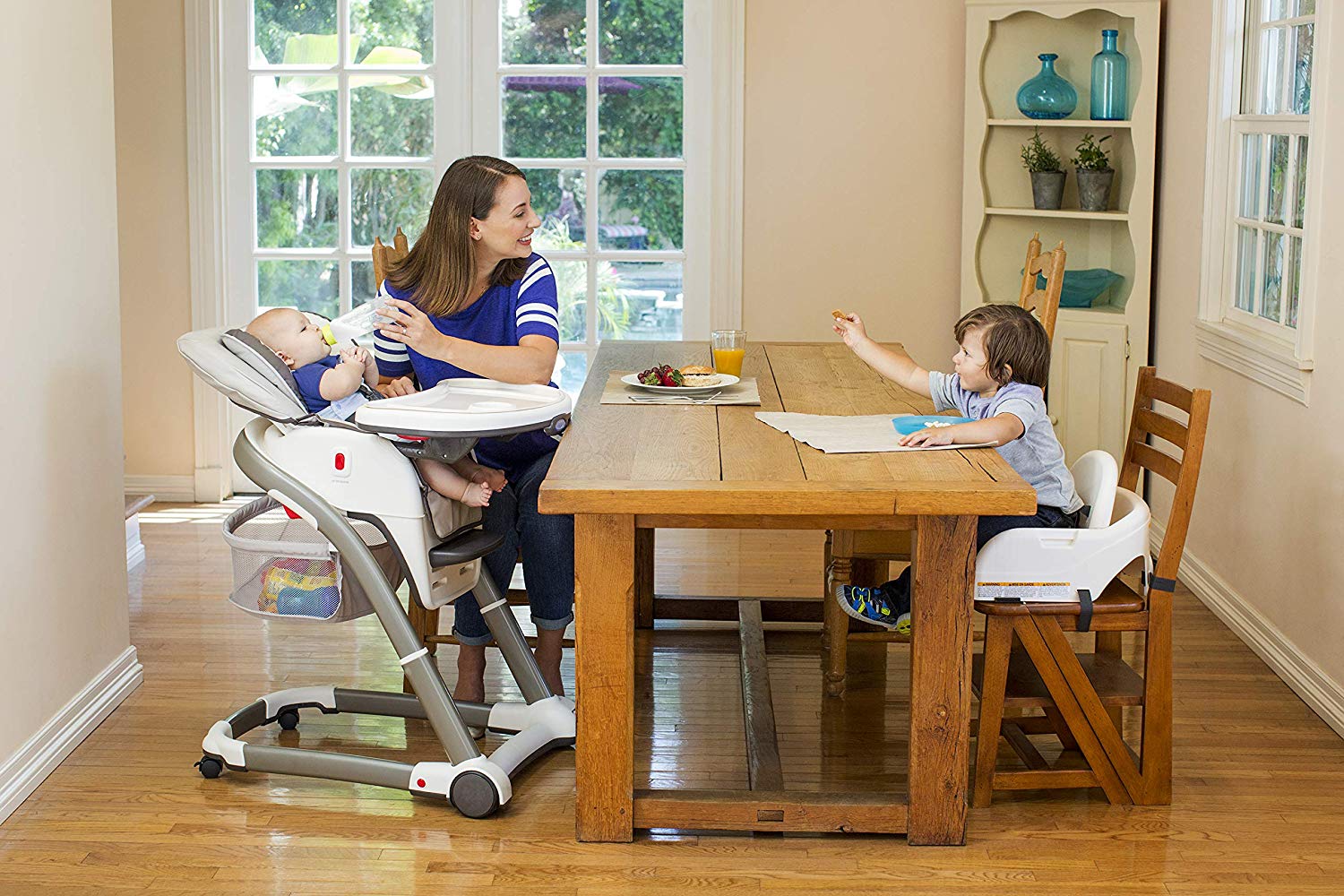 Apart from the conventional models, you should get one of the adjustable chairs. And neglect the booster chairs in all their different materials like steel, plastic and wood. Ideal one should come with an adjustable tray, a safe locking mechanism, some fully reclining chairs are designed to be used for just born infants
8.The Dresser for your Baby Nursery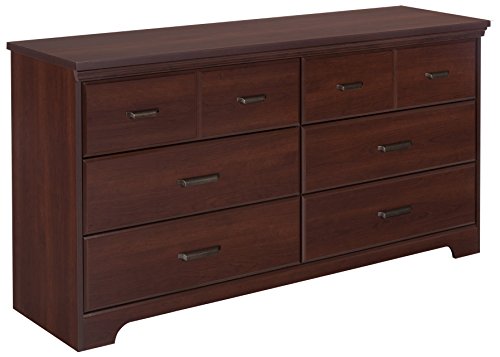 Kids dressers are important for storage and are available in different styles and shapes and colors in the nursery. As I mentioned before that is a piece where I would spend more to use it for years to com.
9. Kids Chairs and Tables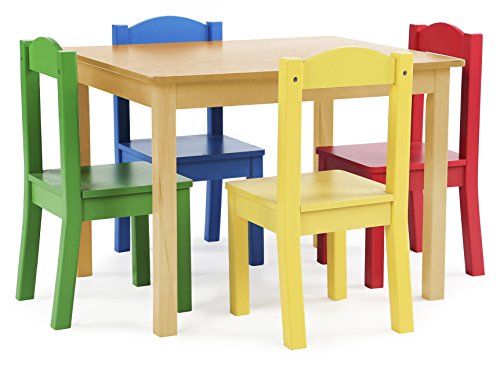 Once they are grown up a bit and walking you can add some Kids chairs and tables. At the first stage you could just get a plastic set and a play-table. If you have more kids or yours has a close to age cousin Billy that comes over, that table & chair set will come in handy.
When the new Baby comes home
It is likely the happiest day in your life, the day the baby comes home. Their new baby nursery has been planned for and shopped for by everyone that knows just what you'll need.
Sure, it looks nice right out of the box. But will it stay that way. Planning for baby is quite a bit different then having baby at home. The crib looked nice over there at first, but at 2 am it might not.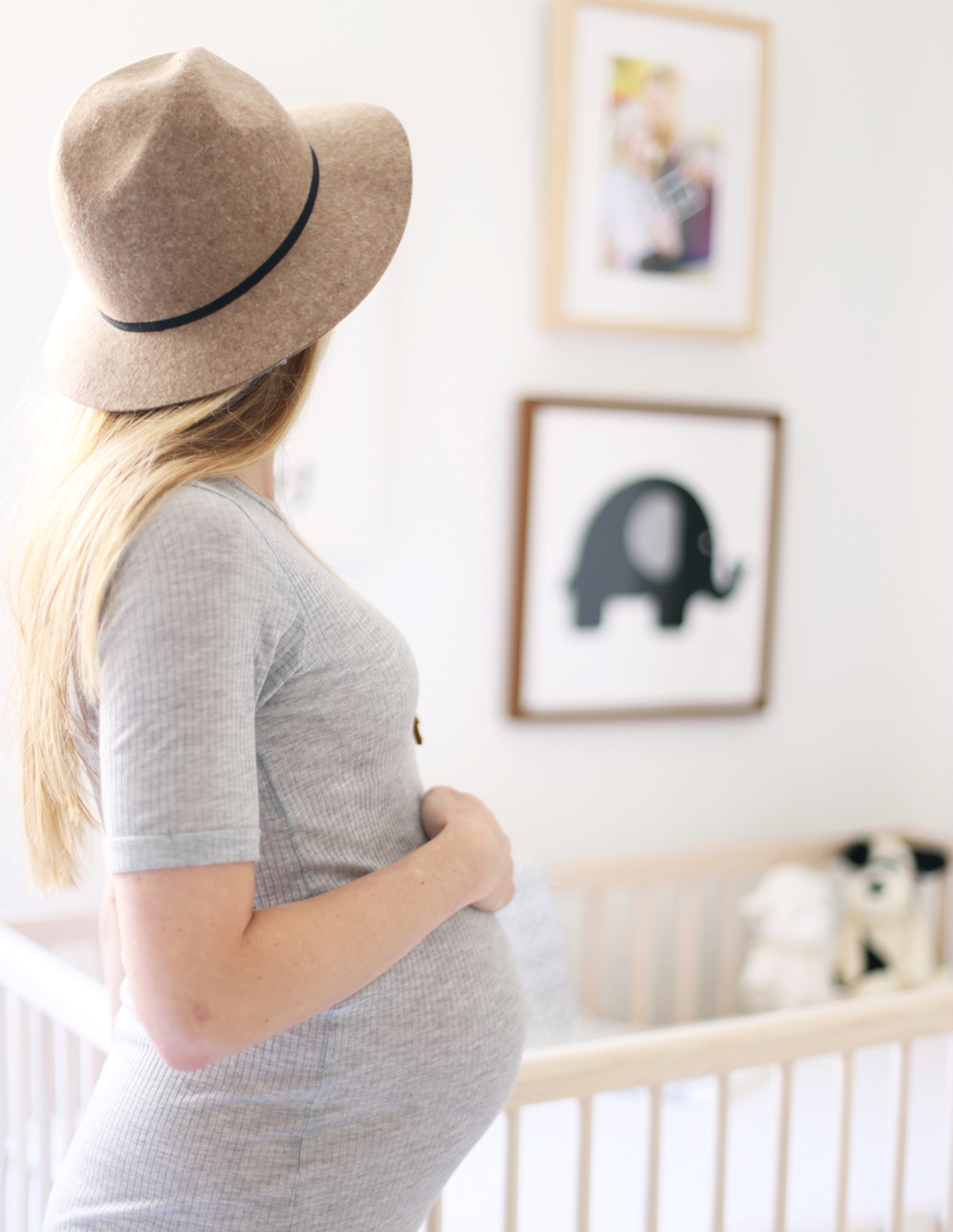 Be ready to adjust to the practical realities that your baby will bring home with them. Your sanity will depend on many things over these first several months, if not 18-20 years, so be ready to be flexible.
Remember also that the diaper pail may look nice in one spot but when you're changing, right next to you is where it will need to be.
Should You Buy Toddler Size Furniture?
Once your baby has grown into a full-fledged toddler and is ready for a "big girl" or "big boy" bed. Have you seen the latest toddler furniture? It's cute! But you really don't have to spend a lot to make your toddler comfortable in his or her bedroom.
Your first decision will be whether to buy a toddler bed. The toddler bed is a piece of furniture sized just right for babies who are too big for their crib. Most use the mattress from the crib, however, so they are not actually that much bigger in size. Toddler beds just get the child accustomed to sleeping without rails all around and is low enough that if the child rolls out, he won't get hurt.
If you followed my guidance you won't have to make that call
Cause even if your child has grown quickly, You are able to make a few transitional adjustments and grow the bad into a toddler bed. So, you can dismiss any thought about the toddler bed. The next one to buy will be a twin size bed.
You can purchase rails made of cloth and plastic that do a fine job of keeping the child in the bed and allowing him more room for movement. If you are looking to save money, this is one way to do it. By buying a twin bed you've eliminated the often expensive toddler size furniture that will only have to be upgraded later.
Should you buy a toddler size dresser?
Again, the toddler furniture is precious, but do you expect your two or three year old to always put away his socks, underwear or t-shirts? The purchase of toddler sizes furniture is less about function and more about how absolutely adorable it is. Unless you just have money to blow, invest in furniture that will last for a lifetime.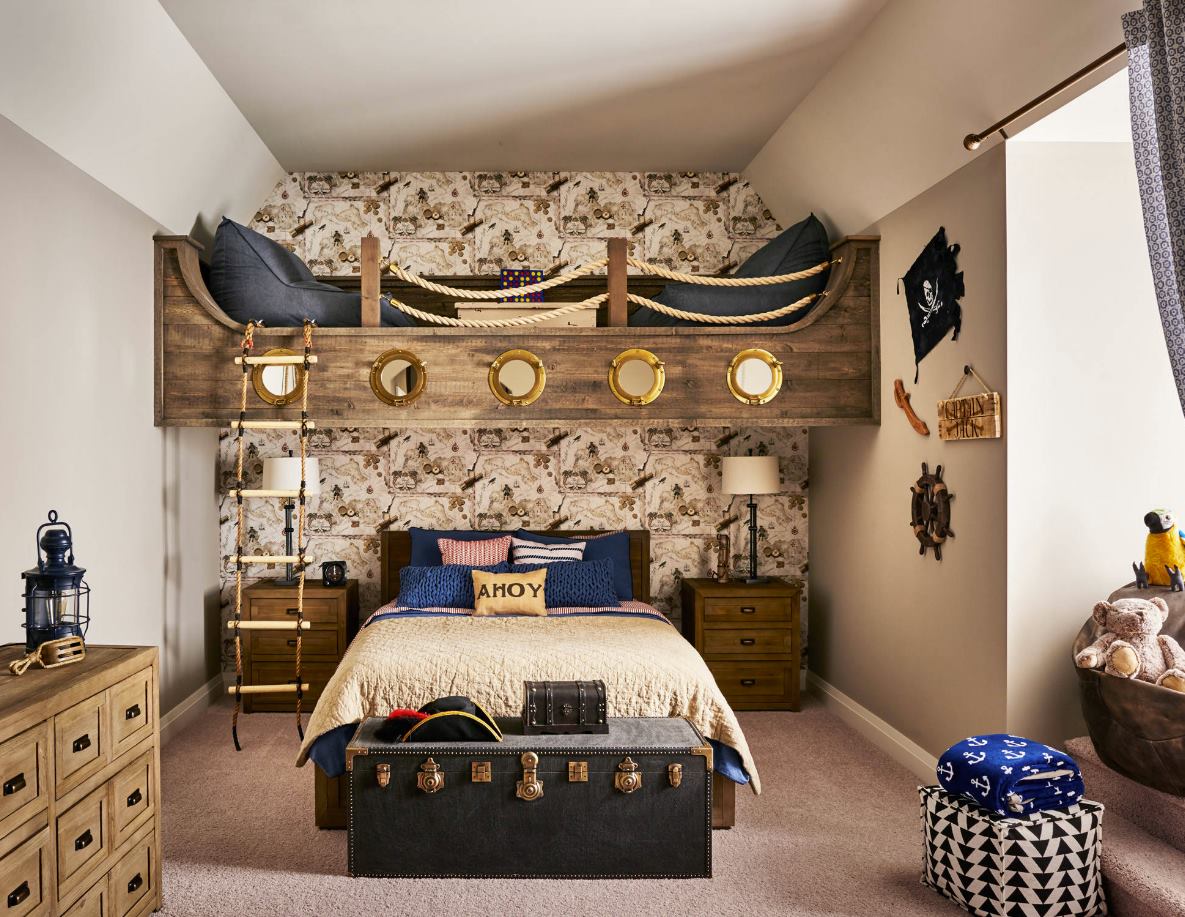 If you buy a six drawer dresser now you can still insist your toddler help put his things away by putting items like socks, shirts and under clothes in the lower drawers. Since the furniture will be heavier, help open and close the drawers for him to avoid smashing his little fingers.
Considering furniture for a toddler's room?
Remember, to keep special needs in mind. Some children have allergic reactions to compressed woods, or the glues used to hold them together. If you have just bought new furniture that seems to have a loud smell and your child develops allergy symptoms, let your doctor know. It may help pin down the allergy culprit without undergoing a lot of tests.
Use the money you save by not buying toddler furniture to change the décor in your child's room often. A toddler who likes Big Bird one day may be crazy over princesses or Thomas the Tank Engine another day. Use standard colors that match the furniture you've selected and you can change themes of the room as often as your child changes favorites. Your toddler's room can still be cute and as unique as his ever changing personality even if you don't sink a lot of money into toddler sized furniture.
Toys, toys and toys
Some say that plastic has been a godsend for the human race. Maybe it has and maybe it hasn't. Either way you look at it, it sure has found a way into children's toys.
As you go about decorating your small ones bedroom be sure to think about where all this plastic is going to go when you're not tripping over it.
Shelving is one option but the toys can very easily be pulled off in an uncontrolled way. They also lead to climbing for that one special toy.
Closets are an option for toys but that is generally a losing battle and might as well lead to just taking the door hinges off so the toys can spill out more easily.
The one tried-and-true idea when it comes to toys is the big old durable toy box. Make it big, make it durable and make it so the top can be left off or on. Off is good so you can practice your three point shot from across the room when you're picking up that transformer toy. Also get your kids involved in the cleanup process as soon as they get old enough.
Kids Bedroom Furniture
Growing tots with their peculiar needs and ever-growing minds learn faster than we ever can imagine. It is a good idea to decorate your child's room to stimulate and inspire creativity. Imagination plays a great role in developing your child's mind and it is a great idea to fashion kids room to be safe, bright and beautiful to encourage creativity.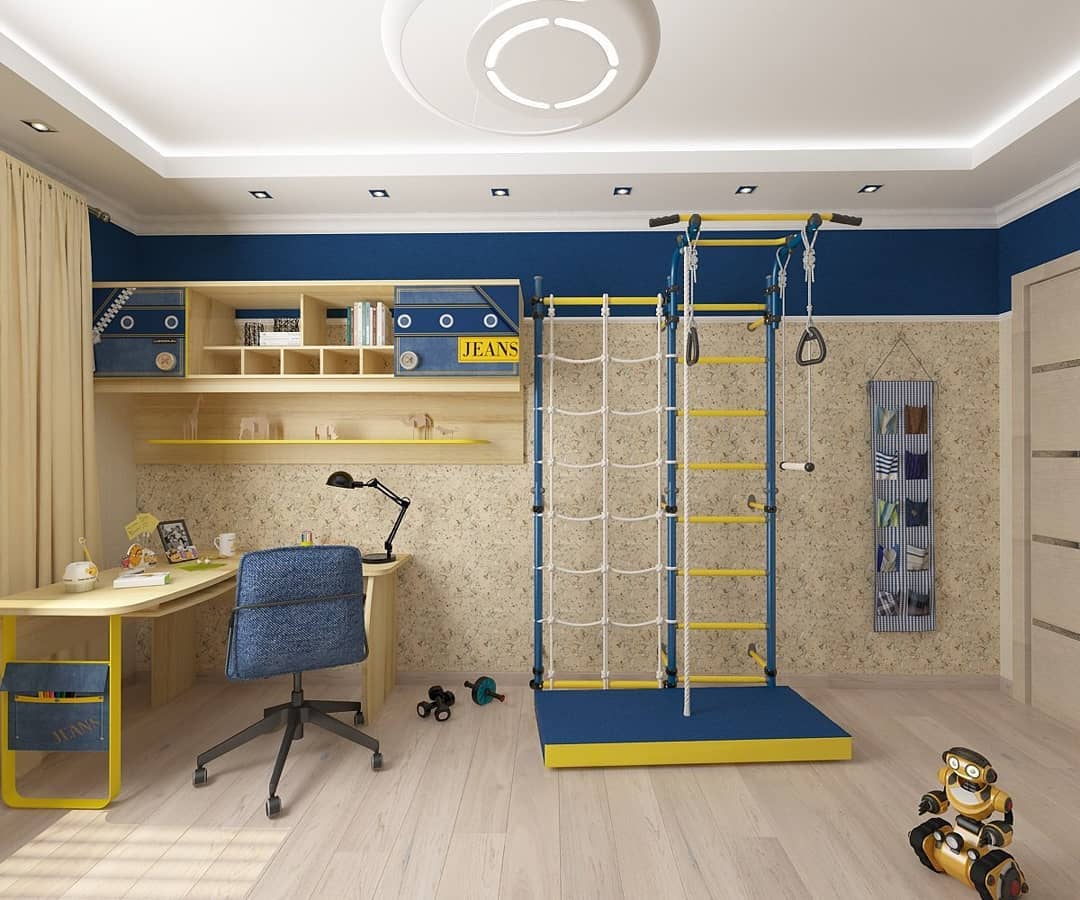 Modern kids & teen furniture should evolve around themes that inspire versatility. It is important to look into factors that show equilibrium in terms of style and functionality. Kids toys and accessories should be carefully selected for different age groups for you get toys that fulfill on norms for a particular age. You can come across a plethora of modern kids furniture that is fashionable and trendy. If you like you can also work out a theme and add décor items that allow you to personalize the room as per your child's liking. Following are some furniture items you may like to take a look at,
Decorating Ideas For Children's Rooms – From Nursery to Young Adult
As the child starts to get a few ideas of their own, however, decorating ideas become a bit more difficult and require a bit of diplomacy combined with skull buggery. Both ends of the stick are fun and interesting, it is just more how you go about the process of getting what you and the child want from a creative and a practical standpoint.
The princess and the quarterback
When your child gets to the princess and sports star age you will be starting to cede authority to them in terms of what is found in their room.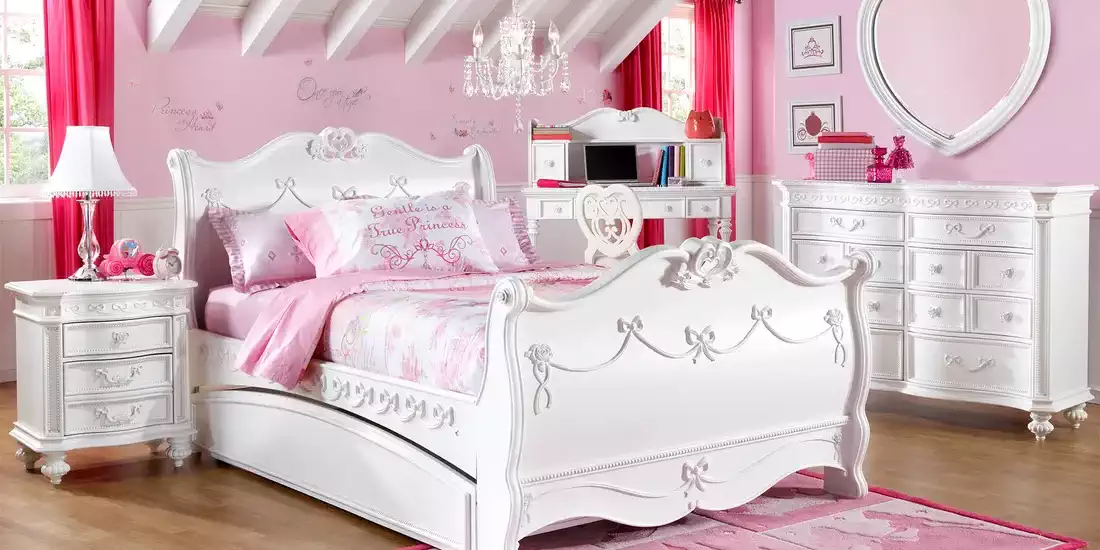 Decorating is generally a thing you may or may not find. The odd frog or stay lipstick perhaps, but style is somewhere in limbo. You can try to put a style into the room but it won't likely matter.
Styles will become a dime a dozen with just keeping the space clean being the general idea. If at all possible, sorting down through the pile of stuff that has been accumulating is likely a good decorating tip as the tween years are about to fill the space again.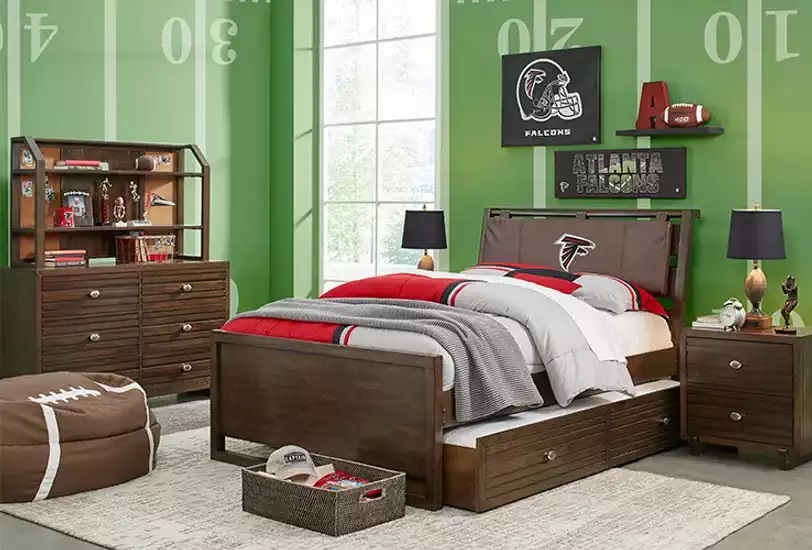 The world of the tween
Decorating tips at this age will quickly find the room walls being covered with posters of the day. Trying to get the "tween" into an educational mode at this age is a good idea. A location that will eventually serve as a place to study may be a good place to start even though it will likely be covered rather then used.
The young teen
If you have managed to get some sort of place for study and organization into the child's room by this point you are ahead of the game.
You will be quickly losing any decorating influence where the young teen is concerned and regulated to suggestion.
If your teen is like most, you are the enemy and only the opposite of what you say will do. Still, if you can find a few structural elements in the room you are doing well.
A place for the computer, a place for the entertainment items and a place other then the floor for clothes are good places to start.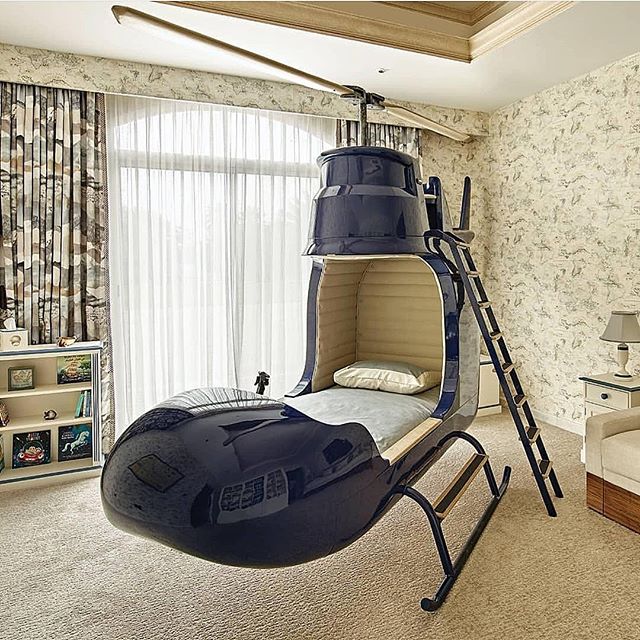 The off chance that your child is organized can mean taking advantage of the situation with shelving, a desk set-up and extra drawers for clothing. Generally, put it in the room and let them at it is the way to go.
Rooms for Teanager
At this age the child is likely to be finding out who they really are. They may not be there quite yet but they are moving in the right direction. Keep a few basics in mind like reasonable colors and costs but you've lost authority at this point so try to aim for limits rather than direction. Maybe your teen will like these teenager approved room decors
Sanctuary
Now the space is yours. Clean it all out and do it the way you would like. Remember, however, that the child will likely be back and want to see a few of their possessions around the room.
Hopefully you can put this information to good use. Just keep in mind, they are growing fast and you are likely to furnish your kids room at least twice but probably three times. Just whenever you do, keep your eyes peeled on what will be required from this room in the next 3-5 years.