What Bathroom Decorating Trends from 2020 are very popular and a must in today's bathroom decor?
Discover the best 2020 Bathroom Decorating Trends for 2021 that Top Designers Agree on & What the Top Designer on Elle Decor, freshome and other home decor publications say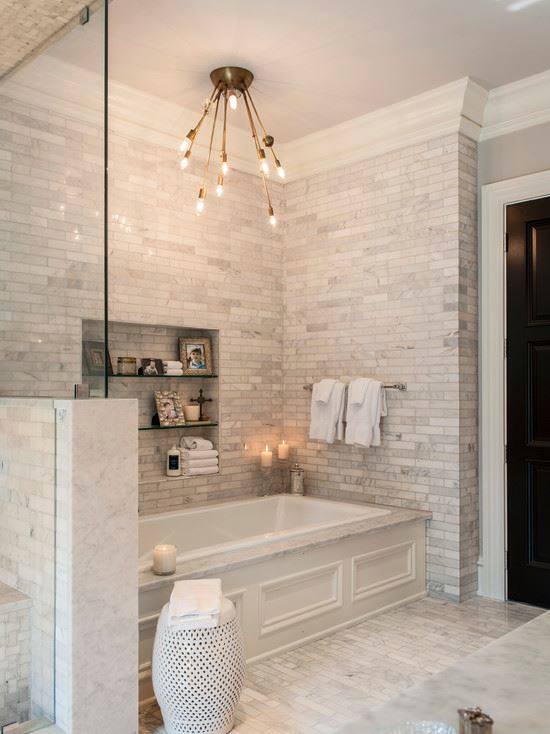 You are wondering how to update your bathroom decor today and keep it trendy past the next years. Here you will find 13 biggest Bathroom decorating trends for 2021. Each mentioned in most if not all the top ten publications.
We based this roundup article on the findings in the top 10 interior design blogs like Elle Décor, And Freshome.com.
Table of Content:
Small Powder Rooms – Big Attitude
Let's get started with the Bathroom decor ideas for 2020 – 2021 that Top Designers Agree On
#1 Of Bathroom Decoration Trends come in Art Deco Style
If you are looking for 2020 bathroom decorating trends or other future decor, it is a good idea to look at what the big supplier recently published.
There is clearly some Art Deco on the horizon. Just look at the shape of the new bathtubs from Waterworks and Kohler.
I like the Empire personally myself. So heads up we will see old-days craftsmanship to have a big come back!
#2. Decor Trend for 2021 Is Exposed Plumbing
The exposed brass plumbing of the Art Deco Bathroom leads to the next design element all agree on … more exposed plumbing as industrial look with black trim.
Highlyann Krasnow – "In bathrooms, we're incorporating more exposed shower plumbing. The industrial look pairs beautifully with white, modern marble." (quote found at Elle Décor
#3. Including Statement Walls are still hot Bathroom Decoration Trends In 2021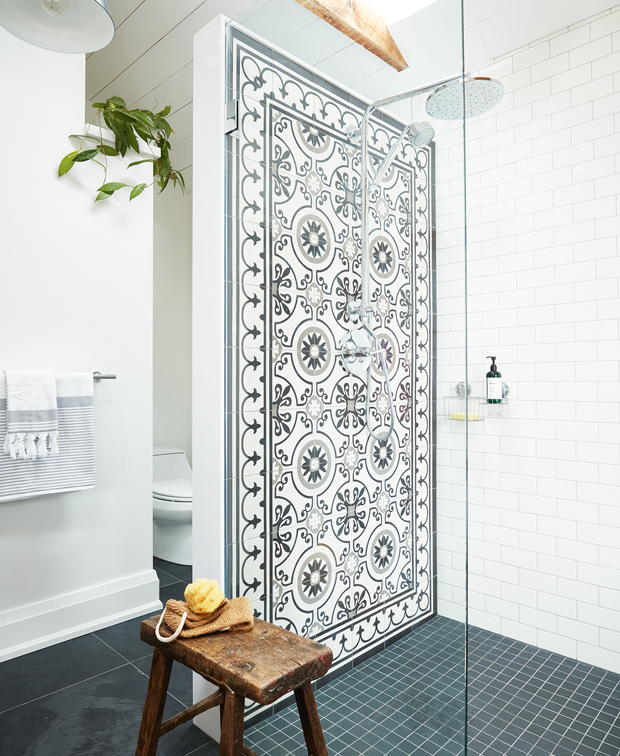 Bathrooms/Scandinavian-Style-Bathroom_MFR_vanKoeverdenBathroom – Including Statement Walls Is a hot 2021 Bathroom Decor Idea
#4. Of Bathroom Decoration Trends For 2021 – Include Statement Art (Large Major Artwork)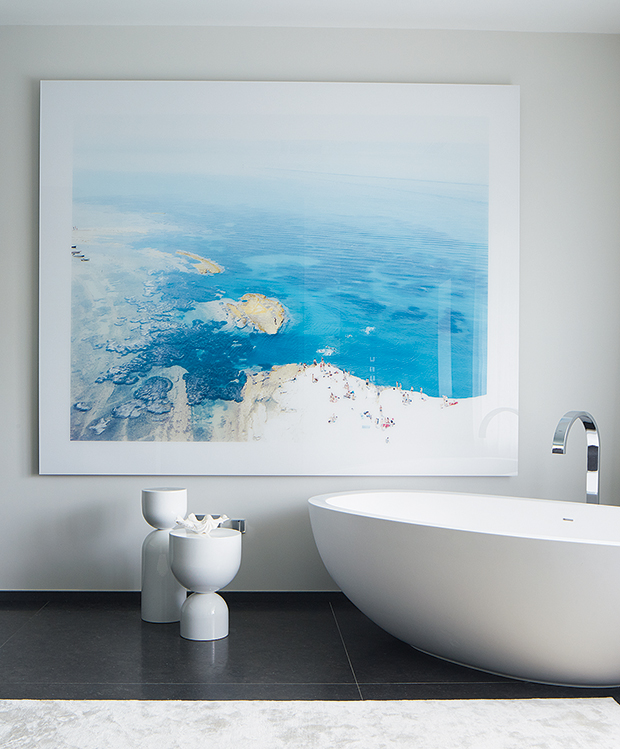 Paintings and Photography pieces set the tone in the bathroom decor of 2021 and the mood of this space.
One bathroom decorating trends everybody agrees on is to create a spa-like bathroom experience.
Therefore the artwork can't be ignored. So, you better be on the lookout for your sophisticated piece of art. That lets us create an impeccable focal point.
Enjoy the 101 Bathroom Design Ideas Video.
#5. Bathroom Decorating Trend States Bold Black is Back In 2021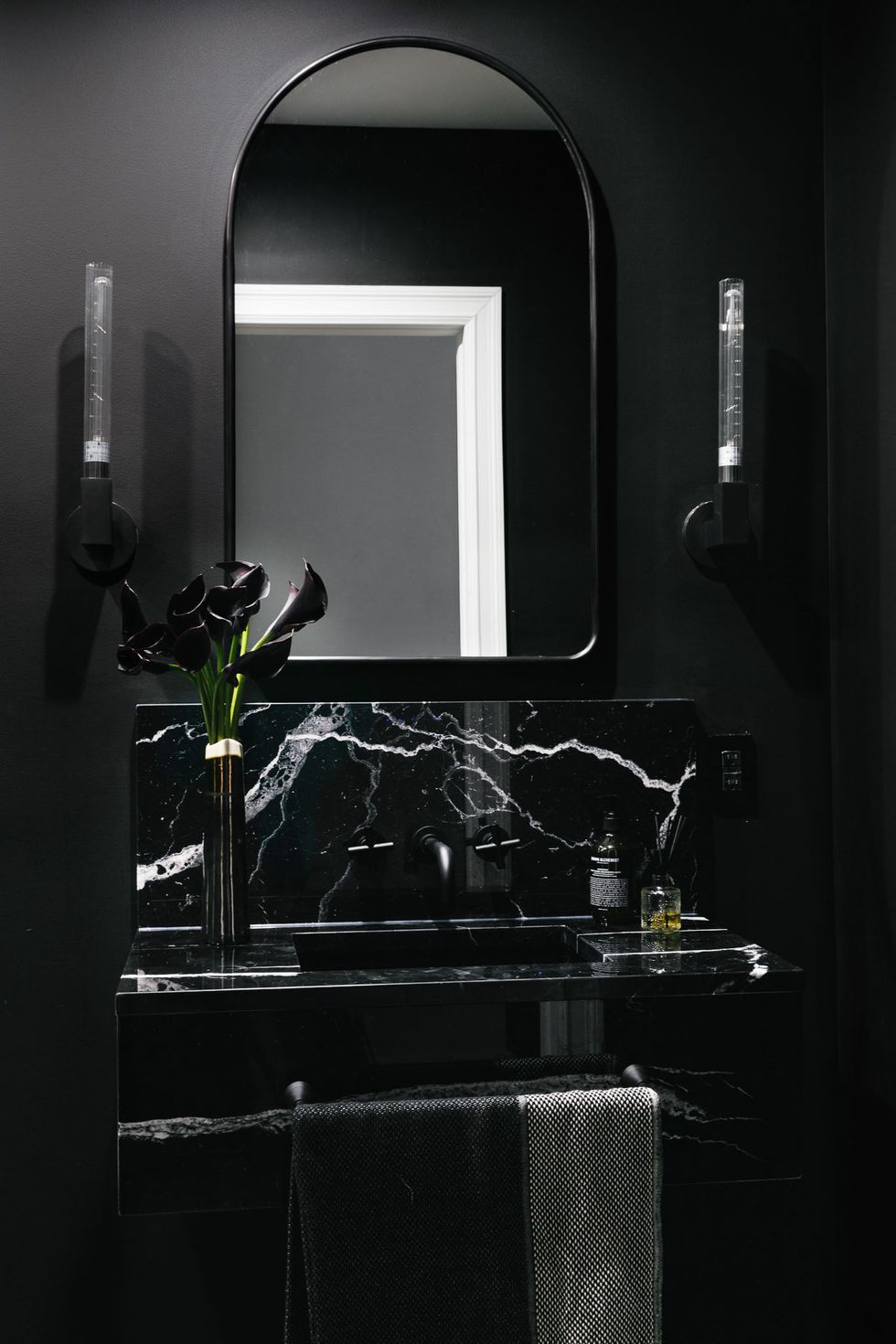 "Our Clients crave the spa-inspired bathroom trend and the modern style is all about bold, dark, sultry bathroom designs.
The ones that evoke a luxurious high-end feeling " —Juergen Kuhlmann Now I do understand that might be a big step for you.
However. maybe you could try this bathroom decorating idea in a guest bathroom decor.
We have some more unique Bathroom Design Ideas
#6 Monochromatic White and Grey Marble Continues To Be A Classic Bathroom Decor In 2021
White and gray marble will continue to be a highly popular material in 2020. And this will be most likely for bathrooms and kitchens alike.
One reason probably is the decor's timeless feel and it pairs well with modern to traditional design styles, It has also great resale value.
#7. A Wet Room Is One Must-Have Bathroom Trends In 2021
Steam Saunas and fully tiled shower room growing popularity.
This Bathroom Design Idea produces a Monochrome Clean and spa-like look. And is, therefore, one of our top 2020 bathroom design ideas.
You could fill the remaining sheet-rock wall areas with tile as a new redecorating project.
#8. Custom Shower Enclosures Continue To Be Part Of 2021 Bathroom Decorating Trends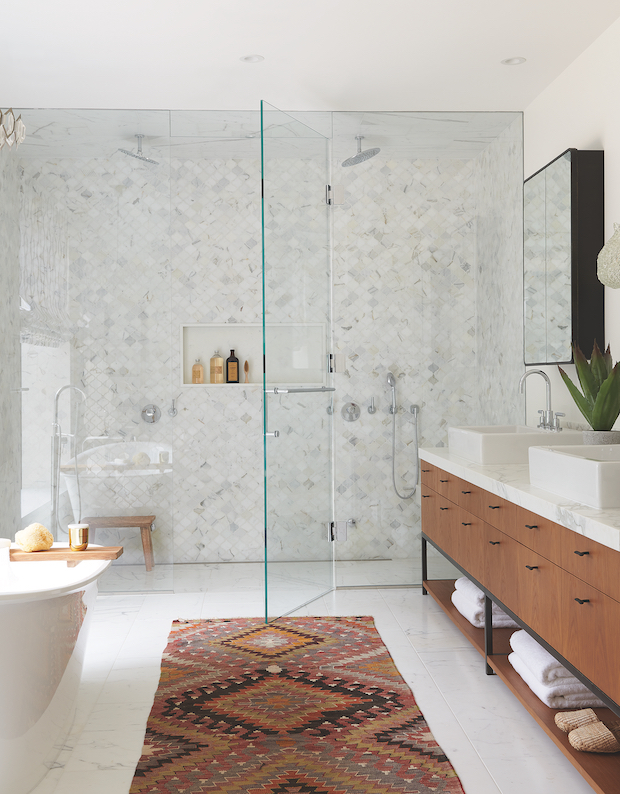 In this spa-inspired shower, the fully frameless shower doors and almost invisible shower walls pull a Houdini disappearing act. The outcome of this shower enclosure is an airy & illuminated high-end bathroom. That looks and feels like a million bucks.
#9 Combining Concrete & Wood is one of 13 hottest Bathroom Decorating Trends For 2021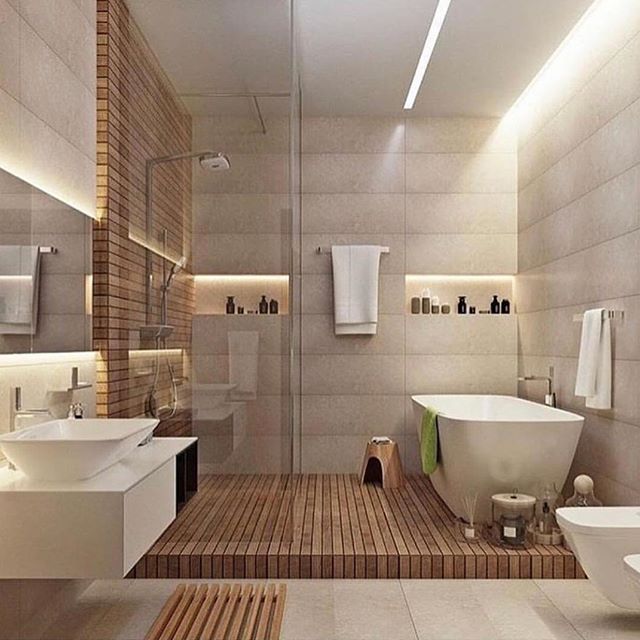 " You will find in 2020 design ideas, trends that are not just in bath decor but in any other room. A growing application of concrete like in sink basins, countertops, floors and walls. In combination with elegant and exotic woods like teak & bamboo".
To me, it's really exciting to see a brute material mixed with warm organic elements.

I Love combining the commercial medium with elegant woods like teak. Or the decor with bamboo, as well as steel, porcelain, and resin.
I think these bath design ideas are what 2020 will bring to all designs.
#10. Pewter & Gunmetal Hardware. This Finish Will Be A Bathroom Decoration Must Have In 2021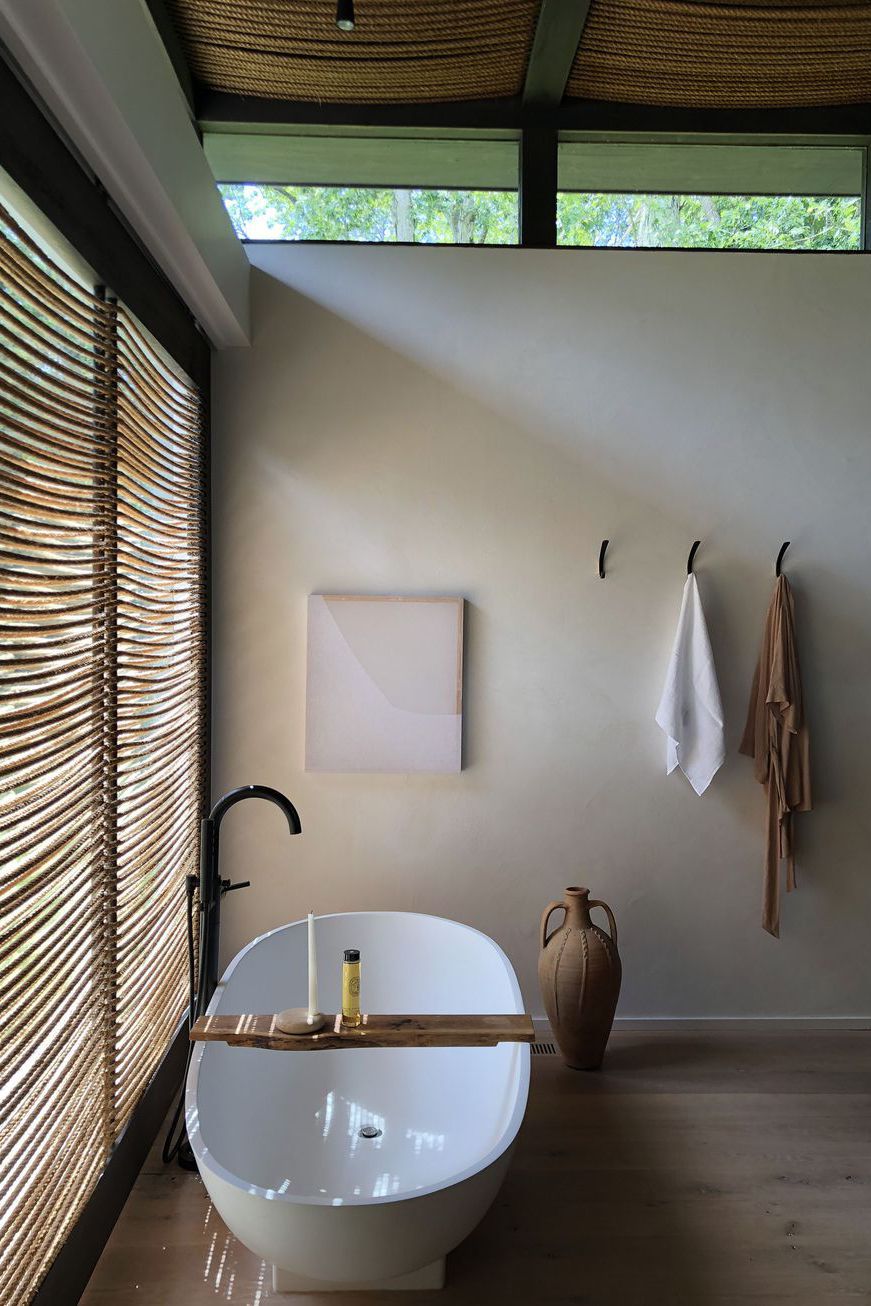 Pewter and gunmetal is a great trend. It's not as harsh as pure black or as clean as brass or gold.
Further, this bathroom decorating material gives fixtures some great texture and depth.
It is easy to incorporate even in a small bath decoration. What in turn makes this a Top Bathroom Decorating Trend for 2020 that top designers agree on.
Again this Hardware Style Is a 2020 decorating trend that can take place anywhere else in your home as well.
Here is a drawer/doorknob to take a closer look.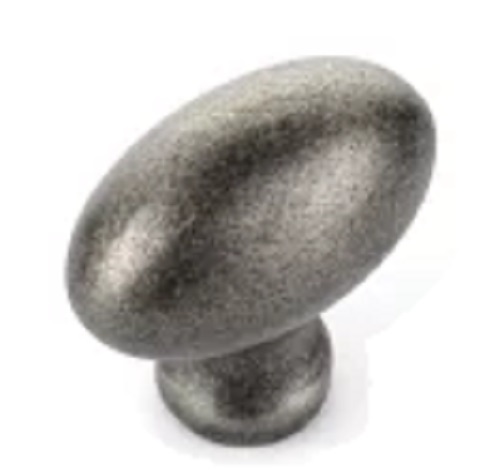 #11 Of 2021 Bathroom Decorating Trends Are Small Powder Rooms with big attitude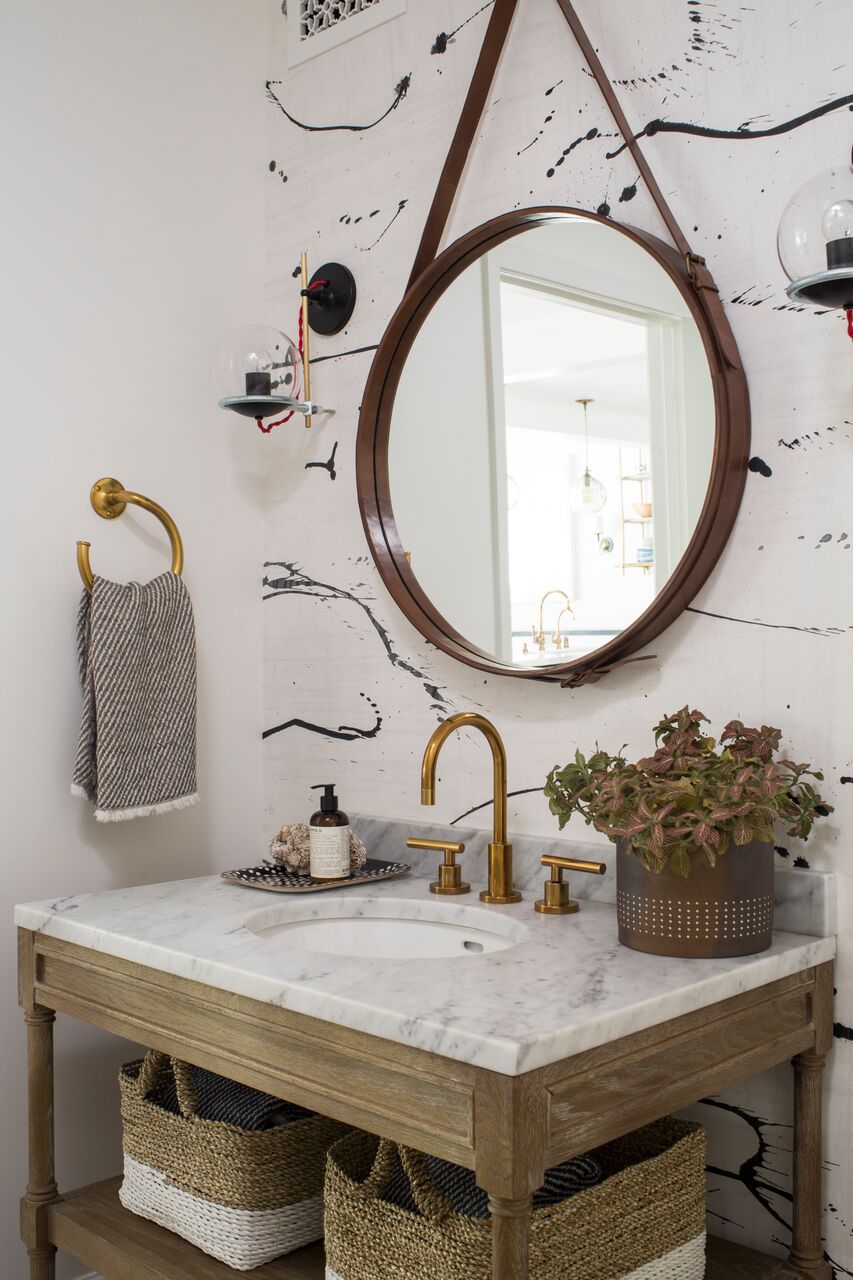 Small spaces like powder rooms make a splashy statement.
By using a high-contrast, large-scale wallpaper. This decor can visually expand the small room & add a more literately infused big – boy attitude. (Nobody ever said a small bath can't have a badass decor attitude…LOL)
# 12 Custom Design Build Will be A Must For Most 2020 Bathroom Decorating Trends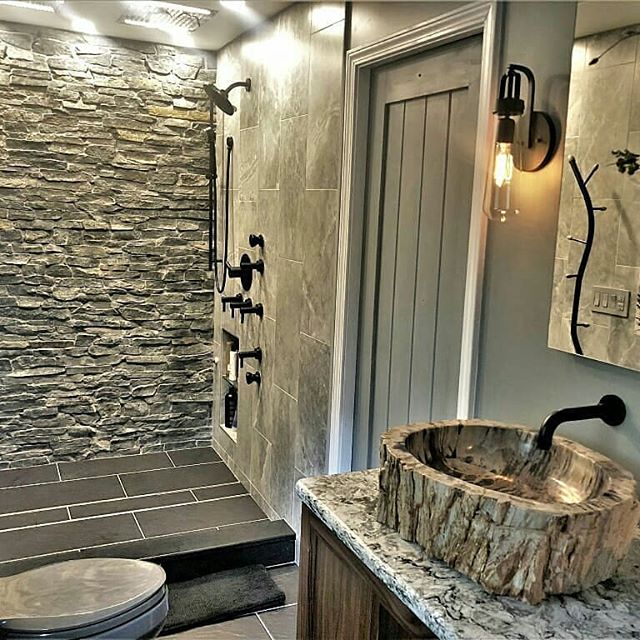 You should notice that more and more people no longer see the bathroom only as a washroom space. And rather more as an experiential space. They're looking for spa-like experiences and are more ready to experiment than ever before.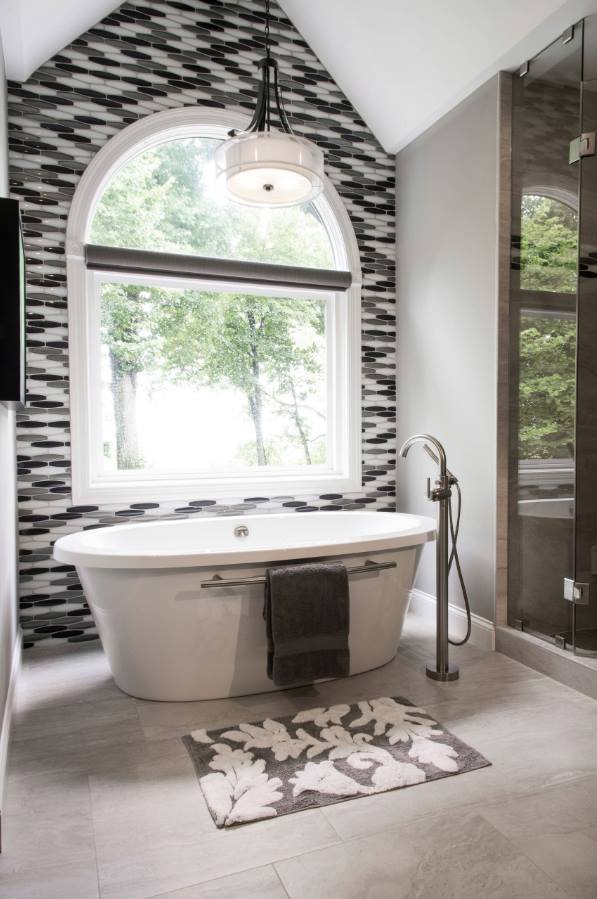 One more trend that I believe will keep growing its fanbase is the farmhouse decor. And I do think that this will not only be for bathrooms the case, but rather as farmhouse decor 2020 for the whole house.
If you are interested to get some more decorating ideas, you should check out our Gallery here!
Now I like to turn it over to you…
Did you find the right design for you? Did you learn something new?
Please leave a comment, questions or critique in the box below I would love to read and reply to any of your concerns.
Are you interested in something with more color? >>> Best 69 Bathroom Design Ideas
Find cute wine themed decor kitchen ideas
Discover how to decorate your new house and make it home