Bedroom Vanity Sets With Mirror & Benches
Showing all 6 results
Enjoy Shopping The Bedroom Vanity Set & Benches Sale Near You With Top Home Design
Top Home Design makes shopping the bedroom vanity sets & benches sale near you breeze!  We are just one click away!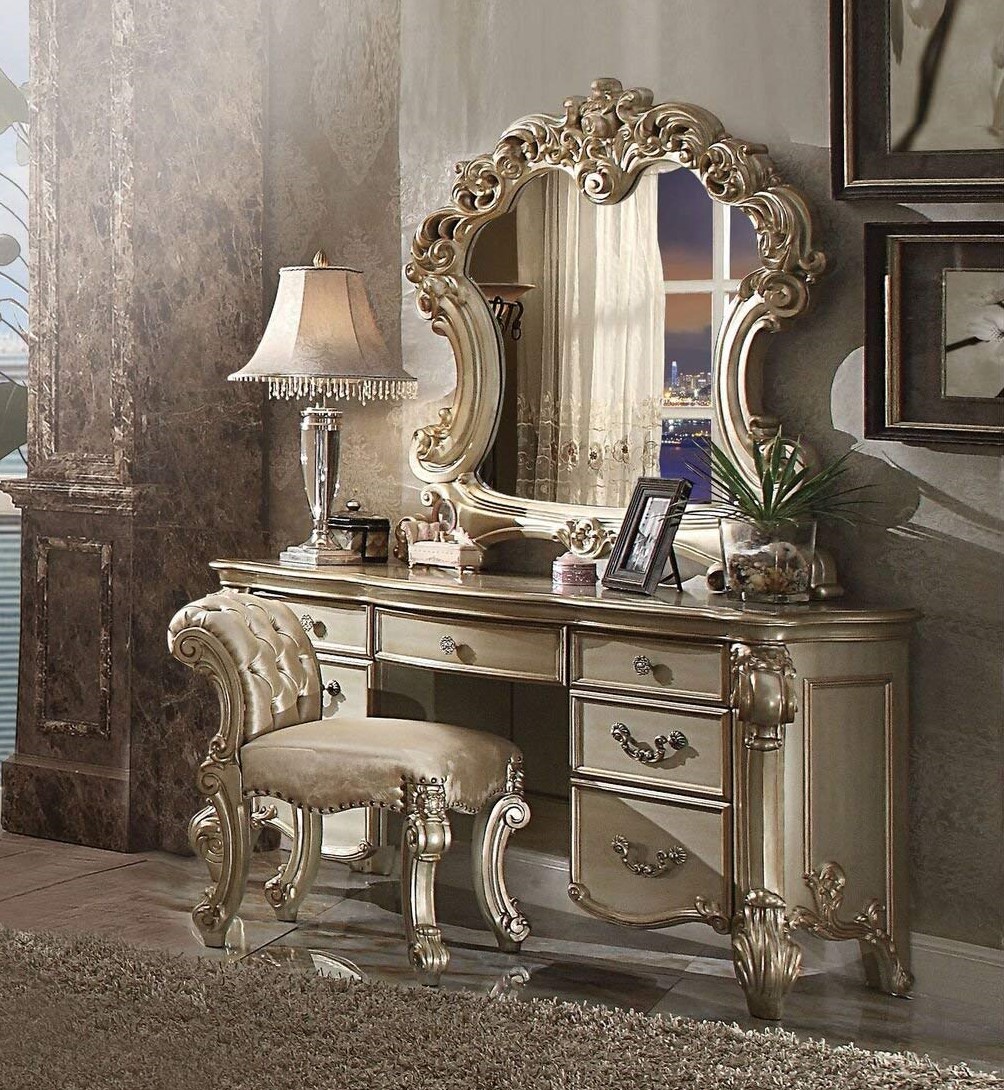 Feel like a STAR and begin your day with your best face forward with our bedroom vanities. Just imagine you sit at your new vanity desk in the morning. Enjoying the view on your patio garden while brushing your hair.
Or think off catching a little break at your sanctuary while your kids are busy playing video games.
During Our 37% OFF Bedroom Vanity Sets & Benches Sale Near You … We offer a great variety in style and design. For example our classic furniture in English Cherry finish. That will complement any room design or lifestyle.
Our Vanities with drawers can hold all your morning routine essentials within reach . So you can get ready for the day on a fly if needed.
Commonly Vanities where used by both men and women in the 18th century, the traditional vanity set continues to be a popular choice for the bedroom and holds many practical uses in today's world.
Our modern bedroom vanity set espresso sets a new tone in your bedroom
You can easily choose from our large selection and make it your personal expression of style and design.
You can choose from Vanities with Vanity Benches or Vanity Stools.  As well as by design, price, finish and style.
With our Bedroom Vanity Sets & Benches Sale Near You you can add elegance and distinction to your bedroom. Whether your design is a traditional look or modern.
We offer solid wood set, complete with oval mirror and cushioned bench for your traditional design.
All of our vanity sets commonly include makeup table with drawers, mirror and seat. However, we also offer individual pieces.
The Bedroom Vanity Sets & Benches Sale near you includes tri fold dressing table mirror and either a thick cushioned vanity chair, stool or bench.
Available also in glass and metal frames with a tri-fold mirror for your contemporary style. You probably could see… that it would look perfect in bedroom by your window.
To the Dad's and Husbands of you, our Vanities make a great gift for Mother's Day or a birthday. Can't choose for her? No problem simply check with us for Gift Cards Deals.
Get some design ideas from the video of the most popular Vanity Table designs of 2018 below.
Shop the Bedroom Vanity Sets & Benches Sale Near You Today and  make a perfect gift for an aspiring makeup artist, the everyday girl, or chic fashionista.
Give yourself a personal sanctuary to relax, rest, and prep for the upcoming event. Or remove the worn day to get ready to relax or go to rest. You can do all that, from your comfortable vanity seat.
Now you finally can store all your makeup, jewelry, and hair products in one place and within reach. What makes it easy to get ready for the big night out. As well as a quick tuneup before friend or family arrives on a visit.
You will enjoy taking the time to appreciate the finer things. Because the items from our Bedroom Vanity Sets & Benches Sale will not only calm you down. But also enrich your life and you will be ready for any challenges that life can throw at you.
Either way jump on the Bedroom Vanity & Benches Sale Near You Now! And Buy One
A mirror is an essential part when getting ready and most vanity tables will come complete with one. If you've ever tried searching for a vanity table, you know that it can be a little tricky to find one that suits a modern aesthetic.
You will love this furnishing for your space. And here you can check out the different vanity tables that you can choose from.
If you can't find an actual vintage vanity or dressing table, look for old pieces you can convert.
Round stools are convenient because they tuck completely under the vanity while not in use. Or, maybe you don't like the antique look, well, there are other vanity tables to choose from that are just, if not more, pleasing to the eye.
Bedroom Vanity Sets & Benches Sale Near You.
"The stool I found at THD after finishing the vanity".
We've done the hunting for you, and rounded up a variety from classic to modern makeup vanity tables. And we are confident that at least one will suit even the most particular makeup lovers and decorators.
Styles Of Bedroom Vanity Sets & Benches Sale Near You:
Hang a mirror that has an interesting geometric design in the frame and flank it with art deco wall sconces to give your vanity table a real Hollywood vibe.
If your table doesn't have an attached mirror, you can hang one on the wall over your vanity.Or order one of our LED Vanity Mirrors
A contemporary and modern bedroom vanity table that features a solid construction. With simple lines and white finish that is neutral. So it looks very nice in any bedroom decor.
You can avoid getting into a little tiff before the next time you guys go out. Just turn to beautiful vanity tables. If you want to have enough space to get ready before your next night out on the town.
Our lavish vanity tables are just the furnishing for you. The majority of girls are fascinated by the exterior beauty of makeup vanity table. And ultimately only a few lucky ones get satisfied with the product usage.
The stool should also be small enough to tuck under the vanity completely when not in use.
If you watch an old film, you'll probably see a round vanity stool with a thick upholstered cushion.
And fabric draped around the legs.
It functions as both study desk, vanity table and dressing table, with internal storage drawers and mirror.
Give your bedroom or dressing room functional storage with the Top Home Design Wooden Vanity Table and Mirror.
And if you need to create a funky vanity for your teen. Simply find a sturdy table and paint it a bright color. The first piece you need (the one that sets the tone) is the vanity or dressing table.
Our Top 4 Vanity Stools & Vanity Chairs
#4 The Atmosphera Velvet Look Vanity Stool
The Atmosphera Velvet Look Vanity stool comes with a very comfortable padded seat. The frame and legs are crafted from high-quality solid wood.
The seat cushion is upholstered with a 100% polyester covering. The covering perfectly matches a velvet look.
Next runner up is …
#3 The OGORI Vintage White Dressing Table Stool
Discover a Lovely vanity stool. That is reasonably priced. I have been told that the delivery was quicker than expected.
At received only a four star customer ratings. Because one of the legs was difficult to install . However, everything went fine.
This Design Includes A Romantic, Suitable For Any Room Furnishings.
Vanity stool white baroque padded dressing table chair
Creat a kind of warm home atmosphere
Well Made,Dressing Stool Legs Are Slightly Bent, It Looks Very Delicate.    Order Now!
#2 Goes to the …
SONGMICS Vanity Stool Makeup Dressing Stool
SONGMICS Vanity Stool Makeup Dressing Stool Elegant Design – The White Lacquer gives the stool a contemporary, fine and clear look.
And the white "Holzhocker" dressing table stool has a timeless Antique looking elegant design.
With 4 curved legs made from solid wood promises a perfect stand. It is suitable for dressing table; can also be used as a piano stool.  Order Now!
SONGMICS Vanity Stool Makeup Dressing Stool Good Workmanship:
 Material: high quality solid wood + MDF Class E1.
Seat surface made of 100% Polyester.
The wood is well and cleanly varnished and acts tough and durable.
Our Finalist The Design Toscano KS1101 Vanity Stool
The Design Toscano KS1101 Vanity Stool – Madame Bouvier Boudoir Stool will capture your attention with it's rich detail, timeless elegance, and warm Walnut finish.
Using only finest kiln dried woods, our trained craftsmen combine these timbers with old world methods & modern techniques. Maybe that is why they create only the most exquisite pieces of furniture.
Treat yourself like a queen by resting on this elegant wooden vanity stool with comfortable cushioned seat when you apply your morning makeup.
Here I can give you a glimpse into how the Design Toscano KS1101 Vanity Stool Or Madame Bouvier Boudoir Stool is fabricated.
From elegant scrollwork legs, to intricately pierced crest rails, our expert craftsmen individually hand carve our furniture making each piece a unique work of art.
All finishing touches as well as the wood finishes are hand applied. From physical antiquing as appropriate. To completion through the staining process. Even the final protective lacquered top coat is applied by hand.
Product Features:
Enjoy genuine traditional details – raising from hand-carved Queen Anne legs with ornate shell motifs on the sides and feet, this classic bench suits many home decors.
You'll Love the high-quality materials – hand-carved using real solid hardwood topped with a walnut finish,
Further Design Toscano's Vanity stool include tone-on-tone jacquard upholstery to blend easily with any home decor
Further more, Design Toscano vanity stools furnishings – exclusive to the Design Toscano brand,
Either way this wood vanity stool is versatile and suitable enough to be placed at a bedroom dressing table, bathroom vanity, kitchen desk or even at an Piano.
You too can enjoy a little luxury with the Madame Bouvier Boudoir Stool!
If Order Your Design Toscano KS1101 vanity stool  TODAY!
This will complete our Bedroom Vanity Sets & Benches Sale Near you highlights. There are many other products available.
I only showed you the most popular ones, Thanks for reading and sharing. Feel free to contact us with any questions