Priceless Do-It-Yourself Fall Home Decor
With the colder weather conditions moving in I decided it is time to share the following collection of fall decorations & fall decor Ideas with you. Discover Fall Decorating Ideas that guarantee to impress & inspire with DIY tutorials, needed supply list, and tools for your Fall Decor projects here.  Most Ship FREE!
You will enjoy our fall decor pieces that guarantee to impress & inspire. Easy fall decorating DIY Tutorials like White Pumpkin Centerpiece, Candle-Holder, Wreath & Porch Ideas … with effortless Last-Minute DIY for $5 or less. Most materials come straight from your own backyard, woods. However, you can buy the most needed materials in artificial form (so they can be reused) at any Dollar or Crafts Store.
— and you know what? You do not even have to leave your home to do so. I added links to the DIY project instructions, as well as some sales for your convenience. Below is a great example…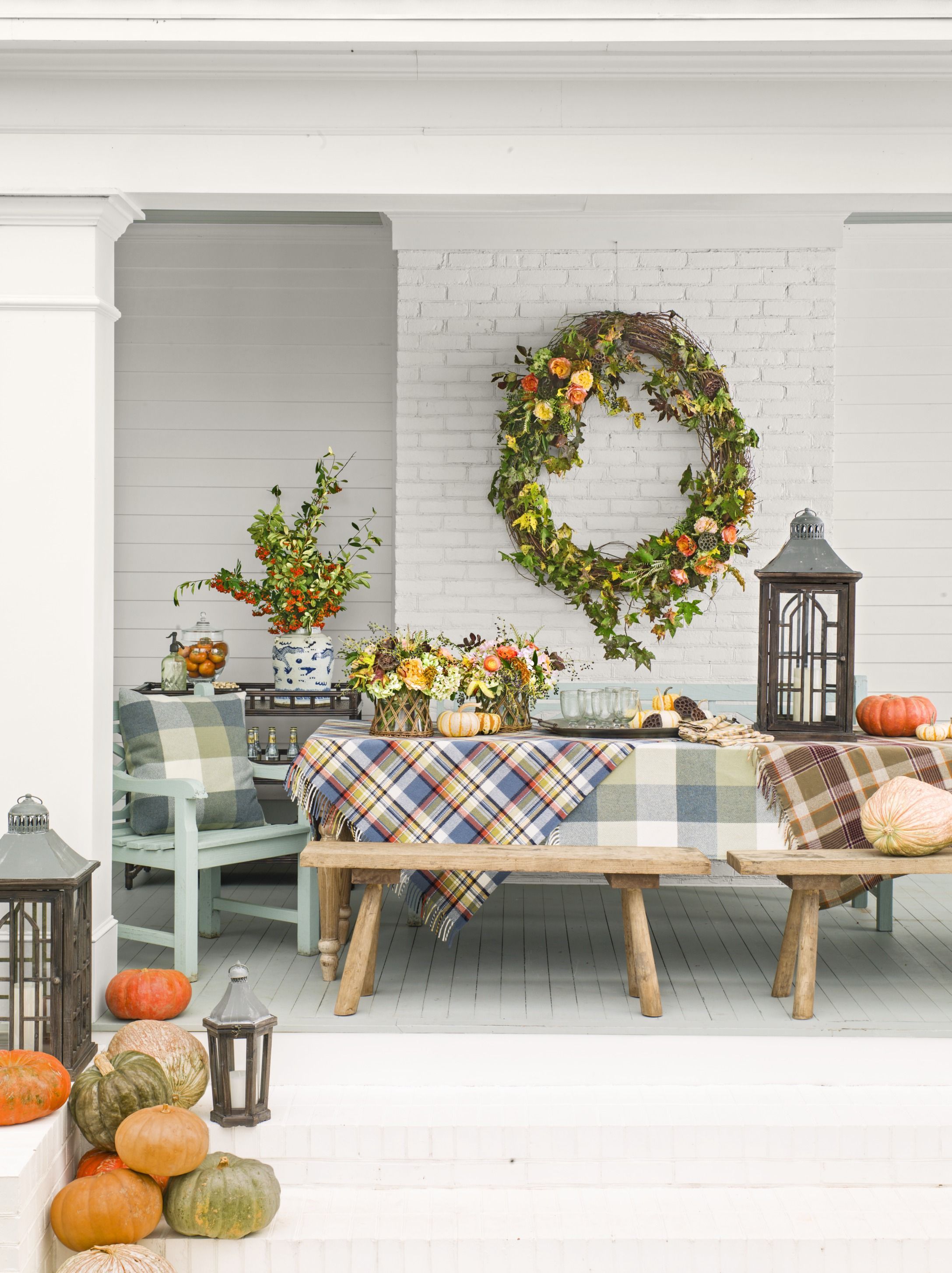 Before I continue with the fall decorations, I like to give thank to all of you. And for the so freely shared fall decoration & Ideas. I also added a few products and fall decor ideas from around the web to the mix and hope that you all love this collection as much as I do
Also, would it be great if you all send me your ideas or your last year's Christmas decorating highlights. To give me materials for a Christmas decoration guide or post for all of us. Remember, it's only two months out from today 😉
What You Might Need:
Decorate for less this Fall with these low-cost and simple fall decoration concepts. There are fall decorations for center pieces, candle lights, wreaths, and focal points. Further, you can find home made garlands, wall art and a lot more!

With all that being said, let's get started with the fall decorating ideas for 2019 …
Low-Cost Fall Decorating Ideas & DIY Tutorials:
Follow this link and get tutorials to make professional looking center pieces, wreaths, candle holders and more. Easy Fall Decor Project Tutorials that take 5-10 minutes for $5 or less
How to prepare your Materials:
In case you don't know how to keep pumpkins, leaves, acorns, etc from rotting and maintain them for decorating. I attached links to a few short articles at the bottom of this post. So you can prepare your own materials and don't need to buy those as well.
Tools:
I attached some sources for that as well.
Fall Decor DIY Centerpiece Ideas
Collect bright leaves, fallen acorns, and pine cones for a rustic display. Use rough-spun fabrics, like burlap to complement the texture of natural materials or shiny fabric, like satin, to provide contrast.
Dried Flower Arrangement in White Pumpkin Vase
In this Iconic Fall Decor DYI a synthetic white pumpkin brings a fresh feel to this focal point. A couple of high branches bring height to the plan, while off-white flowers spring from pine cones, cotton stems, and orange berries. Silvery white leaves end up submitting the pumpkin, making it ideal for both fall crafts and winter season home entertainment. SHOP FAUX DAHLIAS
Candle-Lit Wooden Runner Box
Pillar candle lights and berries fill this abundant wood box for a wonderful focal point that's best as a fall centerpiece. The box is long and narrow, making it a fantastic suitable for any table or a fireplace mantle. White candle lights and pumpkins nestle into a base of Spanish moss, surrounded by winding vines of white and red berries.
Mini Pumpkin Planters with Succulents
Minimalist White Pumpkin and Foliage Runner
Your fall focal point does not need to be detailed. A minimalist display screen can be simply as striking. Basic white pumpkins sit along the top of the rough board. Tags filled with inspiring words hang from the pumpkin stems. Basic berry and leaf-filled vines wind amongst the pumpkins, including the best ending up touch.
Easy DIY Fall Centerpiece Decoration and Mason Jar Runner Box
Fall Decor DIY Tutorials: thefrugalhomemaker.com
If you are trying to find a long, narrow focal point, this basic box of candle lights and foliage is the best option. A basic handmade box, painted in a white highlighted with a dark stain, sets the base of this screen. Fill package with a garland of autumn-colored leaves. Easy burlap-wrapped vases or white candle lights are the best complements.
Cut Branch Vase with Rustic Fall Blooms
Roses and succulents are simply a few of the gorgeous components cascading out of this wood vase. A wood log with part of the fall centerpiece eliminated produces the ideal vessel for this natural display screen. Apricot roses, soft green succulents, and wheat buds cuddle together into the log's center produce an arrangement of color, best for any fall table or screen.
Ceramic Pumpkin Display with Mismatched Candlestick Risers.
Gold-dipped Mini Pumpkin and Votive Display
Gold paint merges the several components of this easy focal point. A long length of burlap diminishes the center of the table. Pumpkins, votive candle lights, berry branches, and pine cones unify with the application of gold paint. Basic wood plaques offer height to the main pumpkin, including another natural component to this stunning screen.
Pumpkin Apothecary Jar Fall Centerpiece
Do It Yourself Project Details: theshadyporch.com
Fall crafts can be found in all shapes and kinds, consisting of ones that fit well into a modern house and even a transitional one. Easy glass apothecary containers develop a basic method to show the vibrant types of smaller sized pumpkins. Cream, peach, yellow and black are simply a couple of colors that can glance out of the clear white sides of these containers.
Wheat Sheaf Fall Decorating Ideas Centerpiece with Burlap Bow
Wheat's natural appeal needs a little more to be ideal for your fall events. Among the striking components of wheat, are the straight stems topped by the soft wheat grain heads. Lots of wheat stems form a standing group, covered by a wired burlap ribbon for structure and appeal. A basic wood blank develops the platform for whatever else.
Upcycled Glass Jar Arrangement
Do-It-Yourself Project Details: loveoffamilyandhome.net
Blended and matched vases holding easy candle lights develop the center of this stunning display screen. Jelly containers, Mason containers, and dollar save specials all get turned into this focal point.
Each glass vessel gets covered in a burlap band protected with twine. Little dried blooms, fall leaves or stenciled initials embellish the bands. Acorns and an easy wood plaque form the minimalist base.
Easy Dried Hydrangea and Pumpkin Display
Do It Yourself Project Details: simplyhappenstance.com
The mild color of hydrangeas highlights this white pumpkin focal point. A rough wood trough, highlighted with distressed white paint, forms the base of this table screen. Off-white pumpkins in numerous sizes fill the center of the trough. Big hydrangea blooms, each with subtle tones of pink and green, fill in the spaces while spilling carefully over the sides.
Do It Yourself fall crafts details: stylemepretty.com
Succulents are the unforeseen enjoy this pumpkin focal point. The charm of this Fall Centerpiece Display that you can select the size pumpkin you wish to embellish. Hot glue protects moss to the top of the pumpkin. A range of succulent cuttings being in and among the moss, developing a distinct display screen with a selection of textures and colors.
Chalk Painted Crate and Jars with Wheat Stalks
Chalk paint and Mason containers work well to highlight the natural appeal of wheat. Painting an easy rectangle-shaped wood cage is the initial step in developing this work of art.
Chalk paint offers it a faded, yet lovely, color. White chalk paint fills the glass with the containers, with stalks of wheat growing about. Orange burlap roses bring a little color to this fall centerpiece.
Galvanized Gourd Buckets with Tree Branch Votive Holder
Do It Yourself Project Details: itsoverflowing.com
Integrating 2 basic components can develop a distinct, warm focal point, best for household events throughout the fall. A galvanized container filled with little pumpkins brings height to this screen. Tea lights nestled into a basic wood branch brings a stunning horizontal aspect that releases a soft radiance. The 2 aspects balance each other completely in this fall centerpiece.
Tree Branch Vase with Sunflower Arrangement. An easy DIY Pro-Level Fall Centerpiece
The several colors of sunflowers spring from a tree branch vase for a distinct fall focal point. Little pieces of tree branches stand side-by-side around a main vessel. An easy burlap ribbon and bow surround the branches. Sunflowers at numerous heights peak out of the top, bringing abundant colors to your table or mantle.
Antler and White Pumpkin Fall Centerpiece
Driftwood white antlers set conveniently beside white pumpkins in this long focal point. These naturally shed antlers get their color from remaining in the sun. Velvety white pumpkins sit among the antler curves, with votive candle lights and white hydrangeas completing the blanks. With a little rearranging, this display screen would work well on a round or square table.
Fall Crafts Blooms in a Pine-cone Filled Vase.
Simplicity and natural charm mark this screen of fall flowers. Big dahlia blooms, in numerous tones of fall, rest conveniently together at the top of this screen.
Listed below, a big round vase holds a wide variety of pine cones where the bloom stems rest. Basic raffia twine surrounds the collar of the vase for the last touch.
Monochrome Ivory Floral Arrangement in Pumpkin Vase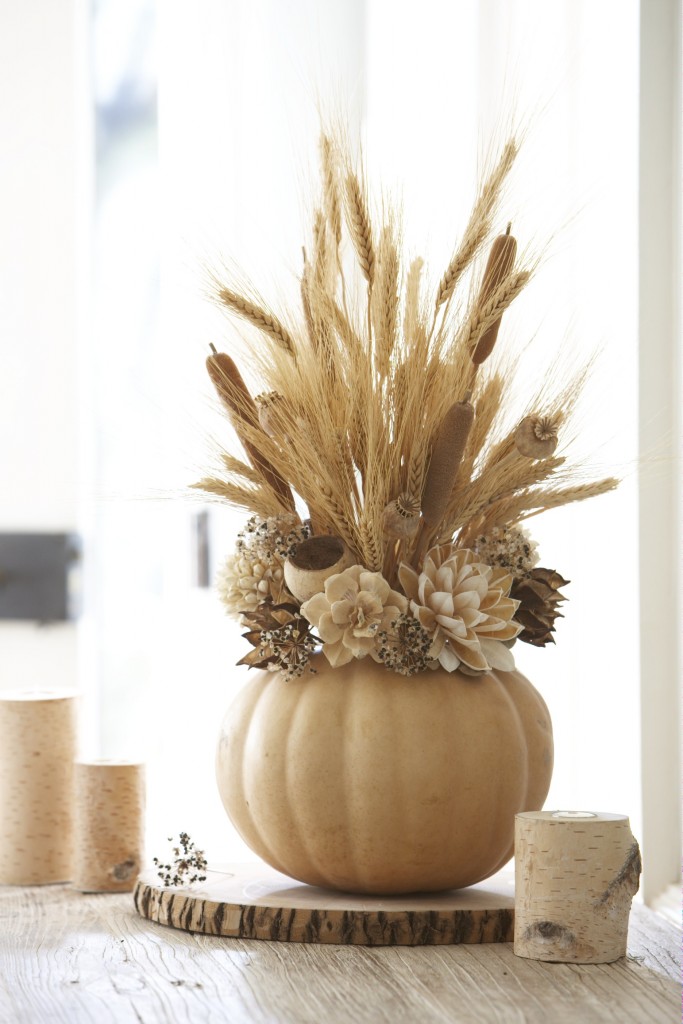 Dried foliage springs forth from a base of off-white flowers and a synthetic pumpkin. Wheat, dried cattails, and dried poppy blooms include height to the center of the display screen. Silk flowers call this center display screen, peaking out of the off-white pumpkin base. This round focal point works well on smaller sized tables or sideboards.
Basic Leaf and Burlap Candle Arrangement.
Do It Yourself Project Details: thatswhatchesaid.net.
Rugged simpleness is the name of the video game with this candlelight focal point. 5 candle lights in differing heights and widths fill a wood tray. Each candlelight has a band of burlap around its center. Each candlelight gets a couple of fall leaves contributed to the band, connected off with a hair of burlap string.
Green Vegetable Candle holders with White Mums.
Fall Decor DIY Tutorials: bhg.com.
Fresh green veggies enclose easy white candle lights for a striking natural focal point. Strong elastic band protects green beans and asparagus. A beautiful ribbon conceals the elastic band with an ornamental touch. Cored-out artichokes make ideal bases for smaller sized candle lights. The candle lights rest on a basic white base, nestled amongst white mums and berry springs.
Mums and Roses in a Rustic Gourd Vase.
Apricot roses and crimson mums integrate for a genuinely vibrant autumnal display screen. A genuine pumpkin forms the base of this abundant flower screen, with a clear brief vase nestled within. The flowers stream up and far from the base, nestled into broom cob. The whole plan rests on a basic silver tray, letting the pumpkin and flowers stand apart.
DIY Fall Centerpiece with Rustic Lanterns and Gourds
The emphasize of this plan is a paper mache pumpkin flanked by 2 lanterns. Fall leaves fill in the nooks and crannies of this big woven harvest basket. The soft blue of the lanterns stands apart among the warm shades of the leaves. This plan will look excellent on your fall table however would deal with your sideboard too.
Give Your Seating Some Character
Deal remarkable chairs an even homier feel by popping off the seats and utilizing a staple-gun to cover them with old sweatshirt parts. Leading them off with foam craft balls covered in yarn, and you'll never ever wish to get up from the table ever once again SHOP FOAM CRAFT BALLS
Freak for Plaid
Prior to your dinner event visitors embed to a hearty harvest banquet, offer the total seasonal treatment with all-plaid-everything table trimmings. Stock the spread with overlapping layers of mismatched plaid garlands, then reinforce the design with matching patterned napkins. Take it one action much more and leading each porcelain plate with fabric-covered 3-inch embroidery hoops. SHOP PLAID NAPKINS
Easy DIY Fall Centerpiece Decor Candle
Combine a big wood bowl and a glass cyclone to begin this harvest focal point. The wood bowl can be a household treasure or something you get at a garage sale. A white candle light fills the typhoon glass with a warm radiance. A bounty of pine cones, acorns, and synthetic fruit fill the curve of the bowl surrounding the center light.
Sparkling Golden Pumpkin Candle Holders.
Do It Yourself Project Details: npdodge.com.
Styrofoam pumpkins accepted in shine hold candle lights for an unanticipated light screen, ideal for your fall table. A drill and a craft knife collaborate to produce the hole for the candle light. The whole piece is covered with glue then kindly sprayed with shine. You can blend shine and pumpkin colors for a tailored display screen.
Tree Limb Votive Holder with Festive Gourds.
A basic tree branch shows tea lights in a natural frame ideal for the fall. This branch is 4 feet long with a side branch that protrudes about a foot to one side for included stability. In these fall crafts, a drill bit dug a little hole for each of the tea lights. Pumpkins, pine cones, and fall leave frame this natural focal point.
Get Crafty With Your Table Fixtures
You simply need a number of timeless spindles of different heights, wool yarn, and some staying knitting needles to recreate this extremely unique centerpiece strategy. SHOP VINTAGE SPOOLS
Nation Chic Apple and Boxwood Topiary.
Red apples are among the best deals in fall. An apple topiary is one method to bring this seasonal fruit into your house decoration.
Floral designer skewers protect each piece of fruit that develops the vibrant display screen. A flower pot develops the ideal background for this round luscious topiary display screen. For a twist, pears can be alternatives to the apples.
Enjoy The Fall Centerpiece DIY Video
Pumpkin and Fall Berry Tray Centerpiece
Definitely, absolutely nothing specifies harvest season like wheat sheaves. Use 'em to fill cloches and after that arrange them on your mantel, dining table, or entryway to produce your truly own autumnal strategy. SHOP WHEAT SHEAVES
DIY Decor Fall Wreath
Hang Window Wreaths
Dress up doors, windows, an empty nook, or bare wall with a cheerful wreath. Pieces consisting of apples, cobs of corn, or autumnal flowers will breathe some seasonal life into your location. SHOP WREATHS
Watch the How to make a Wheat-Wreath Video
Grapevine Wreath
Dress Your Door with an Autumn Wreath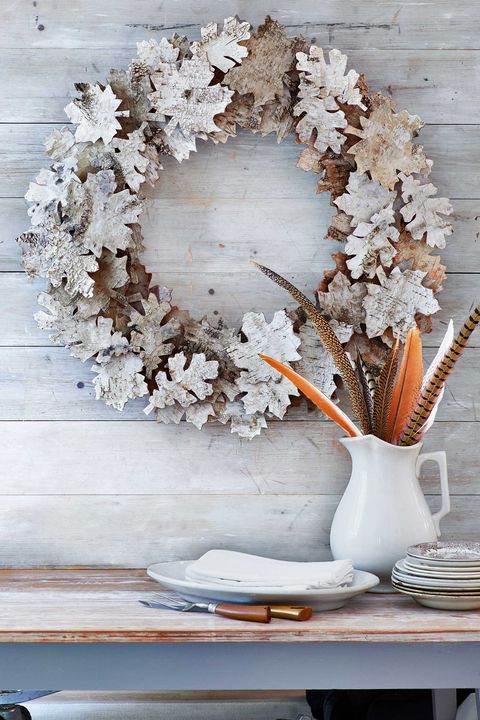 Mikkel Vang
Birch bark is the key to these Fall Leaves. You'll need twenty-four 6 3/4″W x 20 1/2″L sheets of birch bark, a 20-inch-diameter foam wreath form, and 45 small wooden cubes to act as risers.
First, print and cut out our oak- and maple-leaf templates. Trace 75 assorted leaves onto the birch-bark sheets, and cut out.
Varying the leaf type, hot-glue 30 leaves onto the wreath form. Then, hot-glue a wooden cube onto the back of each remaining leaf. Using our photo as a guide, hot-glue the cube-backed leaves atop the original leaves. SHOP WREATH FORMS

Prefabricated Fall Wreaths
Shop For Wreaths
Accessorize a Farmhouse Table
Courtesy of Shabby Fur Blog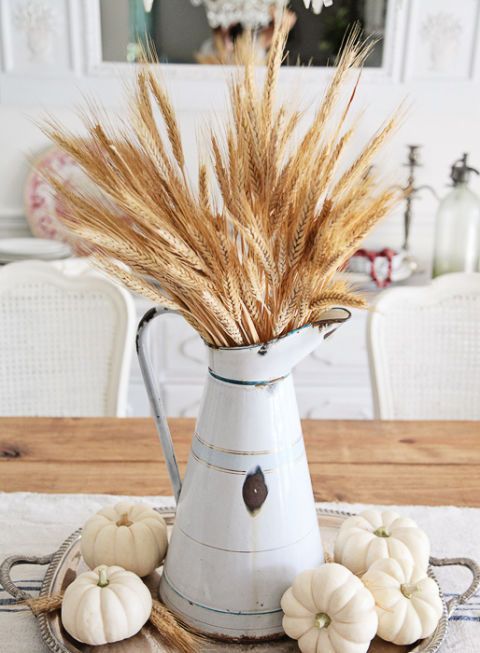 Use an antique pitcher as a vase to hold faux wheat. Add neutral-colored pumpkins at the base of the pitcher to complete the look. SHOP WHEAT SHEAVES
Get the tutorial at Shabby Fur Blog.
Framed Fall Decor

Free Fall Printables + Paper + Picture Frame (Dollar Tree or Thrift Store for $1).
Printables are a easy and great way to accent your decorations.
Some Quick Print Services :
https://vistaprint.com/
http://www.thedatingdivas.com/free-printables/printables/65-fall-printables/
Courtesy of Lolly Jane Create Chalkboard Artwork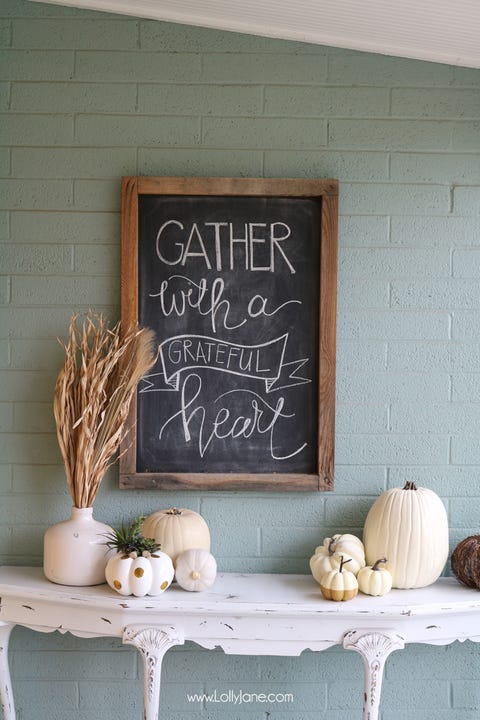 Absolutely nothing states back-to-school season like a blackboard! Make up an innovative piece for your entrance or a bare wall by including a motivating message any old board. If you do not have one lying around the house, you can turn any old frame into a canvas by simply painting it with chalkboard paint (available in more colors than black). SHOP CHALKBOARD PAINT
Get the tutorial at Lolly Jane.
Building A Fall Woodland Frame
Ann from On Sutton Place DIYed her way to a woodland-themed frame that's complete with moss, acorns, and pinecones. You can follow her lead and fill it with a Chalk Board, or a family photo. Get the tutorial at On Sutton Place.
Fireplace Mantel & End Table Decor
Candy Corn Mason Jars
37 of 77
Mix Rustic Fall Accessories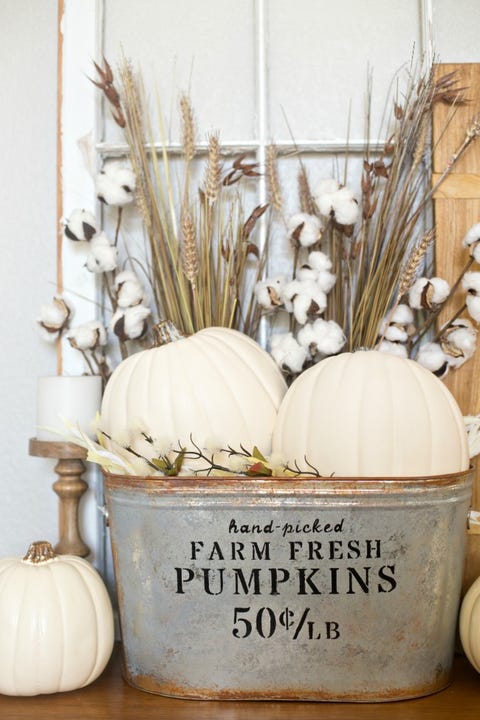 If you already have rustic elements throughout your home, These will work great with your existing fall decorations. SHOP TIN PLANTERS

Get the tutorial at A Night Owl Blog.

Candle Fall Decorations
Easy Fall Decor DYI With Tea Lights

Glass Pillar Candle holder (Dollar Tree) + Grapevine Wreath ($2 – Walmart) + Maple Leaf Pack (Dollar Tree) + Natural Raffia (Dollar Tree) + Large Orange Pillar Candle
Cranberry Filler Candleholder Fall Decorating Ideas – (source unknown)

Branch + Spade Drill with Large Drill Bit + Tea Light Candles
Home Fall Decorations Candy Corn Candle Tray (source unknown)

Mason Jar – with metal handle (Dollar Tree) + White Tealight Candle (Dollar Tree) + Acorn Pack (Dollar Tree)
Easy Fall Decor DYI With Candles

Brown Willow Wreaths (Dollar Tree) + Maple Leaf Garland + Glass Pillar Candle Holder(Dollar Tree) + Small Pillar Candle (Dollar Tree)

Burlap Ribbon + Glass Candle Holder + Maple Leaves Pack + Small Pillar Candle
All these items can be found at Dollar Tree
Pillar Candle (Amazon for $4) + Twine (Dollar Tree) + Maple Leaf
DIY Pumpkin Fall Decorations
Paint Patterned Pumpkins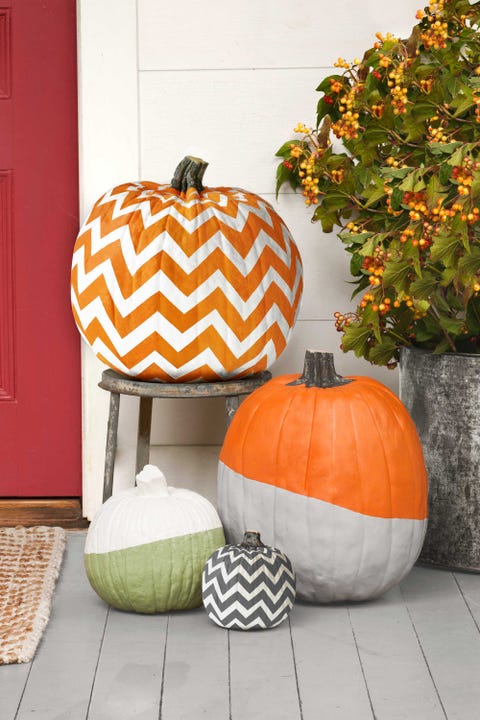 You can create all of these nifty designs using acrylic paint and painter's tape.
For a two-tone, dipped look, bisect a pumpkin with a strip of tape (angle the tape for a diagonal effect). Use a foam brush to cover one section of your pumpkin with two coats of acrylic paint, allowing 30 minutes of drying time per coat. Remove the tape and discard it. Stop there, or repeat the steps to add another color to your pumpkin.
To form chevron stripes—whether two or tons—link short strips of tape to make the zigzag patterns, using our photo as a guide. Use a foam brush to cover your pumpkin with two coats of acrylic paint, allowing 30 minutes of drying time per coat. Remove the tape and discard it. Clean up the edges with a cotton swab if necessary. If you'd like the second color to be different than natural pumpkin orange, fill in using a small paintbrush and contrasting acrylic paint, as we did for the black-and-white pumpkin.
Alison Gootee Add Foliage to Pumpkins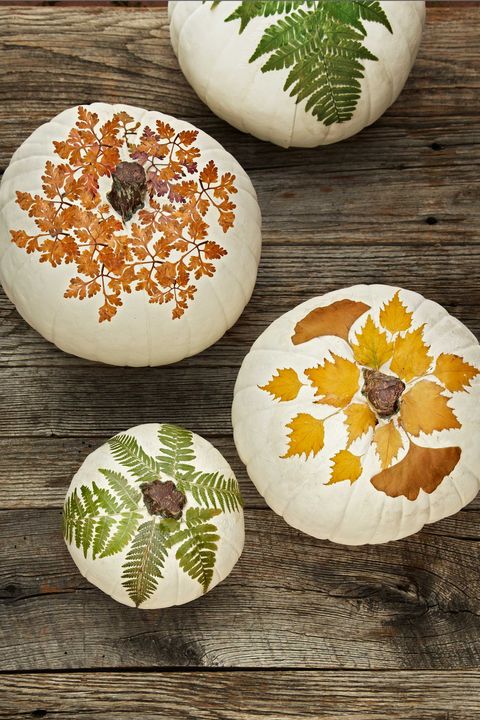 Hit the road, Jack! Carved pumpkins don't hold a candle to this naturally brilliant idea. Just use ModPodge to decoupage a white gourd with pressed leaves. You can harvest the foliage from your own backyard.
Fall Decoration Accessories
Throw Blankets
A few DIY Ideas
Table Cloth

Harvest Wall Decor
Fall Throw Pillows
DIY Dinner Table Accessories
White dishes, DIY napkin rings, and branches with berries combine to make a fall-themed dinner table.
Get the tutorial at The Wood Grain Cottage.
Make Tree-Branch Coasters
Kate Mathis
To make these rustic drink perches, you'll need a tree limb that's roughly three inches in diameter. Saw the branch into slices about 3/4-inch thick—or have a hardware store do it for you—and lightly sand each wood disk.
Create the leaf motifs shown by pressing an inked stamp onto each coaster. Let dry for five minutes, then coat the stamped side with a protective matte finishing spray. Allow 15 minutes of drying time before using it. SHOP STAMPS
Fall Leaves Garland (source unknown)

It goes great down staircases, across fireplace mantels or around the frame of your door. You can add orange lights in it for a more festive look. $1 for 20 orange lights at Dollar Tree.
Create a Pomegranate Centerpiece
Quentin Bacon
"Ripe fruit is as lush as any flower," says Liza Lubell of Brooklyn's Peartree Flowers, who used opulent pomegranates for these autumnal centerpieces. Cut each branch to a height that allows its heavy fruits to rest on the rim of your vase. Then fill in with inexpensive foliage, such as the purple shiso leaves here.
DIY Gold Leaf Pinecone Garland from The Sweetest Occasion
Crafts For Kids – Inside & Out
Keep your kids busy collecting the right fallen leaves from your backyard. After you prepped them let your kids create beautiful art work. Get the tutorial at Just a Girl.
Dress Up Your Mantel With Banners
Who states you just need to hang one banner throughout your mantle? Including numerous, consisting of ones that have various textures or patterns, provides the location additional measurement.
Get the tutorial at Ella Claire Inspired.
Burlap Fall Banner (source unknown)
burlap banner + stencils (letters and maple leaf) + black and red acrylic paint
Fall Leaves Banner from Sondra Lyn at Home
Porch Ideas & Outdoor Fall Decor
Incorporate the fall colors
Pine Cone Hanger made from
Burlap Ribbon , Pine Cones, and Wire

Fall Lantern from Jenna Burger Designs
Mikkel Vang Warm Up Your Outdoor Space
Country Willow throws and a wire basket filled with firewood adorn this front porch
Local Pumpkins
House number and location pumpkins. First, you'll need number stickers, as well as a decal in the shape of your state.
Use Fiskar's star punch to mark your location on the state decal. Apply it to one pumpkin, and the numbers to another, then use a foam brush to cover both pumpkins with two coats of acrylic paint, allowing 30 minutes of drying time per coat.
Remove the decals and discard them. If you'd like the numbers or state to be a different color than natural pumpkin orange, fill in using a small paintbrush and contrasting acrylic paint, as we did for the green-and-white pumpkin.
Pumpkin-Trail
More Resources:
As promised here are the links to a few short articles that explain to you how to prepare and maintain pumpkins, leaves, acorns, and so on for decorating.
Tools You Might Need
Scissors yours most likely will do
Wire cutters for the floral-arrangements. The cheapest is to get a pair of wire cutters at Dollar Tree.
Acrylic paint or spray paint. I have been told that Walmart sells small acrylic paint spray cans for like $0.50. However, you will most likely need larger ones if you do a few projects.
Small paint or sponge brush. I usually get mine a Dollar Tree. If you plan on various decor pieces it may be better to buy a variety pack like this one from Amazon. That will give you the ideal brush for most projects.
Glue Gun most folks prefer this small one from Amazon, it comes with the first glue sticks. You can get a similar model at a comparable price at Walmart.
Prefabricated Crafts & Materials
Just a few more things:
24 Fire Safe (flameless) LED Tea Light & Candles
Fall Maintenance For your home
Conclusion:
Here I like to turn it over to you. Did you find a project that you like? What are you going to try first? Will it be a Center Piece, A Wreath, or something else?
It would be great if you share your experience and maybe a photo for next year's post.
Thanks for reading and sharing…ask questions or leave a comment below.
FYI – Disclaimer:
Some sources for these projects are unknown to me. And the credit for the individual project will belong to the respective creator. THD shares this content from other publications and materials that were shared with us.
Further, we might receive a cash reward if you follow links and the advertised products are sold to you.
Hope this post proves useful to you and that you enjoy the fall season…
Don't hesitate, to comment or ask questions and share this post with your friends