Let's create your Interior Design!

We broke down the 27 most popular interior design style. Get all the details on decorating styles like Boho, Coastal, Modern, & Industrial design. Collect simple decorating Ideas. Find style matching low cost design products and read their product reviews.
Don't know your design Style? Visit our Beginners Guide to Interior Design And Decorating.
This Index breaks down the most popular interior designs styles into Furniture styles, paint & colors as well as fabrics & decors.
Want Design & Decor Tips?
If you like actionable decorating & design advice from me? Then join my newsletter. (you can cancel anytime)
Here each design style is brocken down to enable you to:
Pick the right Furniture for your Design Style
choose what colors to use and where
find the decor matching your design style
Select the right kind of accessories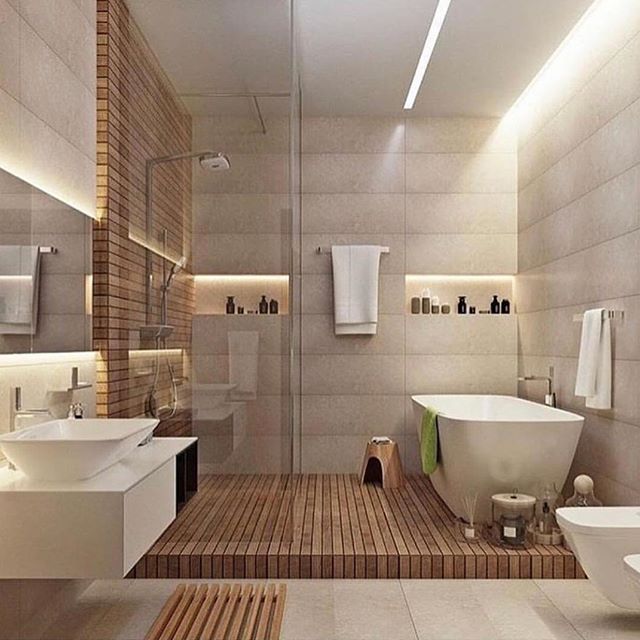 Discover Decor Trends for 2020
Table Of Content
You can use this interior design style index to jump to your desired Design Style.
The English Country Style ( based on design photo)
Hollywood Glam (Hollywood Regency)

As you can tell we got lot's to cover. So let's jump right in.
To get started you can watch the interior design style video below first and then look for the juicy details on your desired style below. … Enjoy 🙂
If you new to this and wonder what Interior Design is all about. Or don't know what terms like texture and color schemes mean.
You could hop over to get you up to speed and come back here after brushing up on the lingo.
BTW if you feel like that your home is too small for any of the interior design styles. I will, later on, reveal more about small space design.
Let's Find Your Design & Decorating Style

Pro Tip
Even, if you don't read all of the style definitions … If you're ready to have your home interiors feel like your own personal oasis. You should keep these style definitions close at hand. Because it has all the vital information you need, to bring any of the following styles and look's to live.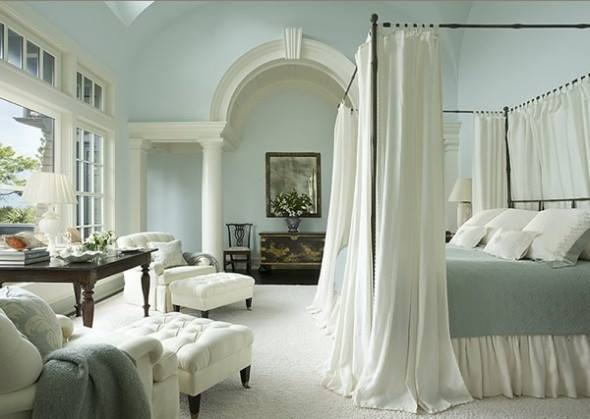 Art Deco Designs For Interior

According to wiki: "Art Deco was popular in the '20s and '30s and a mixture of different styles. And the desire to be modern fused these contradictory style s together. Further, you should know, that the roots for this style were heavily influenced by 3 major art styles.
the bold geometric forms of Cubism (Art like from Pablo Picasso),
the bright colors of Fauvism (Art from Van Gogh)
and of the Ballets Russes (Russian Ballet)
Discover what you should know about these interior design styles:
Furniture:
As you can see in the illustration above. The Furniture in this interior design style features rounded fronts and sleek lines. Mirrored décor and accents were very frequently used. If you are hunting for stylish matching furniture. You should look for wood furniture that is detailed with chrome or braze hardware and has glass doors or tops.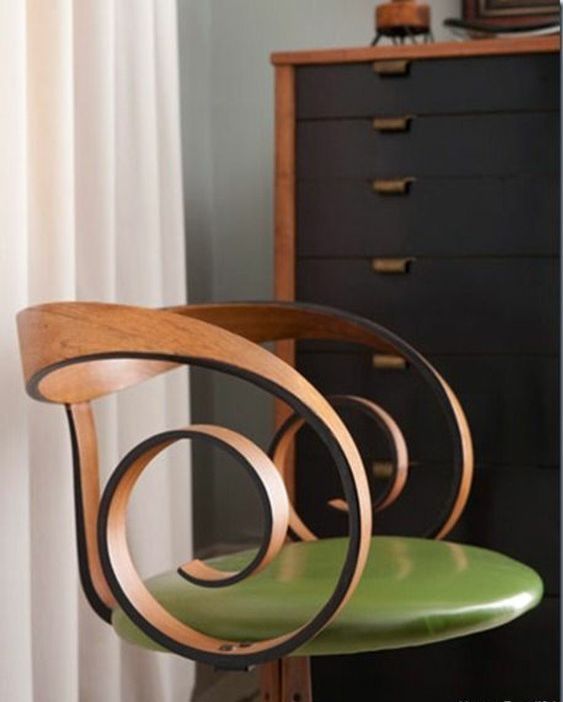 The Decor is
Easily to reproduce if you include exotic styles from great cultures like Asia, Egypt or India. Persian and Mayan artifacts or copies would do well too. Further, you should feature rare and expensive materials. Like artwork that looks like ivory or is ebony. Yes, this style featured a lot of exquisite craftsmanship.
In Today's world, the Chrysler Building in New York is a monument of the Art Deco style.
Arts and Crafts Designs Styles
Between 1910 and 1925 the Arts and Crafts movement became popular in the United States.
However, it has much more history and it's rooted in Great Britain. Along the timeline of 1880 through 1920this style gained popularity throughout Europe. And therefore it was an international movement in the decorative and fine arts.
Here is what you need to know about this interior design style:
Massive with lot's of wood comes to mind for the time period furniture. Cushions & upholstered pieces where commonly tufted. Most times wooden ornamentation or masterful carvings where the norm. You should note that in this style often every inch of wall space was decorated. Either with some sentimental painting. Or heavy bracket or framed stitchery.
The Colors for Arts & Crafts Style, are mostly focused on exteriors. And is downright hackneyed: "use natural earth colors in mid to dark tones."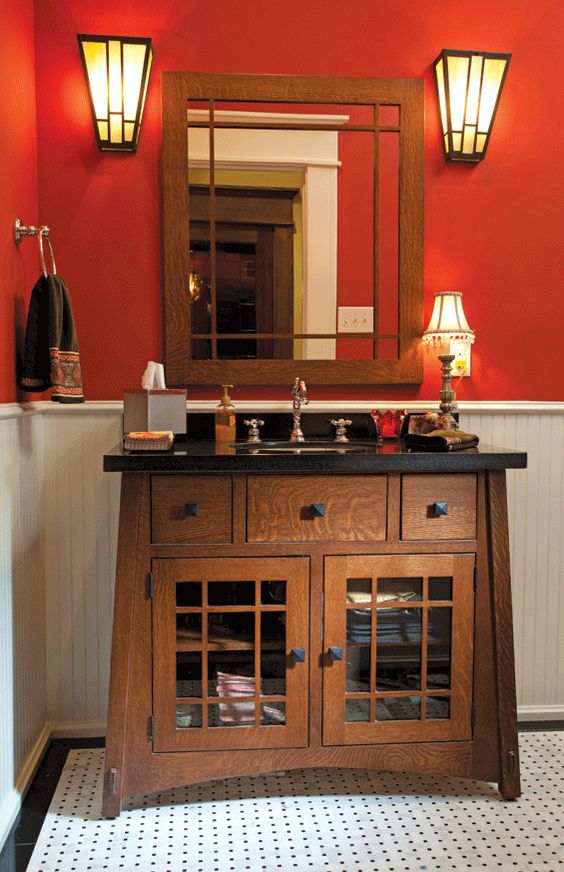 While I reviewed time period wallpapers and surviving interiors during my tours in Europe. I received some of the advice given by Arts & Crafts influencers. And I recall pale stone colors, like eggplant (sort of lilac) and luridly colored patterns.
There's also the matter of analogous vs. complementary color schemes. And both of them are popular but with very different results.
Analogous refers to colors adjacent on the color wheel: dark pumpkin walls with fir or red-oak woodwork.
complementary means opposite-using green or blue with red-tinged wood.

Pro Tip:
You should note that in this design style. You will find that many pieces of furniture and other elements. Mostly showing how the parts have been connected or assembled.
Furthermore, you should be a fan of heavily decorating your walls. Suitable wall art would be some sentimental paintings. Or handcrafted art like framed stitchery.
You should note that in this style often every inch of wall space was decorated. Either with Or heavy bracket or framed stitchery
The Asian Designs For Interior

Maybe you already know, that the Asian interior design style is also called the Oriental design. And it was obviously inspired to showcase cultures of Asia (China, Japan Korea). As well as other prominent Eastern societies. Most important is that this look fuses natural fiber elements with bamboo. Furthermore, the colors are taken from nature. In order to create a relaxed and calm environment.
Here is the design style explained:
In your attempt to create this design. You should long for furnishings that are either lacquered or hand painted. Ideally with ornamental designs. Further, the use of bright colored accessories will help. And silk is a must since China has been known for its high-quality silk.
BTW this silk is harvest from silk spiders and is very durable.

Asian designs styles seating
Red is a prominent color in the Asian interior design style. Perhaps because it represents "good luck" in the Chinese culture. Yellow will work as well. Otherwise, you can accent with greens.
You just keep an Eye out, during your next visit to your favorite Chinese Restaurant. And get inspired by all the vibrant colors. And combine those with dark and rich in color wood tones.
Accessories can help to cement the Asian style design in your home. But the furnishings will help to create the base. Look for cleaned lined, low tables, bamboo and lacquered wood chests and sleek sofas.
Here are a few resources to help find Asian style furnishings include:
Order our Products & enjoy Free Shipping
Bohemian Design Style
During the 1960 -70's the Bohemian style flourished. This design style is also referred to as " boho."And fans of this style may even call it "boho chic."
Bohemian was a popular home design style. However, I also came across some references to fashion. Either way, it sure reflects a laissez-faire (careless) lifestyle with very little rules.
For a better understanding of this style. You must know that Boho is inspired by people who choose to lead an unconventional life. Good examples are travelers, actors, and writers.
This style incorporates those ideals. Mainly by combining objects, colors, and patterns from many walks of life. As well as many areas of the world. If you're looking for an interior design style that makes a statement with personality. Boho might be just the right one for you.
You need to know about the Bohemian Design Style
To create a Bohemian home. You should shop Antique stores and Yardsales for vintage furniture and fixtures. Further globally inspired textiles art and rugs will go well with this style
Mostly this style will be a display of your collections.
Regardless if they came from the Antique store Down-Town or from your travels. Therefore it's not uncommon to spot floor pillows. As comfortable seating arrangement when visiting a bohemian style home.
This style can combine an ultra-glam chandelier with a very worn rug. Heck through a mid-century chair into this picture as well. Anything goes as long as you love it. Since there are no rules when it comes to Bohemian decorating.
Warm earthy colors like deep browns and greens are common. Metallic and jewel tones are very much favored as well.
You could use grays for a base color. And should accessorize with loud colors like rich purple, hot-orange, or a more electric blue.
Combining and layering colors is what makes this style unique.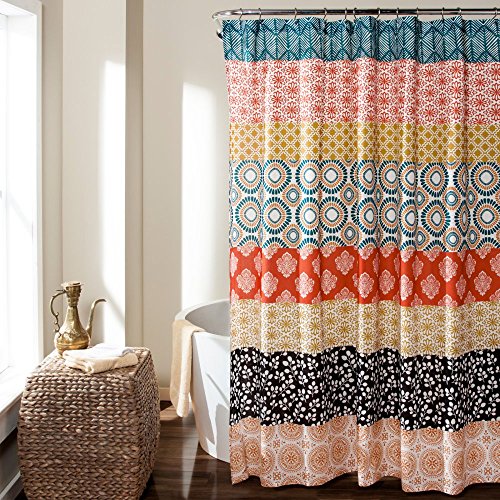 The Coastal Interior Design Style (Need citations)
Also referred to as dubbed Hampton's style.
As you might know, the coastal style is defined by relaxation and comfort. And has become one of the most popular decorating styles in the United States (Types of Coastal style Decorating, 2017).
Inspired by the ocean. It creates a light and breezy feel. First of all, you should use light and airy fabrics for window treatments. Further, you should place most of your emphasis on nautical decor.
Furthermore, fishing – themed, as well as beach style accessories, will work well. Think of boat paddles and lighthouses. Fishnets, Ropes, and seashells will work great as well.
Here is the interior design description & you need to know about this interior design style:
Typically you will find shades of white or light beige Furniture. The room itself can also contain wood elements.
You should get inspired by the sea when you accessorize your space. And the color palettes with cool neutral shades could be paired with blues and greens.
Your décor should stay in blue and white color. For example, white and blue striped or patterned pillows would work well. Further, you will find most often large windows and only light sheer. Furthermore, the sofa is usually white or very light beige and plush. Mostly white painted wood is also common. And this classic style rounds up with also classic fixtures.
The main goal is to blend a comfortable home into the exterior beach and ocean.
Contemporary Designs for your Interior

First of let me say that the Contemporary Design Style is the design of today's time period. Therefore, it has been popular since the 20th or 21st-century. As you can see in the photo, it represents clean lines and a clean look.
You should start with soft neutral colors for your base tone. And pair those with punches of solid and bolder colors in your décor to create this style. Further, you could use a single piece of furniture in a bold color to add interest to your room.
Please keep in mind that this interior design style clearly is not as warm and cozy as its ancestors. And that you are opposing the traditional designs with less rich variations. You should focus on creating an uncluttered and clean look
Here is what you need to know about this interior design style:
Lower type Furniture is a cornerstone in this style. Metal frames or straight furniture legs and footings are also typical in this design.
You should focus to use furniture that is very basic in form and shape. Further, you should decorate such space with graphic elements in either artwork or rugs. Those will add a warmer note to this otherwise cool look.
You should decorate this space with high gloss metal picture frames or polished wood. Further, you could use wall art with graphic elements.
Pro Tip
Since the finished floors are mostly wood or tile, I recommend some graphic design on your rugs. With these rugs, you can add both warmth and color to a room. You can use darker shades of colors. Grays and browns work just as well as the more commonly used white and light cream color tones. Remember, you decide which you prefer.

The Cottage Home Decorating Styles
With decades of history, this is again a more traditional design style. Basically, this style fuses together elements of the eclectic and shabby chic styles.
You should choose this design style if you are trying to create a warm and relaxing domain.
Please don't let its title mislead you. You do not need to be living deep down in the woods. Because this style will work just as well in your town-home or apartment.
Here is what you should know about this interior design style:
You should look for Furniture with a vintage feel and look. The local antique dealer or thrift store would be a good place to shop. Aim at soft colors for the upholstery and stick to finishes in flat or eggshell for walls and woodwork.
White Colors are most commonly used as base color. However, you should note that if you're not a big fan of all white color design. You should feel free to add some warmth and interest to your walls. Softer shades of gray, yellow and blues can do that trick and work well in this design style. I personally like those options better myself.
Pro Tip
Whatever color you choose you should stick to just this one, to tie all your elements together.
I could not find a definitive rule on how to Accessorize. However, it seemed like in general, designers recommended sticking to odd numbered groups of items.
My suggestion here is that you experiment around with a variety of types and sizes in these sets.
And if you feel stuck, I suggest, to head over to browse our store for some design inspiration and pattern that you like.
Home Decorating Styles Cost Savings Tip
You can save some money on your furniture by shopping on yard sales and flea markets. If your furniture paint color won't match. Or it show's strong wear, simply re-finish those pieces. Adding a few coats of paint is all you need to do. And this will enable you to tie them together.
If however, you are not much of a DIY enthusiast. You can use just as well one of many Classic Slipcovers. We very frequently do this in our cottage designs (and others) as well. This simple trick will change the look for you in a snap.
The Country Design Interior Styles

This time l will tell you about the Country Style… If you are looking to create an elegant but relaxed interior. This beautiful design style could be yours.
You should know that this style includes many variations. Because it depends on its geographical location. For example, there is a French Country and an English Country style. Further here in the USA we have the Farmhouse Design.
Either way, muted colors and primitive furniture are included in each of them.
Further, washed paint finishes as well as vintage hides and fabrics are common.
What you should know about this design style:
Depending on your age Granny's basement or attic will be a great place to find your Furniture. Antique Dealer, Thrift Store's and Flea markets are also good sources to find hidden treasures for your country style home.
Look for simple pieces with painted or stained finishes.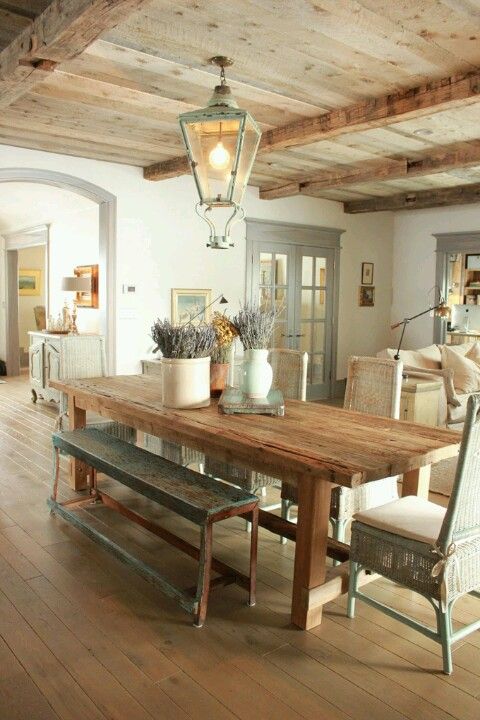 More importantly, this furniture should have only very little to none ornamentation.
Washed colors create an aged or worn look. You could also go for a more contemporary country look. This would allow you to use brighter color variations. However, I suggest you use those only as accent colors. Red or black as well as full flesh white would do well in this design style.
Everything handmade makes great accessories. This great variety can include anything from baskets to pottery. Wooden bowls or hand-forged metals like fire pokes make awesome additions.
Your Fabrics should have flowery motives or checkered and striped patterns. You could purchase calico with the printed motives on it. Either one of these fabrics will help you to add some visual interest. As well as color to a rather spare looking country room.
If you order our products you can enjoy Free Shipping
The Eclectic Designs for Interior

This style appeared first in Continental Europe. In England, France, and Germany to be exact. You will discover a mixture of style elements from various style ancestors. And this is basically the theme of this interior design. You will mix a variety of time periods and styles into one to create something new and original.
You can mix textures and finishes. As well as shapes of items. As long you fuse all of it together by one neutral base color. And voila you created an Eclectic Style home.
It may also interest you that "Eclecticism" is an architectural style. Therefore, this style may include either structural features. Or furniture and decorative motives. It is even possible to include all three of them together.
Here is the interior design description & what you should know:
Color ties the various elements of Furniture, Decor, and Accessories together. And the fabrics give the room a more refined look and finish.
Vast combination of finishes and textures sets an eclectic look apart from the rest. You can see in the photo above that the polished bronze lamps contrast with the black Iron frames. However, the cream color on the walls, pillows, and rugs tie these elements together.
Speaking of Colors, the palette can very much vary. However, you should stick to a few neutrals color tones. Because in order to pull all these elements together. You need something common throughout the room. Just look at the red & gold room photo above.
You see the cream colored fabrics in the lamp-shades, pillows, and rugs.
Further, you should notice the brown woods. And these two colors fused all the other elements together. Furthermore, the same color tone is used in the walls red & cream pattern.
Got it?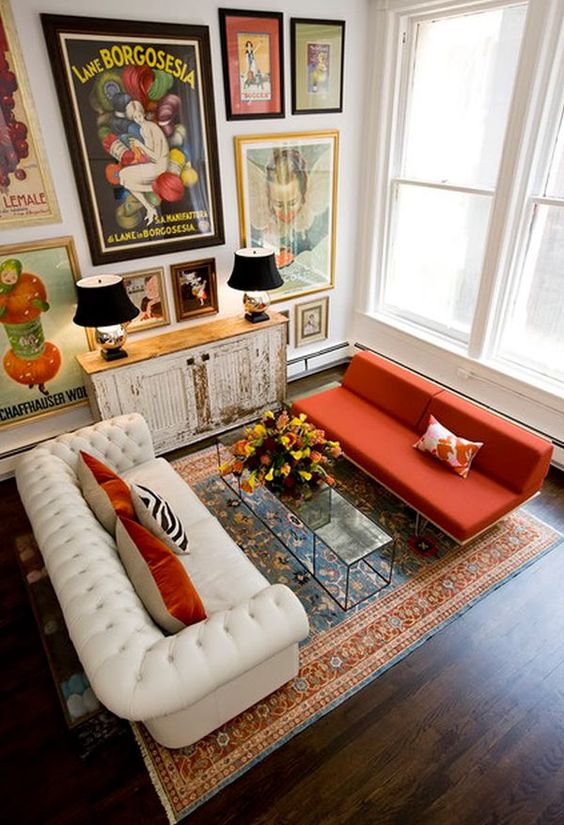 Base colors in at least one of the elements is a must. The fabrics, wall-paint or wood-finishes are your best options. This keeps your design from getting lost in too many shades of colors.
Choosing the Fabrics color to tie a room together doesn't mean that you have no options. Rather far from it. Eclectic styles include a large variety of it. However, the variety lays then in their pattern, types or textures. It could be just one of those or all of them together, like in our example.
Pro Tip
You best choose a color scheme and stick with a neutral base to settle the look. Beyond that, you can add colored and textured solids. As well as tassels, patterns, and trims.
Here are some easy to follow step-by-step instruction by Lyla from TLC on how you can match new furniture pieces to a more worn appearance.
Products
English Country Design Interior Styles
The English country style is a combination of rustic interior and floral printed thick cushioned sofas. All arranged int one relaxed more informal setting.
Below is what distinguishes this designs for interior
The floor is covered with the parquet and the ceiling usually is a rich in moldings.
The living room furniture should be made of natural wood. For example, oak, walnut, mahogany, ash, yew. In addition, furniture has especially elegance– graceful turned legs, elaborate carving, and incrustation.
And only natural fabrics are used for the upholstery. Ornamental, finely carved wood furniture. With overstuffed sofas detailed with tufting and skirted furniture mix.All including antiques and lots of small decorative accessories.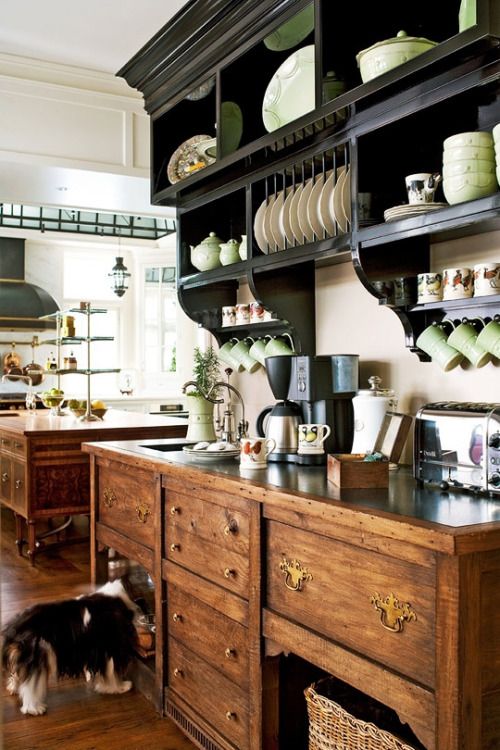 The color can widely very – from warm shades of green, yellow, and red. To cool blue and gray.
More importantly is that Textiles play an important role in English interior. Also, decorative elements such as curtains, throw pillows, and blankets are the integral features of the living room.
The French Home Decorating Styles

Most likely you going to agree with me. French interior design styles are an imaginative style. Because it combines the old with the new. ABut still remain true to well-known design principles. It still, however, includes the house owner's character right into the area.
Below are the key elements that you need to know to create this style.
The furnishings, as well as art, are particularly modern. However classic aspect like molding and also sterling silver serving trays make for a remarkable and also trendy appearance.
Mainly you will find antique treasure. As well as layered dramatic home window treatments. And a French house style is beautifully assembled with a wealth of fresh flowers
You will certainly discover a great deal of area for flexibility when it comes to color.
Allow your personal taste to dictate the combination you select. If you wish to create a tranquil feeling, choose neutrals like white, off-white, as well as beige.
You could also use creams, light grey, and soft duck egg blue
If you wish to punch up the mood, strong shades are the means to go.
A full blue and emerald would certainly be great selections. Even color shades of red will certainly work. Since nothing is off limitations in French indoor design.
An ornate, whimsical and also decorative style is characteristic of this appearance.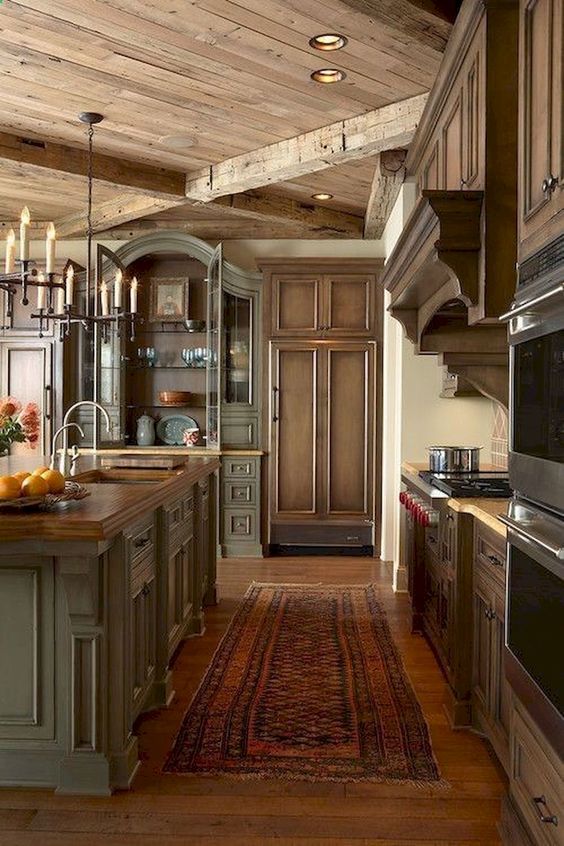 Pro Tip
Colors range from rich, sun-drenched Mediterranean hues to softer, muted shades.
Use only one color or fabric and repeat it throughout the space. Add many décor pieces that are characterized by rich details and mostly use gold-dish and bronze hues.
Watch the video below to find your interior design style. After that, you can then check in the guide for the juicy details that you need to know….enjoy!
If this did not help, you can also take our trivia-picture-quiz

The Hollywood Regency Home Decorating Styles
Or better Hollywood Glam is a design style that tends to be luxurious, super classic and dramatic. If you like to make a statement this design style is definitely for you.
Hollywood Regency was named for the movie-making industry of southern California as typified by the glamorous homes. And not just any, no we are talking about the estates of the actors and actresses of Hollywood's "Golden Era ". What places the time period into the 1920s -1950s. Think of big name like Buster Keaton and the magnificent Greta Garbo.
Below are the design elements & the interior design description:
This style is also known as Regency Modern. And this design style describes both interior and landscape architecture. Both of those are characterized by the bold use of color and contrast. Including metallic and glass accents to signify both opulence and comfort.
You should know that this design style often incorporates some features of the Victorian design. Mostly including plush, velvet furnishings, tufting, and antiques.
The color palettes are particularly bold—think purples, reds, and turquoise.
I discovered this style during my research on Interior Decorating & painting and they looked like to be a good contact for our Australian Reader around Brisbane.
The Industrial Designs For Interior
Popular since the late 2000s and grew in popularity in the 2010s. The industrial interior style is warm, masculine, and definitely sexy.
The Industrial style or industrial trendy refers to a design pattern that takes ideas from old factories as well as commercial areas.
You know…we've seen them all in one or another Hollywood Action Movie. The latest trend is converted Shipping containers. They are now being used in architecture for homes and commercial spaces.
These elements in the industrial interior style are giving the space a "warehouse" feel which is the ultimate goal of this design style. This style incorporates raw materials to give the space an unfinished look and feel.
Following are the design elements you should include to create this beautiful style
The furniture The furnishings are fascinating. As well as you will certainly discover a textural interaction of grainy, natural timber as well as smooth, shiny steel.
This is a preferred commercial interior decoration trend. Many prefer to prolong the presence of steel by selecting high-sheen steel or chrome accents.
However, I recommend you concentrate on making use of it in the kitchen and for light – fixtures.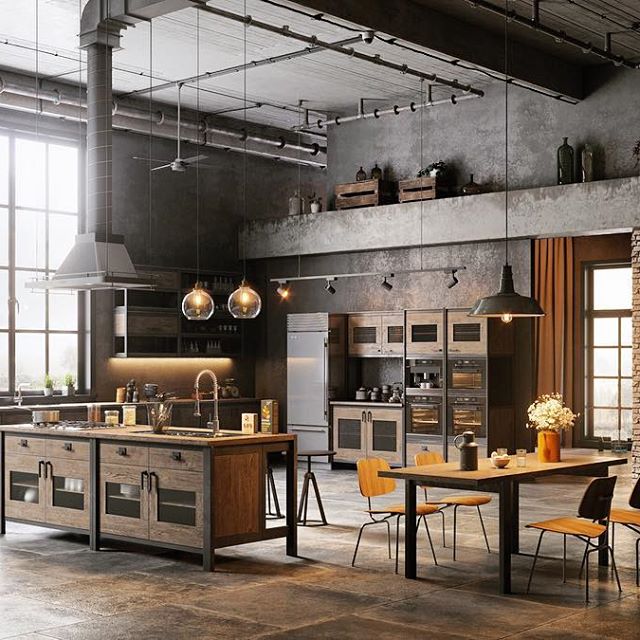 In my opinion, when it involves color in this interior design style. You need to stick with warmer or neutral colors. Whites and Gray's are normally favored for industrial style.
However, keep in mind that the floor design is typically big and open.
Therefore, you should use colors that bring in some visual warmth. Or else, the home could feel too cold and uninviting.

Pro Tip
You should use gray tones effectively. These simple shades permit your furniture as well as other accessories to insert some warmth.
As far as illumination goes, floor lights are trending.
Any light component with metal surfaces fits right into this style. Big open home windows also help and bring natural light into the room. Which could be really beneficial for smaller sized spaces.
Components of industrial style consist of weather-beaten timber, constructing systems, revealed brick or block, industrial illumination components, as well as concrete.
To link into the industrial motif, many homeowners turn to a cooking area island. These islands have the tendency to be constructed from reclaimed timber or various other earthy products. A kitchen island can also add to dividing a huge space. And also giving an extra defined kitchen location.
Pro Tip

An Island-Bar-Combination would work excellent as an area divider.
Lighter tinted floors or polished concrete are means to include this new style right into any kind of kitchen.
To modernize this rather rustic look, decorative ceramic tiles look great in the cooking area.
Ceramic tile as a back-splash could help create a contemporary spin and also aid perk up the location.
This is currently an actually hot trend in the business application. However, it has ended up being a popular residential style as well.
source: Wikipedia
We're making a ton of progress …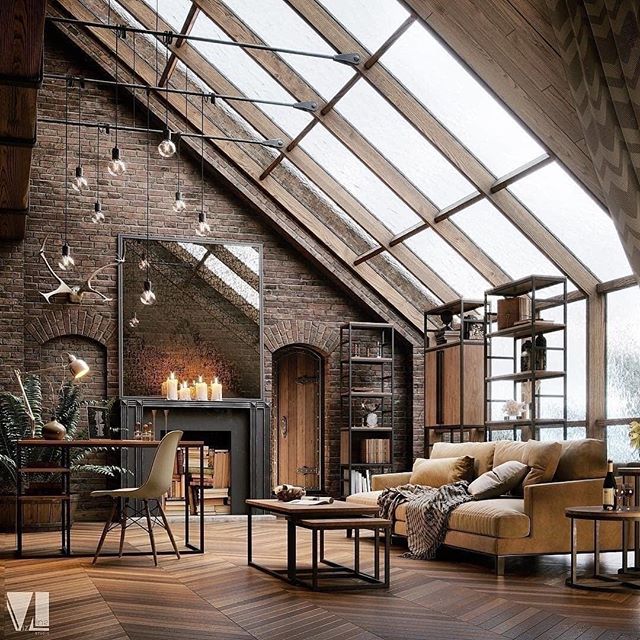 … and are halfway through this guide
Mediterranean Design Interior Styles
Born around the Mediterranean Sea, this style was formed by influences from Spain, Greece, and Italy, and is often referred to today as "Spanish modern."
Here's what you need to create this design style:
The furniture – ranges from simply functional to extremely formal. Pieces are short, with ornately turned legs and feet. And the hardware is heavy and often burnished.
The Colors – Even though that many people use the special "Mediterranean" color theme to paint the furniture according to this style. I like to point out that the color palette varies in different countries.
For example,
in Greece – it is of cold shades (white, all shades of blue and emerald).
Italians prefer warm colors (yellow, red, pink, cream, terracotta, and brick).
What is great because it will give you more choices for your base color.
The Walls are predominantly textured.
Accessories like polished bronze urns, filigree light fixtures, and wrought-iron features exemplify the Mediterranean.
The Texture is Layers of paint and glaze are hand-rubbed plaster or sand-textured walls to add visual depth.
Pro Tip:
There are a few ways to create a similar texture on you slick drywall.
The easiest is probably to ad quartz sand or granite dust to your paint. This will create a grainy look to your walls.
You could also apply a thin layer of sheet-rock mud to your wall and brush the still formidable layer with a hard bristle brush in a circular motion. ( for a heavy/strong texture) Or use a more moist sponge for a lighter texture.
Mid-Century Modern
The Mid-Century Modern movement was a reflection on the European design and teachings during 1919 – 1933. During this time Scandinavian and Brazilian architects were very influential. And they characterized this design style with a stunning simplicity. Paired with functionality and natural shapes.
I also should mention that the mid-century designs have remained stable in interior architecture. Architecture presents a minimalist design with walls of glass. And Pops of deep colors such as orange, yellow, and olive green. And the décor is most frequently finished in a chocolate brown shade.
You should know about this style:
The Mid-century modern furniture has clean lines accented with smooth, curved angles. They rarely feature any fancy ornamentation in their upholstery. This minimalist design commonly relies on wooden construction. But can also include fiberglass or metal. Further they usually only have one or two colors with no patterns.
The Mid-century colors tend to a combination of darker neutral tones with saturated accent colors.
Pro Tip
Remember to follow the so-called 60-30-10 rule. Your room colors should be 60% dominant base color, 30% secondary color, and 10% accent color. Absolutely avoid picking more than 3 to 4 colors.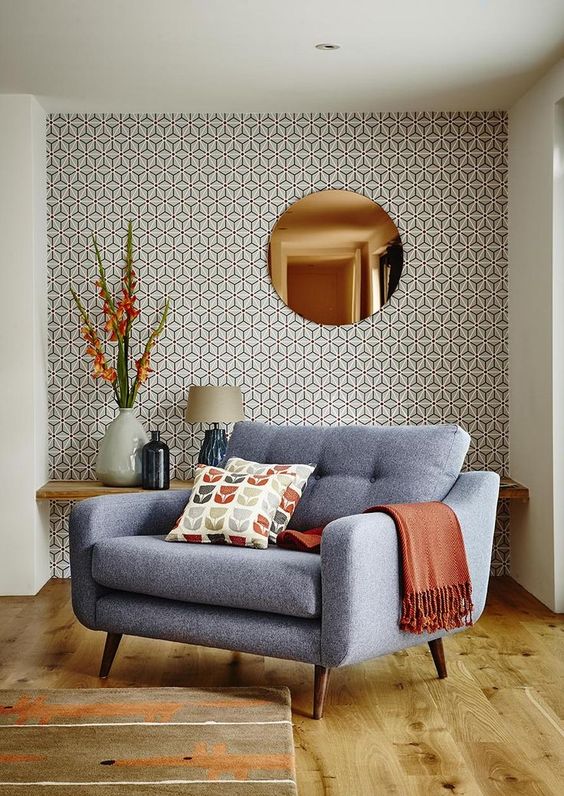 Minimalist Design Style
This twentieth-century style is known for its simple forms, clean lines, and uncomplicated finishes.
You should know that Minimalism considers the importance of negative space as much as positive space.
The amount of Accessories is consciously being held at a minimum. Sculptural pieces take precedence over ornamental designs.
You will typically find built-in storage, behind seamless doors. Plus furniture arrangements that create a cool, composed vibe.
Here's what you need to know about this style
The main focus of furniture in this style is simplicity and versatility. Including transforming pieces with multiple functions like a sleeper sofa. Or a closeted bed.
More importantly, you will not find any shelving in this design style unless they are part of a multi-functional assembly. However, the majority of positions are kept in a cabinet or in boxes within the furniture.
Pro Tip
In this design style, texture plays a key role. Minimalism is ultimately defined by a sense of functionality and ultra-clean lines. This style could be perfect for a small apartment or other small space.
The Color White is used predominantly on walls, floors. As well as in furniture and accessories. These monochromatic tones use frequently grays too. Bright colors are usually introduced only as accents and are kept to a minimum.
Textile Curtains in a minimalist style are plain white and light sheer. Often the windows are left free of window treatments other than blinds. To allow the room to fill up as much as possible with daylight.

The Modern Interior Design Style
I noticed characteristics rooted in minimal style by the absence of decoration. Originally this style is an architecture style from the 1930s. And it's characterized by a neutral color palette. You will most times find polished surfaces, strong geometric shapes, and asymmetry in this look.
You should know that this modern design is a style that focuses on neutral colors. With clean design lines and environmentally friendly materials.
Historically this style was a response against the traditional look. And its essence includes clean lines in architecture and furniture. The emphasis is more on open floor plans and clutter free décor.
Pro Tip
Modern style gives a sense of space and thus is best suited for apartments as it makes the place look larger.
In order to stay clutter-free, there is less use of accessories. Paintings are used to complement the rest of the space. This style takes a totally different route from the traditional style. By incorporating materials like chrome, glass, and concrete.
Modern Style Living-Room
Here's what you need to know about this style:
The Furniture is Clean, straight lines are the norm. The pieces display the deftness of design and the craft of the creator. There is a sense of optimization and there is no sensation.
The colors are muted colors like creams, light browns. However, grays are often used in a modern décor. There can be plenty of bright shades used.
However, either as base tones or as accent elements. What that means is that it's either as wall paint or in the furniture. Like for example the upholstery color of a sofa. Either way, you should focus on keeping the whole look balanced and sophisticated
The Modern Faremhouse Style
Think rustic country elements updated to todays standards. In all reality this is a form of Eclectic Design Style with a rich mix from the industrial, minimal, and the Scandinavian styles. To help you create unique spaces while taking full advantage of each architectural element in a space – aged or not.
Modern farmhouse decor is a timeless and generally appealing. You should consider this style for your home if you prefer a warm and comfortingsetting.
If you're looking for warmth, practicality, comfort, and inviting interior design spaces in your home, this style is for you. The relaxed yet cillected spirit of modern farmhouse interior design is inspired by a provincial feel.
Enjoy the ultimate in everyday luxury, a rich mix of high & low contrasts that will be sure to work especially well for a growing family. Especially since many of its elements already aged and distressed. Element are plenty available and this style can be produced with even the most modest budgets
More details are in this Farmhouse Decorating Guide.
Moroccan Home Decorating Styles
You must know that Morocco was divided in 1912 into Spanish and French protectorates. And to better understand this design style you need to add Berber influences to the mix. A well as Arabian and West African culture.
The Moroccan design style is all about color, texture, and fluid lines.
This design style draws much of its inspiration from the Moorish design of the East. And from the shapes and colors of the flowing sea of sand (the desert).Its intricate beauty is seductive and inspires colorful and stylish interiors.
If you are a fan of bold and dramatic colors this may be your style.
More Moroccan clues are on Shoshannahowey
Here's what you need to know about this style:
Moroccan design incorporates bold colors, such as fuchsia, royal blue, deep purple, and vibrant red. With the soothing neutral colors of the desert. Such as sand, taupe, beige, and shades of white. Bold accent walls are common in this design style.
Furniture in Moroccan design is a combination of delicately-carved wooden pieces like the chair in the image above. And plush over-stuffed upholstered ones. I found many Tables topped with tile designs. As well as covered with large brass or copper trays.
You should use rugged carved wood chests and tables because they are common. And keep in mind that contrast is the goal here.
Upholstered furniture includes reclining couches. And are usually draped with fabric and accented with colorful pillows. Over-stuffed ottomans are frequently used as an addition to chairs and sofas. Seat cushions are also a suitable seating in this style.
Rustic Design Style
As you can see in the photo below, the rustic design is inspired by nature. And it is most times using raw /unfinished elements including woods, iron, and stone.
Rustic style is a design emphasis on rugged, natural beauty. It embraces nature-inspired textures. With warm and natural colors.
If I may say so the rustic interior design creates an eclectic look that collects its clues from nature. With timeworn and mostly handcrafted decor. As well as old looking items constructed of natural materials or finished in natural colors.
You need to know about this style:
That Rustic interior design furniture frequently uses reclaimed wood. However, besides pine and oak materials like bamboo and rattan can also be applied. Further natural hues as well as cotton, and wool are easily implemented. Furthermore, glass, clay and various types of metal can be incorporated to strengthen this look.
You should be showcasing your flea market finds. Or your DIY projects and folk art. As well as personal collections and found items.
Further, you could decorate with vintage pieces since they coexist well in a rustic decor. And they are providing contrasting textures, patterns and colors.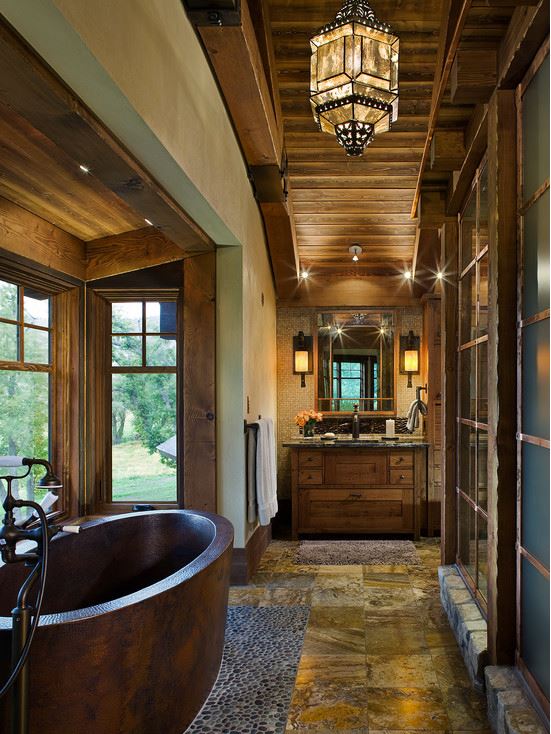 Pro Tip
Metal-worked furniture is another great option to use with this concept.
The color palettes usually spring from natural sources and materials such as leather or suede.
You will find wood floors most times. And wooden furniture frames set the tone. Some pieces may even be crafted out of branches. Further, you can see wrought iron or rusted metals in this design. And the Fabrics are usually natural fabrics like cotton, hemp, and linen. As well as wool or animal hides. All decorated with clay, stone, and rocks. Further, you could accessorize with outdoor and garden elements.
The Scandinavian Design Style
As a branch of the mid-century modern movement. Scandinavian design is another popular minimalist look.
It combines the neutral colors of the Swedish, Norwegian, and Danish landscape with a casual aged appearance. The long winters and lack of natural light in Scandinavia created a need for sleek and airy interiors that made the most of the available sunlight.
Here's what you should include creating this style:
The Scandinavian color palette relies on basic colors like whites ( from antique to bright) As well as cream's, natural light wood tones, and light washed-blues. The exception to the neutral color scheme is the frequent addition of red /rose shades, as illustrated in the photo above.
The furniture is a mixture of straight lines with gently curved detailing. Legs are generally thin and tapered. Benches and bench-like sofas are a mark of Scandinavian style interior design.
Usually, these pieces possess a minimum of upholstery or separate seat cushions. Blonde woods like white pine and beech are standard.
Accessories are simple and uncluttered. Mirrors are common to gain more natural light. However, you will be able to use wreaths, candles, china, and flowers to personalize your space.
If you like to include rugs, you should use striped or something with small-patterned. Preferably with a floral design. Keep in mind that Denmark and Sweden are famous for their glass and silver craftsmen. And therefore you can incorporate that into your design style as well.
Furthermore, you should keep the use of tabletop items to a minimum. Our goal in this design is to reflect simplicity.

Shabby Chic Design Interior Styles
To you, the first appeared thing in this interior design form should be that furnishings are chosen by their appearance of age and signs of wear and tear. Or where new items are painted with watered down color or a faux paint finish. To simulate a distressed look and the appearance of an antique.
Shabby chic emphasizes antique elements to recreate the vintage (flea-market like) look.
shabby chic living room image from HGTV
Below are basic things you need to know about this style
The furniture is characterized by their aged appearance, with distressed wood composition. Most time they are covered with a faux paint job and suppose to show signs of wear and tear.
Decorative accents for shabby chic decor should be soft and opulent. And often with an affected feel. In order to bring the overall interior design to a contemporary standard. You also should generously introduce linen textiles for added style.
The Fabrics you use should be cotton and linens. Go for a style of-of linen that was particularly inspired by old French linens. You can use pure whites, however, citrus and worn or bleached out pastel colors should be favored.
The color is most times a chalky white. But you can also use clotted cream, Further, you can find antique champagne gold, metallic pink. And not to forget purple, blue and green.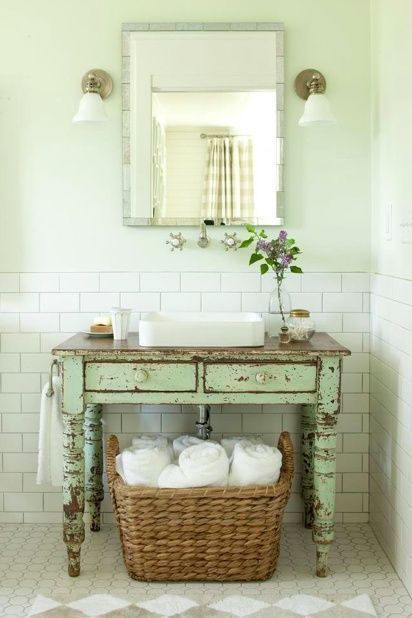 Pro Tip
Bleached and faded are terms that are most often applied to this style. You can stain fabrics with tea, to give it the look of the of an old fabric even it is brand new.
Southwestern Design Style
You don't have to live in Arizona or New Mexico to enjoy a Southwestern style interior design. Every house can adapt to this casual and yet elegant style. Because similar to the earlier explained Rustic Design this style also draws its inspiration from nature.
The southwestern style was forged by the Spanish. As well as the Pioneer settlers that populated the American Southwest in the 18th and 19th centuries.
To create this design style you can choose a bold combination of color. However, it is usually characterized by earth-tone colors. And rough textures as well as crafted objects. You also find brightly colored woven fabrics and an abundance of terracotta and clay tile.
South-western Living Room
Here's what I can tell you about this style:
For Colors, are a traditional palette of cucumber green, cardinal red, and sand-toned neutral shades. Shots of bright yellow, dusty orange are indicators for a Southwestern design.
For Furniture Leather is a common covering for sofas and chairs. Knotty pine is a popular choice for wood furniture. Which may also feature a distressed finish enriched by polished metal details.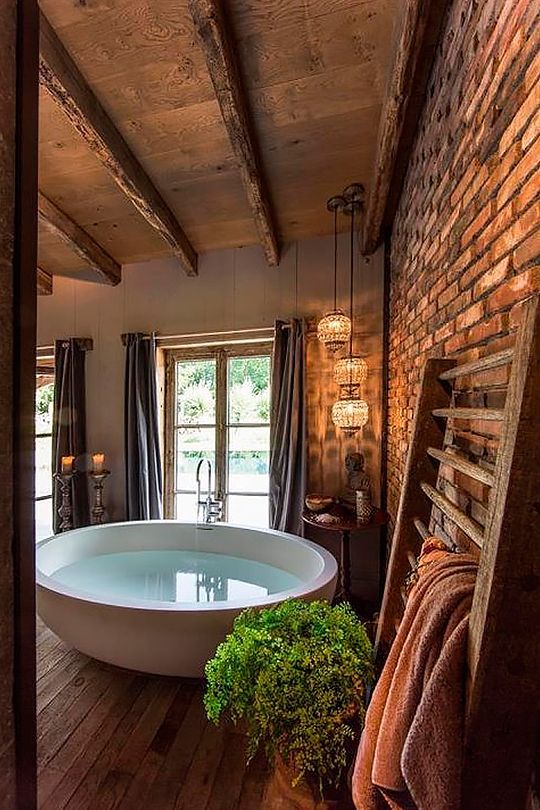 Textiles are Sturdy woven fabrics, Striped drapes as well as through overs can be used as pure decoration. Oil painted country style paintings on walls and woven fabrics can also make for wall décor.
Traditional Design Style
I know this traditional design is best represented by English furniture design. And in particular, the country's impressive manufacturing history.
If you like rich and inherently formal this style may be yours. By the selection of your furniture, you should include two important pieces. For one the button-tufted Chesterfield sofa. And second, a wing-back chair, to demonstrate well-constructed, durable British designs.
Keep in mind that balance and symmetry are the keywords that define this style.
A traditional style décor provides the feeling of warm familiarity. And it comforts through colors, furniture designs, and furniture placement.
You should create focal points by grouping Furniture pieces. And focus on nurturing comfort in the way you arrange. Next, you add a sense of order in the accessories.
You need to know about these designs styles:
Furniture is woodwork with carved moldings and graceful lines. Wood with darker and richer tones. Such as maple, mahogany, and oak. Furthermore, cherry is used to create a look of luxury and elegance. You will see hard-wood-flooring as well.
Color In traditional designs styles are think beige, cream, taupe and tan. And if there is any mixing of colors, it is done with deeper hues of brown, blue, red, and green.
Transitional Designs Styles
You may know, that the transitional design came about by combining two opposite styles. It's sometimes referred to as "an updated take on the classics." Because it acts as a middle ground between the best elements of traditional and contemporary looks.
On the one hand, you have the warmth, comfort, and balance that comes from a traditional aesthetic. Rather than being bogged down by the ornate details that can sometimes make traditional spaces feel outdated. The transitional design borrows the clean lines and simplistic nature for its look. And that is the essence of the contemporary design.
At its best, this style feels timeless with a modern twist
Image provided by Tinydt
You should know about this style:
The Furniture combines curves with straight lines in the transitional style interior. This look balances both masculine and feminine attributes for a comfortably contemporary design style. The scale of the furniture pieces is boasted but not overwhelming.
The lack of detailed decoration keeps the focus on the simplicity and sophistication.
The Colors in transitional palette relies on a lack of color to evoke a clean atmosphere. Dark brown can add depth to a neutral balance of gray, tan and cream.
Accessories are like Flowers on a window sill or white mats that set off photographs in simple black and silver frames.
As well as a polished brass tray that provides storage for a tea-set And silver candle-holders. This kind of grouping provides a counterpoint to the furniture.
Fabrics: The lack of color is replaced with interesting textures. Such as bold colored cushions. or drapes like in the photo above. Soft leathers are a good choice for a transitional design as well.
The Tropical Design Interior Styles
If you are looking for a simple type of design. Tropical styles should find your approval.
As the name implies, the Tropical Design Style originated in the tropics. In the Caribbean Islands, to be more specific. Where diverse cultures and traditions were brought together from world traveling explorers and settlers.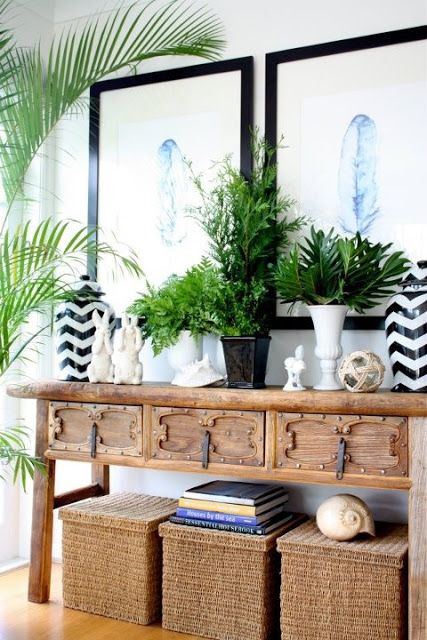 You should know that replicating a natural environment was customary before an interior design was even considered. And the use of exotic materials, colors, and motifs were already back then largely incorporated.
A room dressed with tropical decor will create the illusion of a lifelike island paradise. With inspiration from scenic spots – like those found in Hawaii or Fiji's – you will almost be able to taste the oceanic air and smell the scent of exotic flowers.
Image Source: Locusdiscovery
You need to know about this style:
Furniture in tropical style rooms is often made of teak, wicker, rattan, or sea-grass. And these materials add a lot of texture and interest when used in the design of chairs, tables, and ottomans.
You will find that sofas in tropical settings typically feature an open wood frame with upholstered cushions. And the Sofas and beds can also be framed with rattan. Or woven from wicker, and covered in sea-grass fiber.
Armchairs, as well as coffee tables, and ottomans are sometimes made entirely of wicker.
Like in most design styles that take clues from nature. The color palette found in tropical design is drawn mostly from natural elements such as the sea, sky, and vegetation. Shade can reach from deep and rich to lighter, brighter notes.
The sea and sky provide a range of blue tones. And golden shades are provided by the beach-sand.
While the bold color pops could come from tropical plants and flowers.
Pro Tip
I suggest sticking with popular colors in your tropical décor. Even though there are no real limits. You should focus on Blue, Yellow, White, Green, Red, and Orange
If you order our products you can enjoy Free Shipping
And this brings us to our last interior design style.
The Victorian Design Style
Historically the Victorian era is known for its interpretation and eclectic revival of styles. All mixed with the introduction of Middle East and Asian influences in furniture, fittings, and interior decoration.
You will further find, that a house from this time period was idealistically divided among rooms, with public and private space carefully separated? With the parlor being the most important room in a home. That was the showcase for the homeowners where guests were entertained
Find more Victorian Ideas
Here's what you need to know about this style:
The furniture is made of natural precious wood, walnut, and mahogany, stained oak. Most furniture has a curved ornament, sometimes inlaid with precious stones and metals. The Gothic and Rococo revival style was the most common styles to be seen in furniture during this time.
The Victorian design colors are warm and subdued. And include soft colors on grey and beige backgrounds. You will find deep rich burgundy, walnuts, and mahogany brown. Further, you can find colors like plum, gold, emerald, and blue.
I noticed Gold is used abundantly to highlight and create a grand effect. The Victorian interior design uses dark and rich colors. Because that gives this space regal ambiance. However, in earlier homes, walls were light colored but the room was accentuated with darker shades.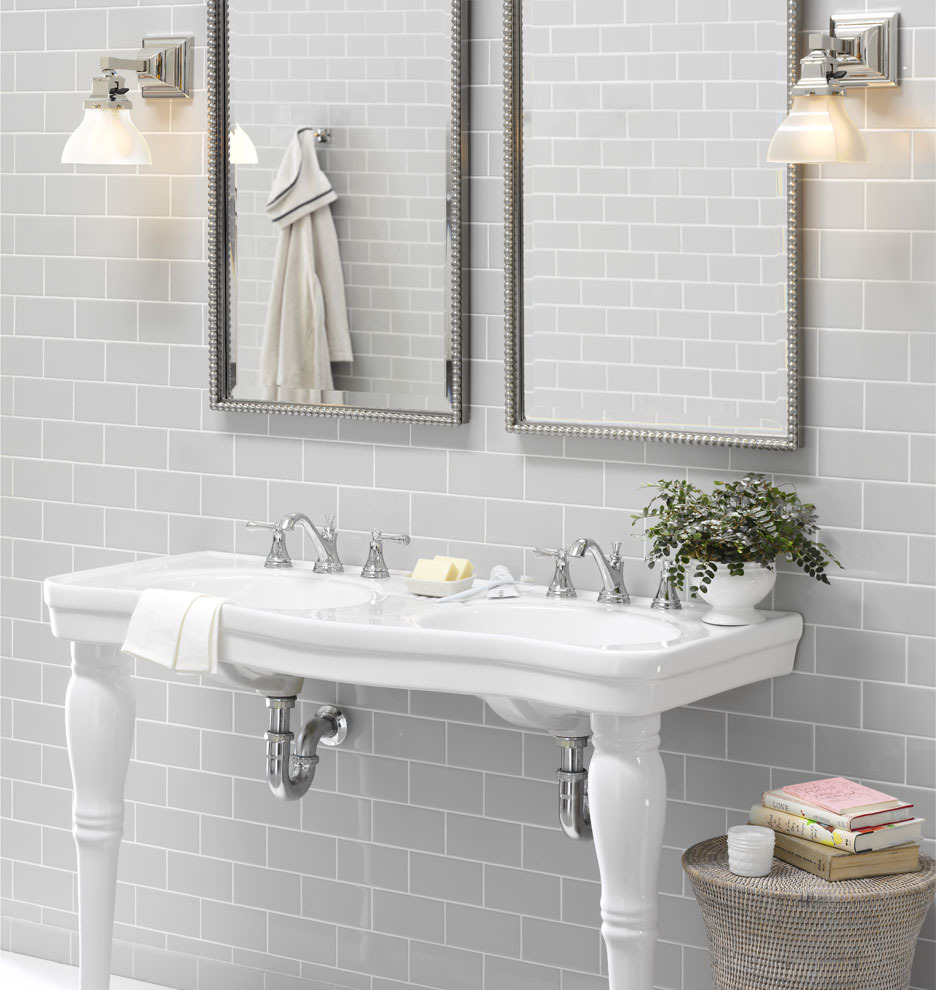 Just The Claw Foot Tub Missing?
I have just one last thing:
Regardless of what any Guide said,
you need to feel comfortable with your interior design style.
I bet, you are thinking about hiring a Pro. Maybe even how much that might cost you?…. Well, let's take a little closer look. if you after reading these few comparisons still considering to hire. You must read my Interior Designer FAQs to find my most important tips. They are worth every word in gold. And I know you will be thanking me. 😉
Now it's your turn:
… Did you find your perfect design style today?
If so … which one is it?
You also should be able with the help of this guide to reproduce this style at home … right?
Or do you have any questions?
Did I miss something?
Feel free to comment in the box below and I will do my best to respond to each and either one of your questions and comments.
Also please share this with your friends on Facebook, Twitter or where ever they hang out.
Thanks for reading and sharing.
JK
P.S.
Here I share my all-time favorite tips and tricks to maximizing your small space for your interior design style. You'll love the Info-graphics
P.P.S.
Need more Website Traffic? Get FREE Traffic

Sources:
https://en.m.wikipedia.org/wiki/Victorian_decorative_artshttps://top-home-design.com/interior-design-terms-explained/
[ays_quiz id="11″]