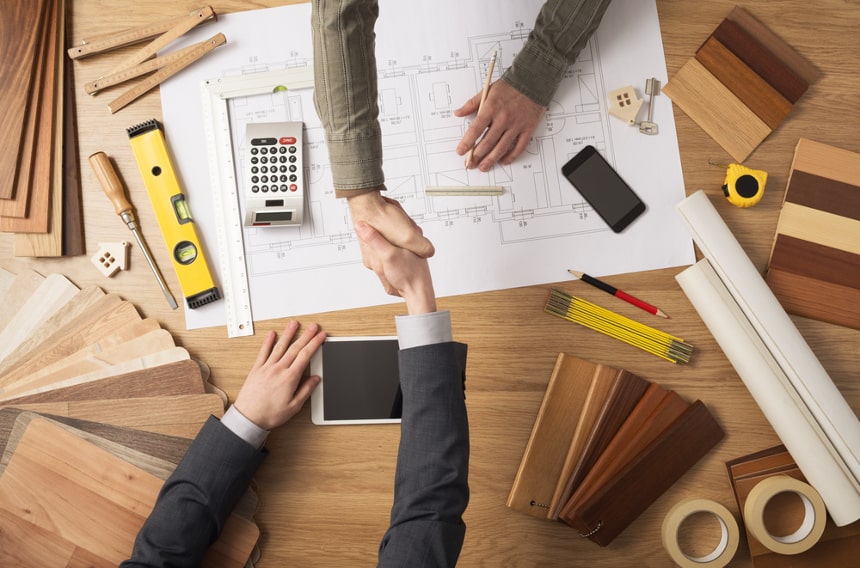 Interior Designer Q & A
Need help with Your Interior Designer Selection Interview? Learn what pitfalls to avoid, when you are looking at candidates, make sure to ask these 15 questions. …
When you are reading this,
you most likely checked out our Interior Design Guide and you figured that this is way more DIY than you possibly want. Now What?
Your next logical step would be to consult with an Interior Designer and let him/her handle it right? Well, if this is your case, you really should read the rest of this post. Because, here I will give you some valuable insights, into the street creed that calls themselves Interior Designer.
Not only will I spill the beans on what pitfalls to look out for. But also will I, later on, explain to you how and what to ask an Interior Designer during your initial interview or consultation…
That is before you actually decide to hire one over another. This will help you to get your best bang for your buck.
I call it the "Interior Designer Checklist"
Also, If you are reading this post and you are wondering… "How can I become an Interior Designer?" Or if you just want to improve your interior design skills for your DIY projects.
I include some detailed information and 2 videos for you later on in this post.
We got lot's to cover so let's just jump right into the FAQs about Interior Designer!
Let's formulate your Interior Designer Selection Interview

Based on what you just learned about Interior Designer you should come up with about
"The Interior Designer Checklist"
First and far most I would start with the financial aspects to find out what you are facing. And it may also cut some meetings to a very short one. Let's get started.
Questions To Financial Aspect: Costs & Charges

Question:
Your first question should be "What's your Budget for my Design Project?" Why that is important?

Answer
Because it is absolutely crucial to establish a budget so both sides know what you're working with
Question:
Next, I would want to know how you charge? ( Per hour, per room. per project)
Answer
You will probably be disappointed by the answers you get here…since every interior designer charges a little different.
This is one that you can't shop by price. You will be much better off to let your intuition be the guide here. Plus we have a good bit more questions that should help you to make your call.
Question:
Next will be an important one …What's your designer fee and how is it structured? (per room, the whole project)
Answer:
I'll tell you why … Designer Fees can be pretty hefty. And they usually on top ( in addition to) of your budget. So it's a must know for you to ensure you're okay with it.
However, again I need to point out that the $ amount is not all should you go by. You should rather look at the whole picture and learn what's all included in the price. Because of some designer maybe dirt cheap, But what are you really getting for your buck?
Questions To Financial Aspect: Project Budget
Question:
Now we drill a little deeper and ask Do you want to purchase all at ones or can we stagger orders?
Answer:
I am sure you remember in the FAQs, That some designers want to order all in one shot because of more favorable terms for them.
Anyway, it may not apply to you, however, if you wanted to stretch your purchases out because of how your money comes in you need to know if the designer works that way or if he wants to buy all at ones.
Question:
As a nice additional question, you should ask … How will you prevent budget over-runs?
Answer:
This is important to you because you have a limited Sum to spend during your design or remodel. Even if you only redecorate.
Your Interior Designer should make the most of your budget and maximize what you want with respect in of what you need. Here you will actually learn if your designer gives you options to choose from.
Question:
Are all the products you use trade-only pieces or do I have other options?
Answer:
Here, you should remember that the "TRADE-ONLY" products are the special characters for your design that are rare and not easy to get your hands on. Therefore they are also crazy expensive.
So if your Interior Designer ONLY wants to use those products you will be out of money very fast.
As an example, You could get the correct style of dining set at most furniture stores for $900,- to maybe $2500,-.
However, a trade-only set or an authentic time period dining set can run anywhere from $10,000 – $15,000.
Interior Designer Interview Question : Design Development

Question:
I know this sounds silly, but this is a big one …What design style is your specialty?
Answer:
"Any you want !" … If you hear this … run for the hills … let me explain…
For one, there is NO WAY one person can be a specialist in all design styles. Heck I myself struggle sometimes with one or another.
And for sure you do not need a "jack of all trades" kinda guy … what you should be looking for, is an expert in your desired design, because he or she will understand you and will best be able to complete an interior design that you'll Love.
Question:
Once this is cleared you want to ask the designer: Will you create my idea of a perferfect design?
Answer:
This is very important because, believe me or not, some Designer have their own Ideas of what you should do and they may or may not agree with your taste.
Question:
How much of my design will I see up front? (3D models, Renderings)
Answer:
This is another loaded question. What we try to find out is how your Interior Designer will show and explain his ideas to you so that you can understand where you are heading.
Interior Designer Interview Question : Design Installation
Question:
What's the time-frame for this project? (when can we start & how long will it take)
Answer:
Naturally, the schedule is important. However, If you plan to have your re-design completed before your next big family reunion its an absolute must know.
Question:
Next, you should ask how problems in the project will be resolved?
Answer:
In a perfect world…Never-mind, Keep in mind that during any home improvement projects something always and I mean always goes wrong.
Parts come in late, or they are damaged, or even gone missing during shipping. Or the plumber run into some surprises , or the trim carpenter is behind schedule.
Just be prepared, it will happen.
And what you like to know is what type of alternatives your interior designer can come up with. His ability to organize and lead the project will make all the difference between a smooth ride or a bad trip.
Question:
How will we communicate?
Answer:
This one becomes extremely important if you are leaning toward hiring a virtual design firm.
Because they handle just about everything online.
I would advise against it, but do understand that some of their prices are rather attractive.
Ideally, you should have a variety of ways to communicate with your interior designer. The best contact options would be the phone, email, and personal contact.
Question:
Can you provide Testimonials? (This is important to learn how it is to work with the designer/Firm)
Answer:
Of course, they have great photos and videos but what you want to find out is how it is to work with them on such project.
Question:
Another important question would be …Who else is on your team?
Answer:
What we really want to learn here is if your designer has his own crew of contractor?
Interior Designer Interview Question : Project Completion?

Question:
You should also ask what happens after the design is completed?
Answer:
I mean, are you all on your own? Do you have to figure all the new features out by using manuals?
I personally do the, what I call walk-through after we completed a project.
During this walk-through, I show and explain the NEW or changed functions and features.
I do this in connection to getting my final acceptance form signed and to receive my final payment, as well as filling out a brief survey with the homeowner.
Question:
And as a final question you should ask … are you a full-service Interior Designer? And what are the Services in my package?
Answer:
To be honest, the real question you should ask yourself.
Do you want someone that will be available to you through the entire process?
Full-service designers normally offer any or all of the following services:
Floor Plans
Renderings
In-Home Consult
Meeting with Trade Pros
Shopping Trips with Clients
Overseeing of Final Installation
Handling of Purchases and Delivery
Photography and Measurement of Rooms
Storing of all Furniture until the final installation
Question:
Is the Interior Designer trade right for you and how can you become an Interior Designer?
Answer:
Let's be honest here, sure there is an educational system to teach you the facts and how to run your business and so on.
However, my gut tells me that you are much better of if you have a natural understanding and feel for art, design, decor and such subjects. At least you should have some sort of artistic talent to really have a shot at becoming a successful Interior Designer.
Interior Designer Faqs Conclusion:
You should have learned that the Interior Designer is a multi-faceted field.
And that the interior designers are creative and technical problem solvers.
It is their job to develop (design) solutions that are practical, safe and aesthetic.
Now you also should understand that you can not hire an interior designer just by the estimated project price. But rather look at the bigger picture and get the most out of your budget.
And that you need to feel comfortable with your designer and his design style.
Now, I want to turn it over to you,
… Did you learn something new? Or do you still have any questions?
Did I miss something?
Feel free to comment in the box below and I will do my best to respond to each and either one of your questions and comments.
Also please share this with your friends on Facebook, Twitter or where ever they hang out.
Thanks for reading and sharing.
JK
Interior Designer Facts How Become An Interior Designer
P.S. Need more Free Traffic? Let's Talk