Showing all 6 results
Shop Kitchen Essentials for Kitchen Products & Accessories
Enjoy our product curation of kitchen essentials from the USA, Canada, Germany, and the United Kingdom.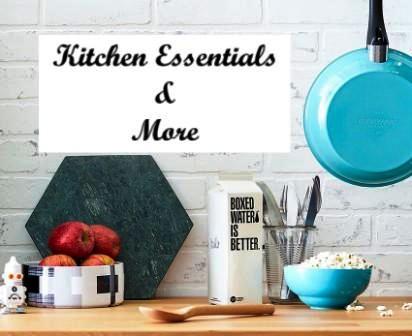 The Top Home Design Kitchen Essentials are the home of Kitchen utensils & gadgets that you truly need to prep, cook, and dine at home.
Here you can find cookware, dinnerware, tools & gadgets, cutlery, food storage, flatware, and prep items.
If you need replacements or are moving into a new home, the Top Home Home Design Kitchen Essentials are a good choice to quickly and economically restock your kitchen.
Here you can find Cookware that is made of durable stainless steel. As well as Dishwasher and Microwave safe Dishes. Further we features a classic bake-ware, cutlery, and storage container.
Also included are stainless steel knives.
And some come with a beautiful pine wood storage block. As well as cutting boards made out of oak or bamboo,
So whether you have a brand new kitchen or just need to refill or complete your collection the Top Home Design Kitchen Essentials will provide you with what you need.
Further we sprinkled a few products like cleaning supplies, trash-bags, water filters and other useful products into the mix.
Needless to say that we also thought of special deals on Keurig Coffee Pods and vita-cups to complete the selection.
Just come on in and look around or run a quick search for whatever it is you are looking for.
Shop for your kitchen essentials at THD Now!