Description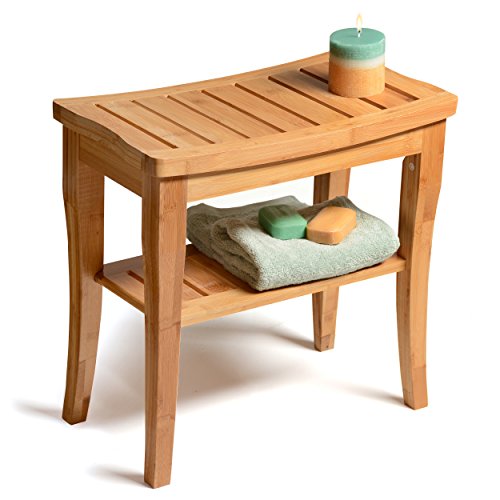 Bamboo Teak Bathroom Bench With Storage
Bamboo Shower Seat Bench with Storage Shelf for Seating, Support & Relaxation, Spa Bath Bench Stool Indoor & Outdoor Use.  Bambüsi ? Teak Bathroom Bench
Our Teak Shower Bench with Storage is made by Bambüsi
This teak shower bench is beautiful and convenient in any location. The teak bench has amazing versatility and is designed to effortlessly fit in smaller areas. Naturally water resistant, the teak bathroom bench with storage is durable enough to use both outdoors and indoors.
This teak shower seat includes an extra shelf for additional storage space, and four feet for safety and stability.
Bambusi and us are confident that you will love this space saving teak bathroom bench with storage
Shower benches are subjected to water exposure. If you're looking for a trendy and decorative style teak bathroom accessories that will hold up well for years, choose Bambüsi
This extravagant bamboo bench is a special addition for your home décor collection. It's engaging, charming, pleasant, and supportive for your shower needs.
Whether you need it for the shower, bathtub, sauna, and spa-therapy room, our solid bamboo storage benches &  seat provide the physical support you need for a better showering experience.
And the spa bath seat bench stool with storage is perfect for indoor & outdoor use.
What Set Us Apart From Other Storage Benches
Support full-sized adults (250lb)
It's crafted to the highest standards to ensure durability, support, and resistance
Versatile to decorate your bathroom, bedroom, living room, deck, lawn balcony, and more
Convenient storage shelf perfect for keeping towels, soaps, books, electronics, and hygiene essentials
Easy to assemble and disassemble
A Great Gift Idea
It is the best gift for someone with temporary or long-term disabilities. You can surprise your family, friends, and loved ones for Christmas gifts, holidays, Thanksgiving and other occasion with this inviting bamboo bench.
Bambusi  Perfect Bamboo Teak Shower Seat Bench & Storage Features:
★ SUPPORTIVE BENCH FOR ALL YOUR SHOWER NEEDS
– Being able to sit in the shower and let water stream on your body parts is refreshing and enjoyable. Whether you've been undergoing physical therapy, or have some ache on your feet, back, and knees, this bench is stable and comfortable for all your shower necessities
★ SIMPLE, STURDY & ELEGANT DESIGN
– We made this bench using the highest quality solid bamboo material with waterproof and antibacterial qualities. Commonly called shower stool, shower seat, or shower chair, this bamboo bench is very attractive inside your shower and features a built-in storage shelf to keep your spa accessories, wet towels, and shower tools for your convenience
★ SPA BATH SEAT BENCH STOOL IS PERFECT FOR INDOOR & OUTDOOR USE
– One thing that makes this bamboo Spa Bath Bench special is that it was designed with versatility and practicality in mind. You can use it as a bathroom furniture, bathtub storage organizer, or use it outside on the deck, home garden décor, lawn, RV and much more. It's very easy to assemble and functional
★ PORTABLE & COMPACT
– Our wood shower storage benches are small enough that it doesn't take up too much space in the shower stall. The bench measures 19″ inches Long, 10 inches wide & 18″ inches tall
★ 100% SATISFIED OR YOUR MONEY BACK
– Relaxation and support in the shower is what makes this wooden bamboo bench the BEST choice. You can buy with confidence knowing that if for any reason our product doesn't meet your standards, ship it back to us for a replacement or a full refund
WHAT ARE YOU WAITING FOR? SHOP FROM A REPUTABLE BRAND TRUSTED BY THOUSANDS OF CUSTOMERS TODAY!
Maybe you rather want a dark Wood Shower Bench
What Other Buyers Had to Say:
Luxury when you need it most
July 17, 2017
I had to buy a shower chair for use after my surgery. Sitting on this feels luxurious compared to buying an ugly plastic shower chair. I like it so much I purchased two more for family members.
One person found this helpful
An attractive and functional seat
August 9, 2017
This is an excellent piece, which we have outside next to the door where it serves an an attractive accent and as a seat used to remove shoes before going inside. It is sturdy and seems well made.
Five Stars
June 1, 2017
Easy to assemble, real nice product.
One person found this helpful
Perfect height&width all teak
January 12, 2019
Very sturdy – meant to be used inside a shower perfect height – I LOVE the bench!!!!!
A+!
June 10, 2017
Well made and easy to assemble.
Five Stars
May 26, 2017
great for the price, solid.
One person found this helpful
FAQ's
Question:
Is there a weight limit to sit on it?
THERE IS A 360 POUND PERSON THAT USES IT EVERY DAY WITHOUT A PROBLEM!!
By ACE WOOLRIDGE on June 5, 2018
Full size adult is not a problem.
By Raul Vasquez on June 3, 2017
Question:
Weight capacity
I BOUGHT ONE FOR A RELATIVE. SHE IS 400 EASY. SHE USES IT DAILY WITHOUT ANY ISSUES!!
By ACE WOOLRIDGE on August 3, 2018
Question:
What is the width
10 inches
By Raul Vasquez on July 16, 2018
Question:
Does it come assembled?
No , comes in a flat box , you have to assemble it.
It comes with Allen wrench to put it together, takes about 10 minutes to assemble, 5 if you read directions
I have it for a couple months and it held up well


By gas guy on May 25, 2017

No, but it was a 5 minute assembly


By Iphy on May 25, 2017

No, it does not.


By Emily Paige Soper on May 25, 2017

No it does not come assembled, but it is extremely easy to put together.


By DSSD on May 25, 2017