Description
VHC Brands Farmhouse Bath – Sawyer Mill Tan Shower Curtain, 72×72, Charcoal Grey
About the makers of the Best Farmhouse Shower Curtain
VHC Brands is a family owned business located in Branson, Missouri, but with roots in the Deep South. Founders Nancy and Billy Kline started the company as a small store in the 80's in Northwest Louisiana. And grew the business to become the household name it is today through their high-quality, hand quilted, patchwork quilts.
Since the 80's, VHC Brands has experienced a move across states, overseas expansion, and the creation of many popular brands such as Lasting Impressions and Bella Taylor. After a devastating fire in October 2016, we relaunched with more vigor than ever with our April & Olive, Mayflower Market, Oak & Asher, and Season's Crest lifestyle brands – catering to farmhouse, rustic & lodge, primitive Americana, and holiday home décor styles, respectively.
Our designs and products are still rooted in classic style and crafted to bring years of enjoyment. A quilt is more than a way to cover a bed – it's a uniquely American way to decorate a room. We design every piece down to each fabric and thread color, with new products that embellish, update and maintain heritage ideas.
While we maintain a strong following in bedding, over the past two decades, VHC Brands has expanded its product offerings to include window treatment, rugs, kitchen textiles, and holiday/Christmas décor. VHC Brands is looking toward the future while continually focusing on quality, growth and an overall customer experience that has defined us since our inception.
  100% Cotton

  Expertly made in India in soft cotton fabric, this vintage-inspired farmhouse shower curtain is artfully crafted to enjoy for years to come. Featuring a fresh color palette of soft blue and white that offers a relaxing, peaceful atmosphere in your bath area. This bath accessory is lined in white cotton for extra durability and lasting charm.

 If you love our Farmhouse Blue Barn Decorative Shower Curtain and you want to fill your home with coordinating country charm, check out VHC Brands Sawyer Mill collection for matching tea towels, throw pillows, cozy quilted blankets, and more!

This 72×72 shower curtain fits nicely in any washroom with a standard shower or tub. Covers the entire bathtub area to prevent water from coming through and damaging your flooring. The use of a liner is recommended to keep mildew away.

  Our generous sized, quality made rod pocket and buttonholes make installing this shower curtain a breeze! Shower curtain rod and shower hooks are not included.

Hassle-free cleaning is a must for any bathroom accessory. Simply place this shower curtain in the wash on cold water, delicate cycle and promptly put in the dryer on a low tumble dry setting. Or, hang on the line to dry to capture the essence of true farmhouse living! This shower curtain is iron safe to keep your bath accessory wrinkle-free and looking fresh!
Best Farmhouse Shower Curtain Material:
100% Cotton

Imported

Windmill-themed black stencil in center on khaki chambray base

A single grain sack stripe stenciled both above and below center motif

Neat and durable hem fold

Features 1.5″ header with 1″ button holes and 3″ rod pocket

Single fabric: Machine stitched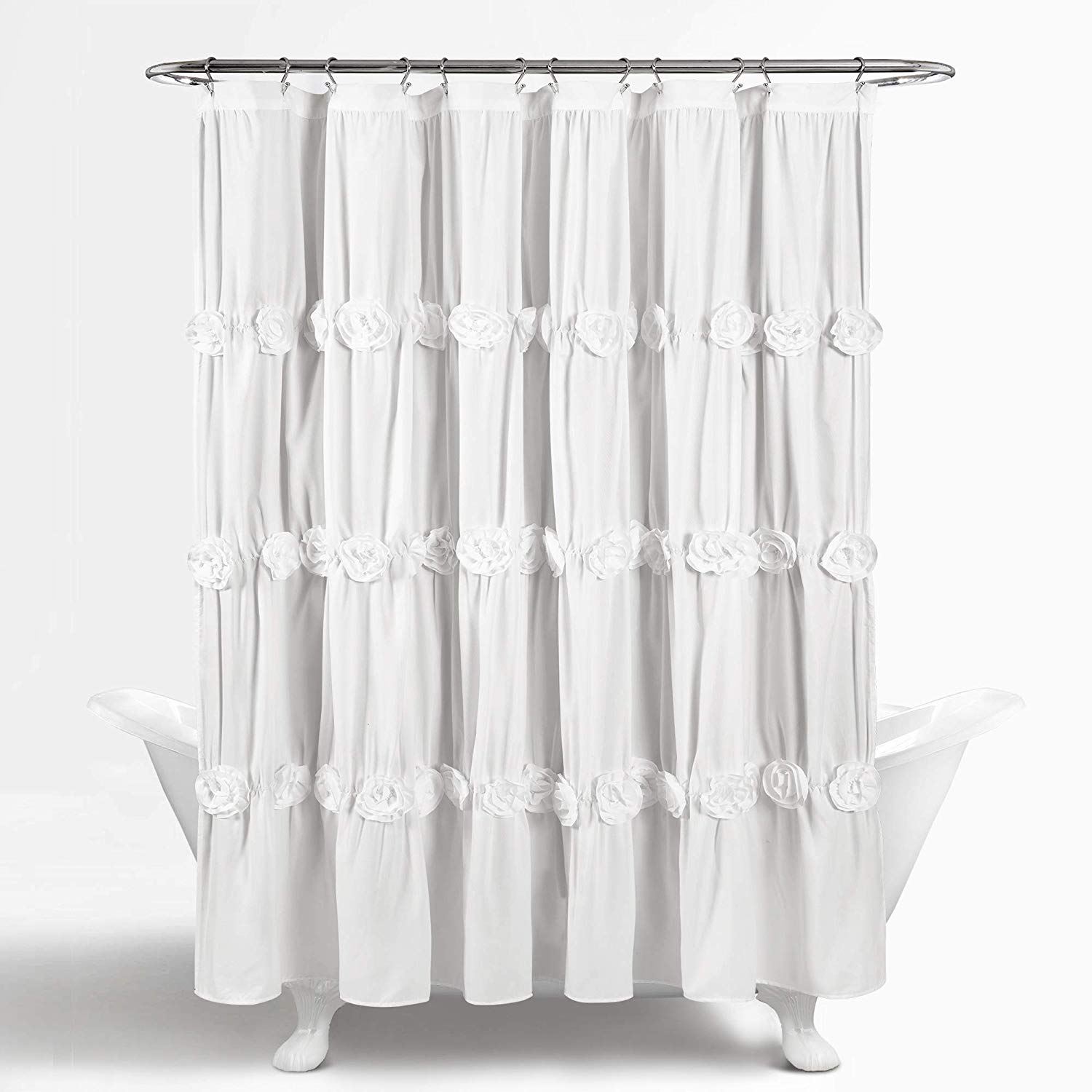 The Sawyer Mill Shower Curtain brings a Farmhouse look into the bath with its windmill-themed black stencil in the center over khaki chambray. A single grain sack stripe is stenciled both above and below the center design.
Features of the best Farmhouse Shower Curtain:
Windmill-themed black stencil in center on khaki chambray base
A single grain sack stripe stenciled both above and below center motif
Hem fold
Features 1.5″ header with 1″ button holes and 3″ rod pocket
Single fabric: Machine stitched
Dimensions of the best Farmhouse Shower Curtain:
Dimensions: L72″xW72″
Weight: 1.5 lb
Material: 100% cotton
Colors: khaki, asphalt
Manufacturer Country: India
Care: Machine wash in cold water with like colors, gentle cycle. No chlorine bleach. Tumble dry low, remove promptly. Iron if needed.
However, there are more Products from the Supplier of our best Best Farmhouse Shower Curtain….

As there are:
Bedding
Headlined by our continually popular quilts, VHC Brands' line of bedding products also features a broad array of shams, pillow cases, bed skirts, coverlets, and duvet covers. Our comprehensive line of bedding and matching accessories consists of ultra-comfy cotton, intricate stitching, alluring patterns, and beautiful palettes of colors to craft a bedroom that is uniquely you. VHC Brands has engineered our special cotton burlap to mimic the country look of burlap without the rough texture.
Pillows & Throws
The VHC Brands line of pillows and throws are masterfully crafted with the utmost respect to high-quality and excellent design. Our accent pillows and throws take thematic elements, colors, and patterns from their corresponding bedding set to create a special VHC look for your home that cannot be replicated elsewhere. Unique one-off accent pillows and throws feature festive flairs, fun motifs, and a variety of quotes and sayings – livening up any home.
Window
Frame your windows and complement the view with VHC Brands' line of window treatment. Our stylish lineup consists of curtains, panels, short panels, swags, prairie swags, tiers, valances, and balloon valances which adorn your room in various features such as 100% cotton lining, sheer fabrics or country scalloping. Our collections have either rod pockets or hanging loops for flexibility to fit any size curtain rod.
Rugs
Step into the home of your dreams with VHC Brands' line of rugs and stair treads. Our rugs an excellent way to add texture to your flooring or color to the room. Most rugs are either woven or braided, with a popular category being our sturdy, 100% jute rugs. A value-added touch to many of our rugs is a latex backing preventing them from sliding.
Tabletop & Kitchen
With the dining room and kitchen being one of the most trafficked areas by guests. VHC Brands is providing a long overdue salute to good style. Our kitchen and tabletop lines feature table runners, placements, cloth napkins, table cloths and toppers, trivets, coasters and much more!
Bath
A country washroom needs more than cheap plastic shower curtains, that's why VHC Brands has designed our stylish line of cotton shower curtains to appeal to your sense of practicality and good taste
Need anything else?
[ays_quiz id="10″]