Description
Universal Rough-In Box  the Grohe 35026000
Smart Solutions, Not More Solutions
GrohFlex Universal Rough-In Box Model: 35026000 is the advanced valve system with simplicity and flexibility built in. One roughin works with any shower or tub/shower application – from a simple single-shower to the popular tub/shower combo to a luxurious high-flow custom shower. And it offers pressure balancing and thermostatic control solutions for both the master and secondary bath.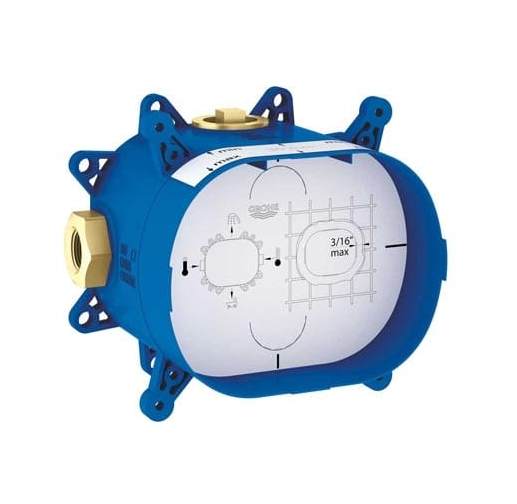 By combining superior technology with breath-taking designs.
Grohe can provide you with all the elements to enhance your bathing space.
Grohe's fittings unite a beautifully elegant appearance that can work in a full range of design schemes. Reaching from traditional to modern. With quality materials, and German craftsmanship.
Most superior innovation for long-lasting performance. There is a most impressive portfolio. And the products not only dial up the design quotient. But also leverage technology in clever ways to yield smart and sophisticated homes.
From the Manufacturer
This is a universal rough-in box. Removable protection cover with installation information. Also has fixing points for front and back wall.

Product Overview
Grohe 35026000 Universal Rough-In Box
1/2" inlets and outlets
Fixing points for front and back wall
Integrated service stops
Flushing plug
Up to 14 gpm
Pressure balance or thermostatic based off shower valve trim chosen
The control module comes with the GrohFlex trim
(Timeless/Atrio, Authentic, Cosmo Square/Eurocube, Cosmopolitan, Allure Brilliant, Grandera,  Grotherm F & Europlus)
The Grohe 35026000
Are a perfect match for the following Grohe fixtures,   Timeless/Atrio, Authentic, Cosmo Square/Eurocube, Cosmopolitan, Allure Brilliant, Grandera,  Grotherm F, and Europlus Series
Here You can Download the Specifications-Sheet