Description
Top Home Design Features: The MKZ Wall Mount Wine Rack , Bottle & Glass Holder with Cork Storage. That Replaces the "Best Home & Kitchen Decor Designed by Anna Stay" Enjoy free shipping
Keep a deliciously bold red or fresh. And keep your crisp white wine within reach of dinner. With this premium Wall Mounted Wine Bottle & Glass Holder Rack from Anna Stay
Whether you love a good bottle of white wine with dinner now and again, or you're a true wine enthusiast. You want a smart and decorative way to keep your bottles, glasses, and system organized and trendy.
That's why we created this Anna Stay Wine Time universal wine bottle holder, complete with cork storage section. That makes it a great addition to your kitchen, dining room, or living space.
Make Unforgettable Memories
More than style and functionality, these cute wine holders help bring people together. And share their love of wine creating great stories and unforgettable memories.
A wonderful addition to holiday parties, intimate holiday gatherings, and special occasions in your life, get one today. And always keep the good times going strong.
Wall Mounted Wine Bottle & Glass Holder Rack from Anna Stay Exclusive Design
These premium wine bottle holders were designed by artist Anna Stay.
Who understands the careful balance between style, function, and convenience.
A beautiful piece. That comes with the words "Wine" on the front. You too will love mounting it in your kitchen. Or in your dining room and your home wine bar.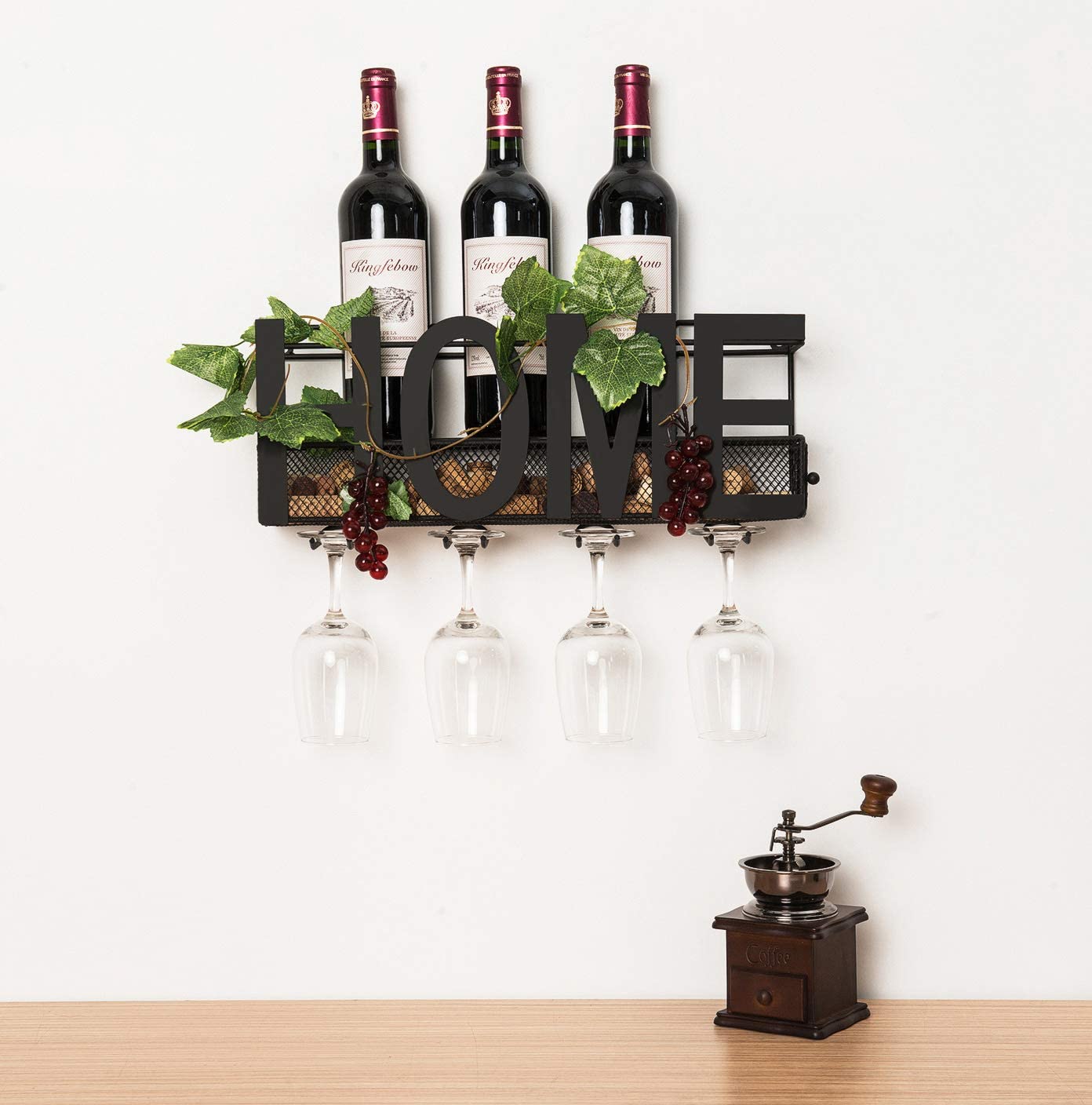 Wall Mounted Wine Bottle & Glass Holder Rack from Anna Stay Product Details:
Decorative Wine Holder
Holds Standard-Sized Bodies
Heavy-Duty Black Metal Finish
Easy to Mount
Two Style Variations: Wine or Home
Includes 4 Wine Glass Holders and Cork Tray
One Full year ,no questions asked, product warranty
Get this versatile wine bottle holder now by clicking 'Add to Cart' above and enjoy the style and functionality it offers for the modern kitchen or home.
Exclusive Custom Design
– These beautifully unique wine holders are made by artist Anna Stay, and help you create lifelong memories with friends over a nice red or white wine!
Pop the Cork on a New Bottle – The Wine Time is a wine rack stores all your favorite brands and blends, corks, and your wine glasses in single smart, neatly organized system.
Quick & Easy Installation
– Each wine holder can be installed in the kitchen, dining room, or wherever you want to enjoy a deliciously fresh bottle.
Beautiful Wine Lover's Gift
– This wall-mountable red wine holder also makes a smart choice thanks to the four built-in wine glass holders and extra cork tray.
Wine Glass Charms gift box Included
– The glass bottle holder Includes an elegant box of 6 different Fun Wine Glass Cork Charms.
The charms ensure that you and your guests never lose wine glasses at a party again.
As they attach to the stem, with an inspirational word.
That can be chosen to every occasion such as Love, Live, Laugh, Dare, Dream and Cheers.
---
 SODUKU –  1st. PRODUCT ALTERNATIVE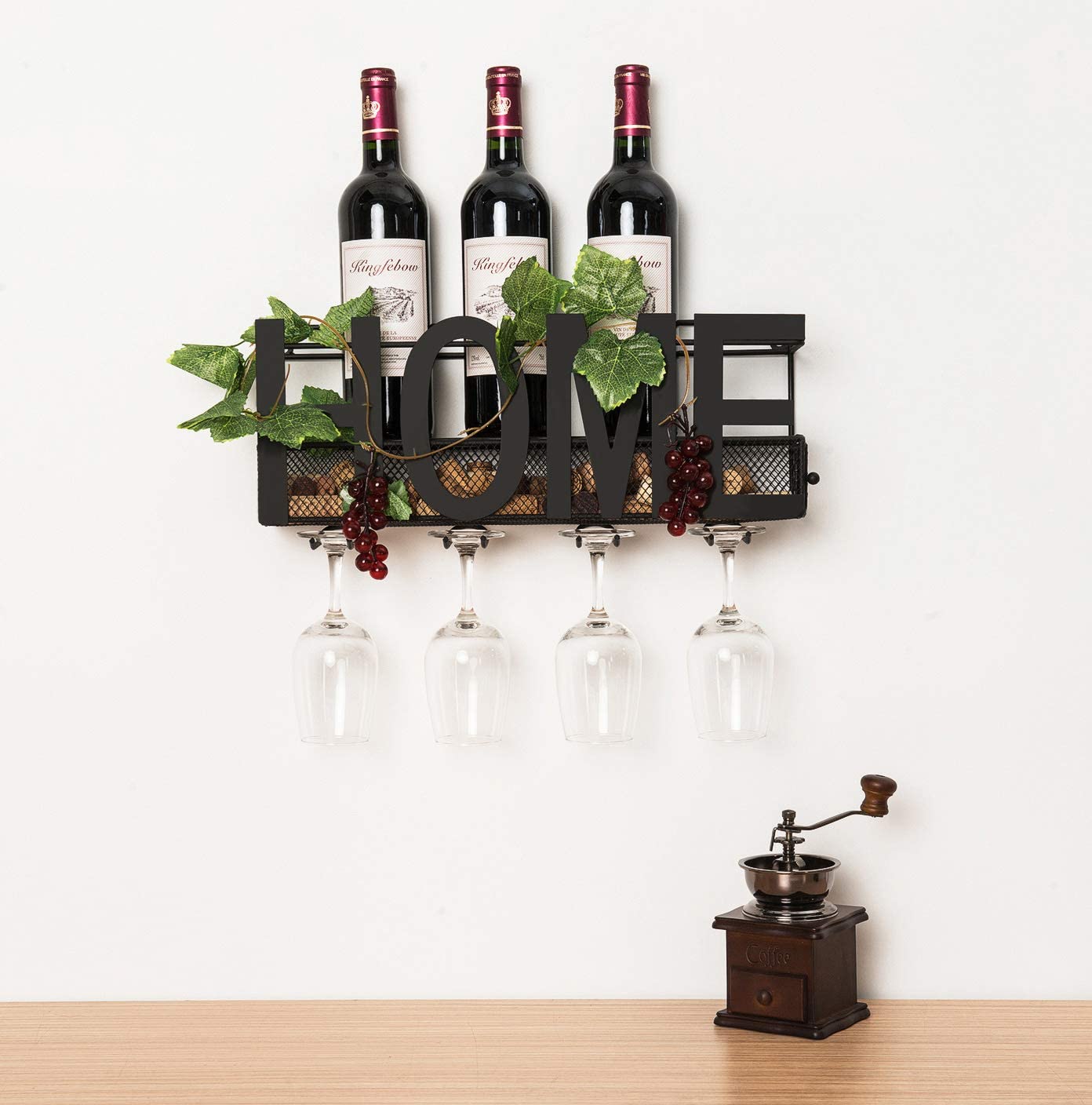 Holds 1~5 bottles and 4 glasses

Decorative wall wine rack looks great in your home

Can keep every bottle cork leave a good memory

Dimensions: 17.0″L x 4.8″W x 7.3″ H ,the screws required for installation are included

Free Wine Stoppers (Set of 3 corks) – Perfect Gift for Real Wine Lovers
---
MKZ Products – Product No.2 Alternative
Crafted from high-quality steel in beautiful brown powder coated finish. Our sturdy design keeps the wine rack steady and your wine collection secure. Impress family and friends with this eye-catching display. Save valuable floor and counter space by elevating your wine collection to the wall. Perfect for keeping wine within reach while entertaining in kitchen, dining room, living room or home bar. Its compact design conveniently fits into narrow spaces like hallways or between kitchen cabinets. Measures 16.5 x 4.5 x 8.5 inches (LxWxH).