How to Paint A Room In 5 Easy Steps
Welcome to my beginners guide, learn painting a Room In 5 Easy Steps with pro paint tips. Find professional tricks with easy ceiling tips & the best how to paint room tips…
Everybody can paint a room but to create a professional result it takes more effort and know-how.
In this painting beginners guide I will explain to you step-by-step how you can create a professional looking paint job each and anytime. I will also share with you some professional painting tips & tricks to enable you to get faster and better results.
In this painting beginners guide You will be able to find step by step painting instructions and tips for beginners.
And The FAQs will focus on to the following questions:
Further I will Give Professional Paint Tips to enable you to create a professional paint job yourself.
We have lot's to cover so lets jump right in …
Question: What are the different types of paint's for?
Answer: While some of the following statements may worldwide apply. I want to make clear that I am here referring to American Paint Products.
Question: Oil-Base versus Water-Base what does this mean?
Answer:
As you probably know the main characteristics between those two types of paint is the solvent or base the color is mixed in. Like the title says on is based on oil and the other paint is mixed with water.
Question: Why do I not see Oil Paint in the stores anymore?
Answer: You maybe not know that Oil-Base-Paint is been discontinued for environmental reasons.
Oil-Paint contains lead particles and since lead is a suspected to be a cancer initiator the manufacturing of Oil-base-Paint was discontinued in the USA.
And in case you are wondering why there is still oil-base primer.
I was told (I can't confirm this) that the manufacturer of oil base paints are paying a environmental fine for each gallon produced. And developments are working hard on a environmental friendly alternative.
You may also not know that oil-based-paint does not have a Mildew Inhibitor in it. A Mildew Inhibitor is a substance that will prevent mold. That is one reason why you should always finish paint your walls after you applied a stain blocker even if you think the color looks good.
This becomes even more important when painting damp areas like kitchens, bathrooms and laundry areas.
Primer
As to keep it simple a Primer is like its name implied a first (prime) coat of paint.
There are many different type of primer widely available. Therefore I will focus only on the ones that I commonly use during my paint projects.
The basic purpose of all primer is to seal the pores of a surface to prevent the soaking up of paint. As well as an improved paint adhesion to the painted surface. Further they will improve a more uniform look.
PVA Primer
PVA Primer is used on new installations of Drywall (Gypsum). This Sheetrock Primer is a cheap way to seal of the paper layer and mud seams. ($30/5Gal)
Kilz
Pros:
Good Stain Blocker to hide Grease spots and similar.
is available as water and oil base.
Comes in 1 and 5 gal
Cons:
More expensive than competitors
Hard to sand out
Zinsser:
Pros:
Lower price/ gal
Can be used for any type of finish coat (oil and latex)
Cons:
Only in 1 gal paint cans available
Medium stain blocking
I prefer to use the oil base Zinsser Primer from Rust-oleum, because of its price and the fact it will work with any finish coat.
Also when I use Kilz to hide spots I always use the oil-base type
Professional Paint Tip:
As you paint-store clerk to tint (ad color) to your primer and to keep it just a tad lighter than your finish paint. This will improve to cover up previous paint jobs.
Finish Paint
Regardless if you are using Lowe's Valspar or Home Depot's Bear even if you go for Sherwin Williams.
All of those paints have a few things in common and really only differ from each other in their content recipes.
However, there are some differences to find in finish paint.
Question:
What is the difference between Exterior & Interior Latex Paint?
Answer:
For one we have Interior and Exterior Grade Latex. Even though every Brand keeps their ingredients a secret. I know enough organic chemistry to be able to tell you that much.
Exterior Latex probably has a higher latex content per gallon than the Interior Version.
Also I would expect that the Interior Latex has less if any UV-stabilizer in it. And the mildew inhibitor is probably lower in an interior latex as well.
Further out of my experience I can say that the amount of Latex / Gal increases with a higher priced paint.
I myself use only top of the line paint's for all my exterior painting projects. Because it has greater latex content keeps the paint flexible. And therefore prevents it from cracking. As a result the paint-job will hold up longer.
You may also want to note that you can use exterior latex inside as well.
I have done this many times in small and poorly ventilated bathrooms.
However you should not use interior latex for painting the exterior.
Unless you are planning on re-painting it soon. Because this paint job will not last very long.
Further we have Acrylic Paint
Acrylic paint is also a latex paint however it also contains Acrylic. Acrylic has a higher scratch resistance in comparison to regular Latex.
And is therefore mostly used for trim, doors, and cabinetry.
Cheap Paint
Yes there is always a cheaper alternative and I purposely will not name any Brand
However, the Greek Gods are probably disappointed with the quality of the paint named after their Holly Mountain.
Sure you can purchase cheaper paint. However, most times it is cheaper because you get more water and less latex and pigmentation (color).
As a result you will need to apply more layers of paint to produce a decent result so you will need more paint and time.
Ergo you are saving nothing.
On top of that the lower latex content and likely lower content on UV protection as well as mildew protection will guarantee a short enjoyment of your work.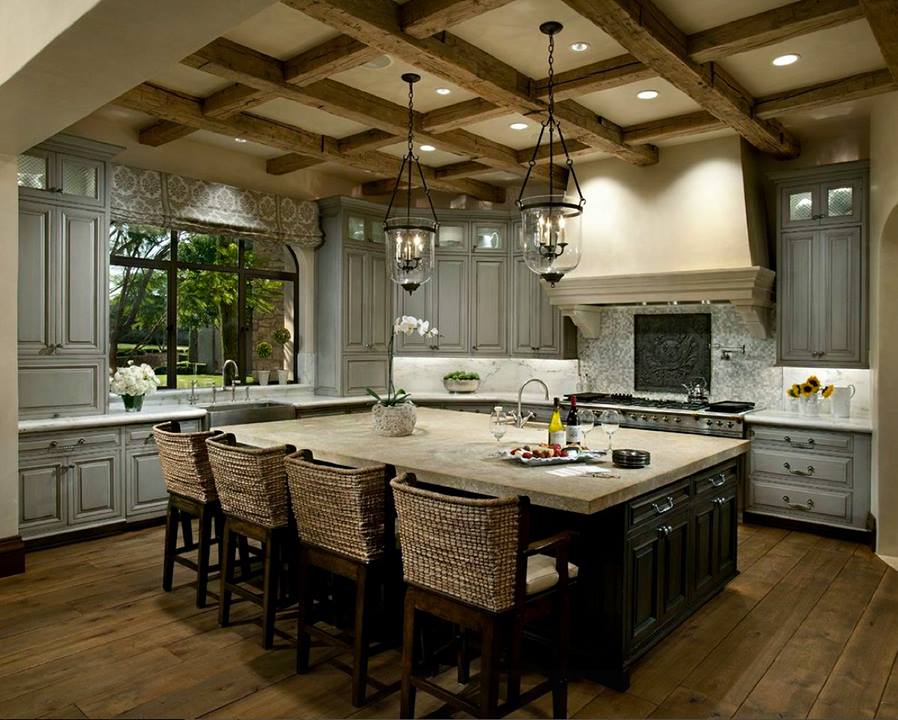 Question: What Is A Paint Sheen & Why Do They Matter?
Painting Beginners Guide Answers:
High Gloss:
Highest grade of light reflection, Completed paint looks shiny and wet. Good use for trim and dark colors to counter the light absorbing effect of a dark shade. Because of it high reflection it will also show any imperfections in the surface.
Semi Gloss:
My personal favor and mostly used sheen, Good light reflection, easy to clean, still shows imperfections.
Eggshell:
Very little gloss cam be cleaned but moister will seep into the surface. Imperfections are slightly noticeable.
Flat:
No glossy sheen, often used for exteriors, and inside of historic homes, most ceilings are painted flat because it hides imperfection very well. On the down side you can only barely wash it off.
Professional Paint Tips:
To keep the amount of labor to a minimum. You should purchase paint in a mid-range price when painting a room.
Here in the USA that would equate to $25 per gallon and up (2018). In most cases that is enough paint to cover all walls of a 12'x12' room with 8′ ceilings.
1 gal paint covers roughly 400 Sf. You calculate your SF as follows:
12+12+12+12 (4 x 12ft walls) = 48 (linear feet of wall) ,
48Feet x 8ft (ceiling height) = 384 SF
On the first look this may seam to close and you are tempted to buy 2 gallons of paint. However keep in mind that we colored the primer and we did not subtract any windows or doors what in turn will save us paint.
You can save nicely if you plan ahead and purchase paint during sales events.
And you can make additional savings if you purchase larger quantities. For example a 5 Gal bucket of paint often cost about as much as four single gallon paint can.
Often you can find marked down paint because it did not match the color from a previous customer. I bought good quality paint for penny's on the dollar like that,
Question: How to choose the right professional color theme?
Answer:
Did you know that colors can trigger emotions and behavior in humans? It is true … There are colors that let you relax better than others.
There are also color tones that will alert you and can increase your productivity. Heck, there are even some shades that can increase your appetite.
With all that said you might want to take a closer look at the Info-Graphic below. Before you make your final decision on what color theme you want to use in your room.
If interested here is more detailed information on Paint Design
Here are some advanced paint tips
Question: What Paint Tools or Painting Equipment do I need?
Painting Beginners Guide Answers: You best use following tool check list
Tools Checklist:
Putty Knife
Paint Brushes (get some cheap 2″ to trash after use & A starter pack of good
ones that cost about $20)
Paint Roller & Handle
Paint Roller Extension Pole to reach the ceiling from the ground/ floor (you can try If the threads of your broomstick fits the roller handle) it is easier to paint a ceiling from the floor in comparison to working of a ladder.
4′ Ladder
Paint Tray
3 Paint Tray Liner
Hand Sander
Caulk Gun
Box Cutter or other Utility Knife
Small straight Screw Driver

Question: I want to paint my room it is 12 foot by 12 foot with 8 foot high ceiling. What materials do I need?
Painting Beginners Guide Answers:
Below is a material Checklist based on an average size 12x 13 Foot room. Where all Walls, Ceiling and trim gets painted and 3 different color shades are used.
Material Checklist:
1–2 tubes of painters caulk
Wood-Putty
Drywall Mud
120 grit Sanding Screens for Drywall – The screen works better then sandpaper because the paper will get clogged up too fast
80 grit sandpaper for sanding wood trim (sanding screen does not work as well here)
1 gal. of Primer (Kilz is good Zinsser is better)
One gal of finish paint for your walls
1 gal of paint for your ceiling
One quart of trim paint (Acrylic)
Painters Plastic to cover flooring and heavy Furniture
1–2 rolls of Painters Tape (first-timers should use about 2″ wide and do not buy the cheap stuff)
Rags old t-shirt to trash will be good
Trash-bag larger garbage bag will be fine
Professional Painting Tips:
When it comes to buying your paint materials here are some additional professional paint tips.
You probably noticed that paint roller come in a variety of thickness. You choose the right roll based on the surface you paint. For example a short hair roller is for slick walls like plastered or drywall walls. The thicker ones ore for rough and structured surfaces like stukko or brick walls.
If you only paint one or two rooms you can buy some cheap 1 Dollar paintbrushes for the primer application.
However, if you are planning to paint many rooms you might want to consider to purchase mineral spirit and a wire-brush.
This way you can use a better paintbrush and clean it or park it till next use in a glass of mineral spirit.
Most Building Supplier offer starter kit that come with a paint tray, Paint roller and Handle Some may even include a paintbrush.
Compare the prices, sometimes it's a savings most times it is not. Go for a metal tray and a pack of liners Get a roller handle and a pack of rollers. Buy a starter pack of Paintbrushes usually in 4 sizes that will give all the paint tools you need.
Look at your room and inspect it for larger holes, like the size of a door handle.
If that happened you either need a patch kit or a plastic cover plate.
Also this way you can judge how much of sheet rock mud you may need. For Your Information at the current time a 5 gal bucket is only about $15 and you just trash the rest.
Where in the paint department a small pound size container runs about $6 bucks, Plus you can keep the bucket that comes in handy to store your new paint tools. And that one would cost you about $5 bucks if you buy one.
Keep the cardboard Paintbrush Sleeve.
After you done and cleaned out your brushes you stick them back into their sleeve.
That will keep your brush protected and in good shape. That's why the more expensive brushes have Velcro on their sleeves.
You should spend more money on Masking-Tape (painters tape) and stick to blue or green tape (3M – Brand) it will not bleed trough if installed right and removes much easier and in one piece in comparison to the cheap tan color tape. As a beginner you should stick to a at least 2 Inch better 4 Inch wide painters tape.
Question: How To Use Painters Tape Like A Pro?
Answers: First of all Pro's hardly use painters tape they work free hand.

However, let's say you tape of the baseboard so you can paint the interior walls.
You start in one corner of your room. Usually it Start by unrolling about 2 feet of tape but do not terr it of. tack the edge against the wall. First in the corner and then about half way down (1foot).
Since you attached the painters tape to only 2 spots you can still move the tape in between those 2 points. Move the tape edge as close as possible to the wall and tack it down a a few more spots.
Next you rub with your finger tips (I use my Index & Middle Finger) and attach the remaining stretch of those 2 feet. It is important not to bend or fold the tape. Therefore do not pull the outer painting tape edge (the one that faces you) down onto the baseboard. As shown in the images below.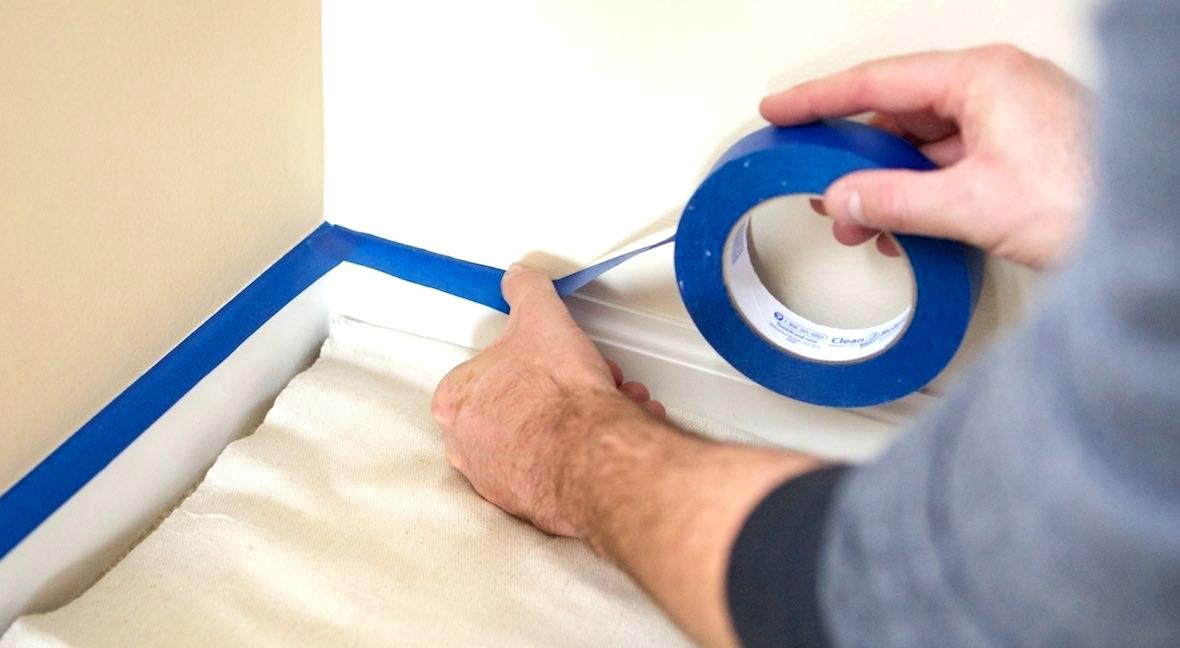 The easiest way to get the corners nice and square is to use your putty knife.
Simply run a little stretch of tape up the wall and press the straight edge of your putty knife onto the baseboard and against the wall and terr the excess tape of.
Why should you not tape onto the baseboard? Because if you use a little too much paint it will run down the tape onto the baseboard or even the floor.
Leaving The Painter tape Straight will kind of work as a stop and prevents the paint run.
That is why you need to remember that you should always remove the masking tape shortly after you painted your borders. And that you need to buy more tape than the required footage because you will have to do more then one time taping.
If your tape wrinkles you should pull it of the edge of your trim, baseboard or whatever you try to mask. And either pull this wrinkles out. Or terr of the tape and start adding a new piece by simply overlapping the already installed tape by about an Inch.
Question: Should I buy blue or green painters tape?
Answer:
Honestly? There maybe some slight advantages in using on or the other in special applications. There maybe even some I am not aware of. However, for what we are doing and what this article describes.
Choosing blue verses green painters tape, seams to me more like a personal preference than a technical reason. Maybe it will strike a clients fancy. I used both and I go by the price per yard. Therefor I most times get the blue kind as illustrated because up to today it is the cheaper one.
More Professional Painting Tips For Beginners:
Move always into the same direction and do not start in each corner and fill the rest. Because if the overlaps are all in the same direction you will be able to pull of the tape in one stretch instead of having to pull of a bunch of little sections. What will make this much faster and easier. For example you tape from left to the right and remove the tape from the right to the left.
Yeah when the paint is still wet. That will give you a perfect and clean line.
If you let the paint dry you take chances that either the tape keeps tearing or worse you tear the paint itself and need to touch all of it up.
Here is a ton of information on interior design Styles
5 Easy Steps to paint a room as Beginners
Step 1: Prep-Work is the biggest part of a professional paint job!
Therefor I will explain to you how to prep a wall for paint like a pro.
Clear out the room as much as you can. If you do not have the space for the furniture, move it into a garage.
Layout floor cover (painters plastic) or drop cloth.
You can either buy a roll of Painters plastic that will last for the whole house or buy single sheets at a dollar tree. Either way, just make sure you have all flooring covered up.
If you use plastic tape it to the floor in door-ways to keep it from moving.
If there is carpet you can also tape it to the base board or Door Casing for know.
Scrape all imperfections and loose paint of your walls with a putty knife.
Small Nail-holes can be filled with caulking larger ones you better patch with drywall bud.
I personally fill all with mud.
Because caulking will show up with a different sheen after you painted.
Most likely you will have to apply mud a few times and make sure you scrape all exes mud off so you can minimize sanding (big gobs of mud take forever)
Use the time in between applications to prep all the wood work. If you are painting all trim window & Door casings you should sand all imperfection of with the 80 grit sandpaper.
If there are paint runs from previous painting you should do your best to get rid of them or they will ruin your job.
You should also fill holes or cracks on the wood work and doors with wood-putty that you slightly sand out ones dried.
Sand your drywall mud between applications so you do not get a big build up. And apply a new layer if you still have a indention in the wall.
Ones all this prep work is done you should remove all dust out of the room. Brush off the walls and trim, or use a vacuum for the biggest part and wash off the rest with a damp cloth.
Next, it is probably best to replace the floor cover.
Take the tape loose and pickup each corner of the plastic to form a bag so you have about all dust in the plastic and don't spread the mess.
Now you should caulk all edges and the inside corners of your room. By all edges I mean where the trim lays on the walls.
Use either a damp rag or your finger to wipe down your applied caulking.
Professional Paint Tips:
No worry if you make a mess with painters caulk at first. You can mix yourself a bowl of water with a little dish-soap and wash the caulking of.
It is useful to cut only a small opening on your calk-tube. So clip only a small piece of the tip. Also you should cut it in an about a 45 degree angle but that does not need to be perfect.
Larger gaps should be filled with sheet rock mud and sanded before caulking
Ones all cracks are filled and all caulking is completed you can move on to the next step.
Watch the how to prep walls for paint Video that might give you additional clues.
By now you should see some progress in the appearance of your room you did good.
Next you should use the small screw driver and remove all cover plates from electrical receptacles and switches. Either place all screws into a zip-lock bag or bowl. Or do as I do and put them back in, so none get lost.
If you paint the ceiling you should also loosen the light fixture trim and slide it down your pendent light. Flush Mounted fixtures you should tape off.
You better wrap your light fixture with painters plastic to keep paint splatter away from the fixture.
Don't forget to replace the floor cover because next we start painting.
Apply a coat of Primer
Even though modern paints have already a primer included I still use and recommend to use a primer coat first.
And I will tell you why:
If you patched holes with drywall mud or exposed wood through sanding these areas will soak up paint. Remember 1 Gal of paint will cover roughly 400 SF and usually you should place one coat of primer and 2 coat of finish paint.
Professional Painting Tips:
Primer cost much less than a good finish paint.
For example if you installed new sheetrock the paper needs to be sealed and 5 Gal of PVA-Primer will cost around $30 in comparison to a mid-grade finish paint that will cost about $120 per 5 gallon.
The trick is to get the primer tinted (colored).
Ask your Paint Supplier to tint your primer to match closely to your finish.
Question: How long does it take for the primer to dry?
Answer:
The Kilz or Zinsser drytime will greatly vary by the thickness of the applied layer, room temperature, and humidity. You can refer to the product instruction of you chosen primer. Also, if it feels dry to the touch and is not sticky you should be able to move to the next step.
Roughly sand of the primed wall surface to remove pilled up dust. Wipe with your hand over the wall does it feel rough? Use your drywall hand-sander and wipe the wall of. This will create a nice smooth finish on slick walls.
Congratulations you completed all Prep-Work and now the fun part begins!
Step 2: Painting Ceiling Like A Professional Painter
Regardless if you are applying primer or finish paint, the best way to paint a room yourself like a professional is to follow this method.
Start by stirring your paint thoroughly and place a paint liner into your paint tray. We use liners because it will make it easier to switch colors or paints. And it will keep you from having to clean up the tray each time you change paint.
When painting a room you should start with the ceiling. Because if you would do it the other way around. Ceiling paint could get splattered onto your walls. And it would be a shame if you already had finish painted those.
So start by painting ceiling, once finished you start with painting walls as well.
First you should use a 2-4 Inch paint brush and paint all the outlining edges. Where the wall meets the ceiling. The guy on the ladder in the image above is cutting in . While the the other one uses a paint-roller on an paint roller extension pole to fill the wall area.
If there is crown molding installed (ceiling trim) you should either tape it of, or paint it like the ceiling as you can see in the photo as well.
Professional Painting Tips:
To improve mobility you can poor some paint into a rinsed out milk jar (1gal)
or a 2-3 litter soda bottle. Simply take the box-cutter and cut the jug about half way off. Don't use the tray till you use the paint roller.
Painting the crown molding in a different shade of color will make is pop out more. However, if you have a small room, painting the trim and molding in the same color as the walls will make this room look larger. Also, If you paint the ceiling darker as the walls and combine it with a darker floor the room will appear larger.
If you live in a small space here you can find tips on how to make your home feel bigger.
Like in the photo below.
Okay, back to your paint job…
After the cutting in is done you can use a paint-roller to fill out the rest of the area.
Poor enough paint into your tray to fill up the lower storage part of the tray. And close the paint can or bucket back up.
Don't worry if you get the paint level a little on the rippled area of the tray. Just don't fill the tray all up! Because the rippled area is used to squeeze some of the excess paint out of your paint roller and helps to cover the roller more evenly with paint.
Basically you will dunk your roller into the lower paint tank and then roll it in 2-3 strokes over the rippled part of your paint tray.
Then you can move your paint roller on to the wall and paint. In case you don't know this, you best apply paint in an overlapping or crossing method to ensure that you don't miss a spot.
Meaning you should paint like in a V, W or X pattern.
When you noticed that the paint on your wall fades you repeat the steps of dunking and rolling to pickup new paint.
Ones you are done get a small trash-bag or plastic grocery bag and wrap up your paint roller. This will prevent it from drying out.
Step 3: How are you painting walls like a Pro?
While your first coat of ceiling paint is drying you can continue to cut-in the walls. Basically you will paint a wall in the same way as you just did the ceiling.
Here is a Video on how to paint a wall basics that you should watch!
Professional Painting Tips:
Before you apply your first layer of finish paint you need to rough sand off all wall area after the primer coat is dried.
Why? Because your paint roller collected all the fine dust from sanding that remained and creates little cluster of paint and dust.
Just wipe with your hand over the walls and you can feel it. It feels like sandpaper right? Get your hand-sander place a 120 grid screen into it and just sort of wipe of the dust.
And check in between if the wall feels slick.
If you are painting textured-walls you can skip this step.
Start by painting around all windows baseboards and doors, as well as in each corner of your room by using your 3″ Paintbrush. It is also smart to paint around your electrical receptacles and switches.
By the time you done all that, the ceiling should be ready for another coat of paint. You can also refer to the instructions on your paint can label.
Keep in mind to work your "v" "W" or "X" paint pattern. After you applied the second coat of ceiling paint you should give it a break and wait till the next day and let it all dry. If in the next morning you still find a few missed spots you can paint those over. Professional Painter call this a " touch up."
Also to create a professional finish you need to rough sand off all wall area after the primer coat is dried.
Why? Because your paint roller collected all the fine dust from sanding that remained and creates little cluster of paint and dust.
Just wipe with your hand over the walls and you can feel it. It feels like sandpaper right? Get your hand-sander place a 120 grid screen into it and just sort of wipe of the dust.
And check in between if the wall feels slick.
If you are painting textured-walls you can skip this step.
Step 4: Painting trim & baseboards like a pro
After you completed your ceiling and wall paint, you should take a break from painting and let all of it dry.
Take a quick look and check for any missed spots before you clean up your paint tools for the day. Also double check that you removed all Painters tape.
The reason why I call it quits is that it is much harder to paint trim when the walls are still wet. It gets really messy if you hit the wrong places so wait till the next day.
The following Morning, you best check if all the borders at your trim are dry.
If so, you can start taping the walls off along the trim edges. Or if you feel confident enough start painting your trim free hand. Practice on an section that won't show like the door casing inside of a closet or the baseboard behind the sofa. By now you should have a feel for the paint and how it flows.
You can do it. And if you miss take a rag wipe it off and touch it up later.
Have fun!
Step 5: Cleaning & Store your painting tools for next time
All you need to clean are your more expensive brushes rinse the once that you used for latex paint under running water. Use cold or warm water.
Rinse as long as it takes till the runoff water is as clear as from the tab.
Turn your brush upside down (handle pointing to the ground and run water into the brush to flush out paint that run back to the handle while you worked over head.
If the water is clear turn her back over and tap it onto the sink like you would paint it.
Finally use a scrub or Nail brush and brush the paintbrush bristles from the handle to the end out to remove any paint that may have dried on.
Lastly give one more rinse and take it outside to sling the water out.
Professionals tap the brush on the tip of their shoes to slink out the last water.
Straight out the brush bristles and place it back into its sleeve till you need it again.
Question: Can you make a Painting Job Fun?
Answers:
Make it a party. Have your friends come over and make it a group effort add some music and if you like a few beers and the job gets done in no time.
Painting a kids room for the little ones. Get them involved, kids love to paint. Use latex so it will wash out or maybe even get finger paints and let them go wild.
When mine where little they where big sponge bob fans. So we decided to paint the room like we are on the ocean cround and under water.
We bought wall paper with fish and other under water creatures on it and cut those out and glued them on the underwater world.
This was a fun party and project and we all still talk about it.
It does get a little more tricky when the little people grow up. However, I have also some tips on how to design your kids rooms
Pro and Cons of Paint Sprayer
The big advantage of using a paint sprayer is time savings. However, It takes skill and practice to work with a professional paint sprayer. With out this practice you are very likely to create or wind up with a big mess.
Therefore I would not recommend to use a sprayer to a beginner.
I use a sprayer for exterior jobs, commercial applications and if I have to paint many rooms.
Should you decide to try it anyways here are some pointers.
Cover all walls, windows doors and flooring with painters plastic.
Rent or buy a professional grade paint sprayer.
Follow closely your sprayers manual
Get practice – start if possible in a basement or garage where it does not matter if you spray too much paint and get runs.
When Spraying interior walls or ceilings Use as little as possible pressure. This will reduce the amount of paint shooting out of your paint gun.
While spraying, keep your spray-gun moving and pull the trigger in a pumping like motion (keep letting go don't hold the trigger pulled)
Don"t forget to wear a appropriate breathing mask and Eye protection.
By now you probably realize that this actually is more work then just using paint brush and paint roller. And you are right. I would never use one for just a room or two.
Another con or drawback is that you actually still roll after you sprayed to make sure you do not get paint runs.
Further, you waste paint if you spray you cover only about 350 SF. Because some paint gets lost in the mist (over spray that's why you should cover the walls) and your paint coat is much thicker.
Plus you need to break down the sprayer and clean all the parts and pieces. While you can just pull off the roller cartridge and toss it into a trash-bag.
Question: How much does it cost to paint a room?
Answer:
Okay, let's recap: Based on a 12'x 12′ room...
If you just start out you will need all the tools and materials, so we keep it to the essentials;
How much do you expect the materials will cost?
Okay, you will need:
1 gal (3.79 l). Primer, 1gal (3.79 l) Paint (walls) 1 gal (3.79 l) Ceiling white, and a quart of trim paint.
Further you need 2 tubes of caulking, plastic to cover up with, and 2 rolls of Painters tape. So all required Materials should cost roughly $100.00
Great, how much will the tools cost?
Let's assume you have a stepladder. However, you will need to buy a Paint Brush (2 inches (ca. 5 cm) wide about $15), a paint roller handle,  and 2-3 replacement rollers.   As well as one metal paint tray, liners for each color / paint (3 pieces), a caulk gun, and a box cutter. Maybe a tape measure will be needed as well.
All tools will be closer to $50.00
TIP: Look for a starter kit usually comes with a metal tray (no liners) a roller handle and replacement rollers and some have also a paintbrush included.
So a 12 x12 foot room with 8 foot ceiling will cost me about $150 if I go DIY?
That is correct. If you're starting from scratch and do all the work it will still cost you about 1 Dollar per SF of floor space (12×12=144)
Now I like to turn it over to you!
I hope you found useful information in my Interior Painting FAQs & Step-by-Step Guide on painting ceiling and painting walls for beginners.
Did you find everything you needed to know?
Will you be able to paint your first room?
Do you have any questions?
If so please comment below. Please don't forget to like & share with you friends
Thanks for reading.
JK 🙂
Here are some advanced paint tips sorted by rooms.