Just about everybody dreams of turning an okay-but-not-perfect home into a dream home. That's why home improvement stores and do-it-yourself television programs have become so popular in recent years. And there's no reason you shouldn't remodel… as long as you know what you're getting yourself into, so you can avoid the pitfalls and remodeling mistake that often snag unsuspecting homeowners.
So, how do you fix up your home correctly? Keep the following "5 worst" remodeling mistake in mind when you're planning and carrying out your project.
1. Be careful about over-expanding with additions.
Adding an addition can be one major remodeling mistake. If you love your neighborhood and your location, and you're planning on staying in your home for the rest of your life, an addition can make sense. If, however, you see yourself moving someday, think about the ramifications adding a lot of square footage onto your house could have.
You'd think that any increase in size would automatically add value, but if the other houses in the neighborhood are one-level, one-garage ranchers, your decision to add a second story and a bunch of fancy bump outs might just look out of place. This can make it difficult to sell. People want a big upscale home in a neighborhood with other big upscale homes, not a big home that dwarfs everything else in a modest neighborhood.
Remodeling Mistake – Budget
2. Watch out for under-budgeting problems.
Home improvements are always more expensive than you originally estimate. They usually take a lot longer to finish than estimated too. This means homeowners regularly go 20-30% over their budgets, which can leave them in a world of financial hurt.
To protect yourself, be very conservative when figuring out how much of a remodeling job you can afford. Assume costs will go over estimates and make sure you can handle that additional financial burden.
Adding 30% as a safety cushion is a very progressive Idea and can help you to be ready for any snag. If you are hiring a pro take the estimated total cost and multiply with 1,3 to get the total with a 30% overrun. That may not sound like much, however, 30% of a $30,000 remodel will turn the ticket into 39,0000 and those almost extra 10 grans you have to find somewhere.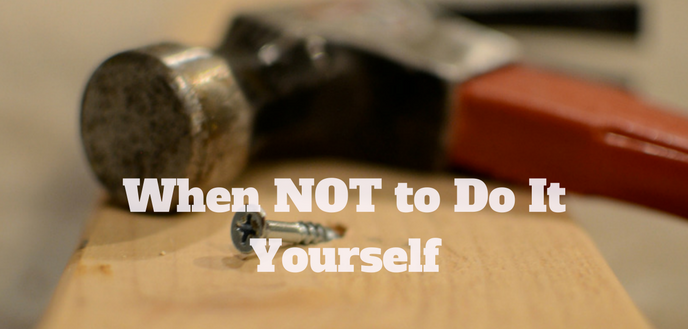 Remodeling Mistake – Design
3. Don't turn your home into something it isn't.
You should also make sure to keep the style and design of your house into consideration when you plan a remodeling project. An ultra-modern bathroom with concrete countertops and stainless steel cabinets is going to look a little odd in a Victorian Craftsman House.
Chances are that if you don't match the style of the home, it will become a big turnoff to potential buyers down the road. This is particularly true for historical homes; people want the original details. They're a big part of what gives those older homes their appeal and value.
With that being said, there is nothing wrong with giving you historic home some updates. However, you need to go for hidden features and make it fit the house like it was always a part of it.
Here are some additional tips for historic home renovation
4. Don't do it yourself if you're not qualified.
There are plenty of projects that do-it-yourselfers can handle, but when it comes to full remodeling jobs, you're better off letting a pro take care of it. Even if you're experienced and could handle both design and construction.
Pro Tip: You should try to work out an 80/20 approach with your contractor. What this means is that you will apply some of your labor or skills yourself (20%)
According to a statistic from NARI (the National Association of the Remodeling Industry) about 25% of all homeowners done this last year. I not only support this idea I also suggest it in many of our projects.
For those of you that are DIY newbies –Due to inexperience, amateurs end up doing bad (or unintentional sloppy) jobs, and that's something that will devalue your house. And that could really hurt when it's time to sell.
Or even worse, you may find out halfway through the job that you've missed or screwed something up big time and now you need to hire a pro to fix up your mess. I guarantee you any contractor you call will get a big smile on his/her face. Because know you'll not only have to pay the cost of the job, but you'll have to pay extra for your own remodeling mistake.
Either way, if you insist on DIY you should check out my Remodeling Guide with step by step instructions and how to's.
5. Don't take on unnecessary renovations.
If you're remodeling at least in part to increase the value of your home for when you sell it, don't bother with projects that won't recoup their cost (and there aren't many major remodels that do). If you're selling your home, fix anything that's broken and do simple (and economical) cosmetic jobs. Let the future homeowner spend the big money.
Of course, if you're remodeling to turn your home into your dream home and you want to live there for a long time to come, then you can make any changes that make sense to you.
Just don't think of remodeling as a financial investment; think of it as an investment in improving your lifestyle.
However, the latest numbers from the trade magazine for the return on investment (ROI) shows that for our East Coast Region a midrange Kitchen Remodel will cost approximate $20,000 and it will, if done right, improve your homes resell value by about $16,000 that is an ROI of 80%
As my conclusion I want to say that with carefully planing and smart selections you can steer clear of these too common mistakes simply by following my proven remodeling step-by-step process
Now I want to turn it over to you.
Did you learn anything new? Do you have any additional tips please feel free to comment in the box below. Or ask me any questions on this matter and I will do my best to answer each and every one of you.