A Throw blanket is a fantastic way to add color, design, and texture to your living room, bedroom, and any other area that needs a cozy touch. Whether you are snuggling up with the kids or a special someone, throw blankets are perfect for cuddling.
These blankets come in various sizes, colors, patterns, and fabrics to add interest to your spaces and elevate the overall design. Choosing the right blanket to compliment your space is as important as displaying it well. You want an effortless feel, but not something that comes across as messy or unkempt.
Choosing the Right Throw Blanket
Throws come in many different colors, fabrics, patterns, and sizes, which means that your possibilities are endless! Before you can get started displaying your throws, you have to choose a blanket that complements your space well.
No matter what you decide, the great thing about throw blankets is that they are a cost-effective way to add a lot of flair to your home. First, you need to consider your home design style and what kind of blanket will best complement your style.
Is your home mid-century modern or minimalist? Maybe your style leans more towards a farmhouse vibe or traditional feel. Whichever type your home décor fits, it's best to choose a throw blanket that will add something to the room, rather than clash or bring down the entire décor.
If you have a more modern style, like minimalism or mid-century, go for very simple patterns or a solid color. However, feel free to play with shapes and textures to add depth to the room. More traditional décor styles should stick to blankets within the same color palette, but nothing too matchy.
How Big and How Many?
Choosing the size of your throw blanket can feel a bit confusing, but it is quite simple. Consider the function of your next blanket. How are you going to use it? Which furniture pieces are you going to put it on, and in which room will you display it?
As a rule of thumb, big blankets are best for the couches, as they tend to be larger. Therefore, you need a piece that will have a presence and not get lost in the furniture. Smaller blankets work well for chairs and benches and usually are much more intended for style rather than function or comfort.
When choosing the number of throw blankets to use for your space, you can always rely on the ever-handy rule of three. Using pieces strategically within the scope of this odd number adds interest and depth to your room.
For example, on your couch, you can have two pillows and one blanket, two blankets, and one pillow, or three pillows and two blankets (we know it's five, but it is still odd – so it works!). If you want to have an abundance of throws, we aren't judging, and there are few ways you can incorporate them into your space. More on that later….
How To Best Style Your Throw Blankets
There are plenty of great ways to use your throw blanket as both a stylish accessory and a comfy addition while keeping your space's design in top shape. Like we mentioned before, if you are a fan of having many blankets, or you found too many that you like, and you can't choose just one, then you have plenty of options!
You can store them in a basket, place a decorative ladder against a wall, drape them over the planks, or grab a few that have similar weights and stack them. You would be surprised at how appealing a well-stacked, artfully curated bunch of blankets can look in a neatly folded stack.
If you are using your throw blanket in your living or family room,
You will likely drape it over the couch or on a chair. Avoid throwing it over the back of the sofa – it looks lazy. Instead of sprawl it across your couch with a few pillows that complement the blanket's style. With this option, you want it to look casual but still maintain some structure and elegance. You can also strategically fill-up a decorative basket with a blanket or two – cover is optional.
A Clean Look
In case you prefer a simpler or cleaner aesthetic, you can neatly fold the blanket and strategically drape it across the back, seat, or side of your couch. Size and placement are essential when choosing the design option. When displaying your blanket on the seat of your sofa, fold it neatly and let the bottom of the blanket graze the floor below.
If you are going along the back or the armrest, keep it to one blanket and place the blanket slightly off-center or to one side. This creates a more appealing view of the eye as it creates more interest.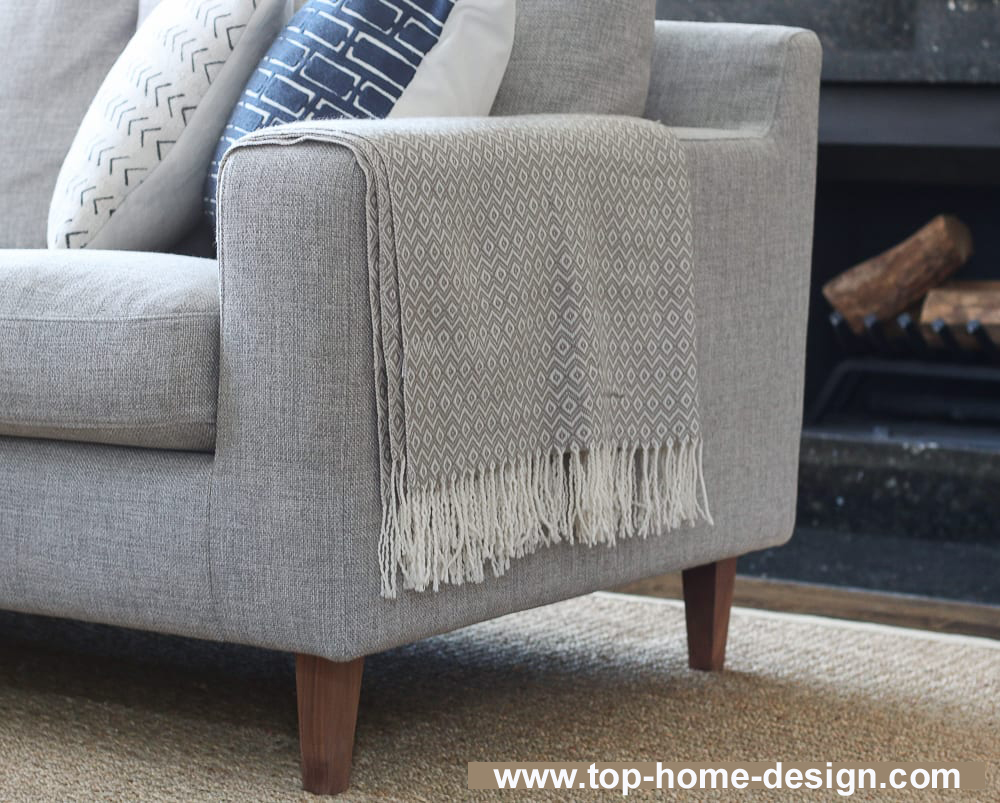 That's all there is to it, a few effortless, easy, and stylish ways to upgrade your spaces with a throw blanket. Start with picking a fabulous throw that is a shape and size which complements your décor, then choose the best way to display it for all to see! Feel free to mix form, function, and style – just refrain from the messy look.
Conclusion
Of course, you want your space to look welcoming and homey, but you don't want to fall into the trap of messy. Here are a few basic pointer you should keep in mind
Try to avoid leaving napping blankets out on your couches and chairs. What the difference between your napping blanket and a throw? Simple, your throw blanket adds style.
Your napping blanket is cozy, but it is probably better suited in a closet or storage space. Also, ensure that the size of your throw blanket is going to complement the room nicely.
A blanket too small or too big is going to look awkward and disproportionate within the space.
[ays_quiz id="14″]