Wallpapers and borders have been used in decorating projects forever. You won't believe how many times the right wallpaper's design saved my butt. For me wallpaper is usually the go-to the option that pulls all the colors in a room together and saves my design.
You think you are ready to hang wallpaper. However, you probably should read this post before you even buy any.
Is shopping for your wallpapers confusing to you ?
Gone are the days where you only picked the design and color. Modern-day wallpaper consists of a large variable material combination. You may think that this is to create different styles. And you are correct, at least partially that is … However, did you know that those combinations are also infused the wallpaper with different physical characteristics?
These strengths (characteristics) are the deciding factors of what type of wallpaper for each room is best. And you probably agree with me, that this is essential for you to know.
Therefore we will first discuss Three Wallpaper Types and highlight their strength and best use.
What are the options?
The three most commonly used wallpapers are,
paper-backed vinyl print,
fabric – wallpaper,
vinyl – foam -wallpaper
The vinyl print wallpaper
Has a mostly smooth vinyl finish. It's very popular because of its durability. The easy to maintain surface can be washed and works excellent in moist rooms like kitchen, laundry rooms and powder rooms. Most of them are easy to install and could even be a DIY project for a beginner.
If you however worried to use wallpaper in a bathroom consider how wet the wallpaper really will get. How is the airflow in the bathroom? Or just use this trick to improve the wallpaper's bathroom durability. Once installed add a clear coat with a paint brush or a roller. Or use this stuff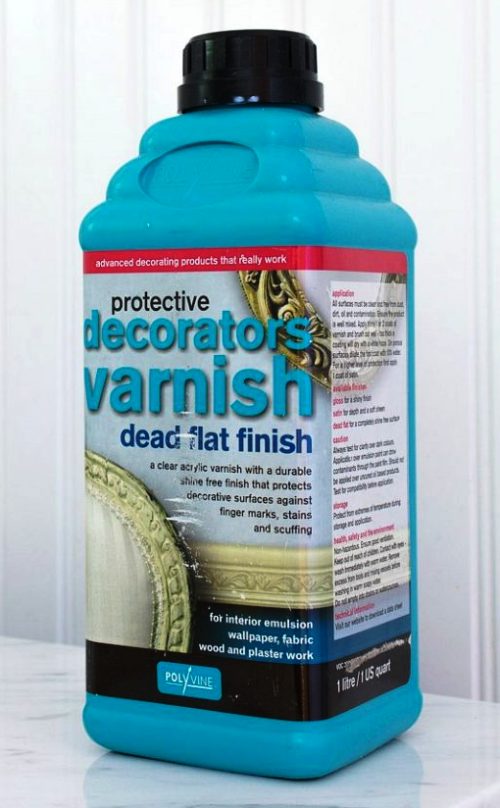 Fabric wallpapers
The fabric is usually cotton, linen, or other natural plant fibers, such as grass-cloth, hemp, or burlap. Most textiles fray easily and are only limited to not washable at all. They give a room a very classy look and can complete any nature décor. I have to warn you though if you own cats, because they love this luxurious wallpaper as well. This type of wallpaper works best in hallways, living rooms and studies. If you had practice in hanging wallpaper you can try it yourself. However, if you never hung any wallpaper you be wise to leave this one to the pros.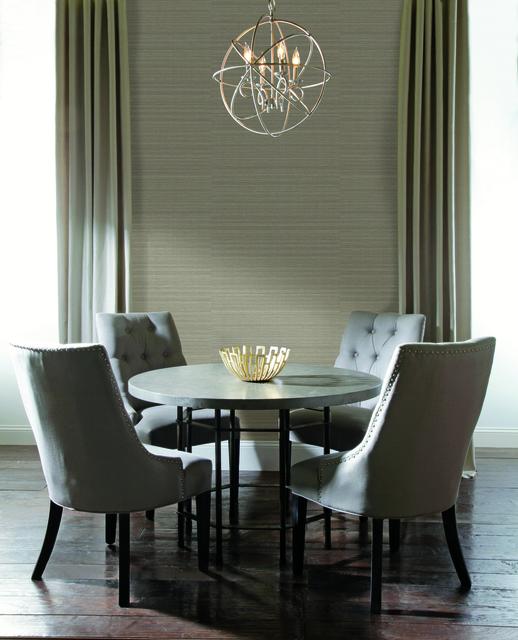 The Vinyl-Foam wallpapers
This paper backed wallpaper has a vinyl foam structure for finish. The look is similar to knock-down ceilings or structured walls. And the three-dimensional surface comes in many looks, such as plaster, granite, or grass cloth. It is paint able with latex paint what in turn makes it mostly washable. This wallpaper is durable and works even well in most traffic areas of your home.
There are a few good reasons to use the wallpapers instead of structuring the wall.
It is so easy to install, that even beginner should have no problem. (I started with that type myself)
To change the look you only need to remove the wallpaper no filling scraping and so on.
There are many more wallpaper options like solid paper wall coverings. Including but not limited to hand-screened papers, foils, flocked papers and textured patterns. Plus there are options to use wallpaper Borders and murals. Both textile and paper wallpapers should be best installed by professionals.
How many rolls do you need?
Follow these steps to determine how many rolls of wallpaper you need to buy.
measure the height and width of each wall using a tape measure. Round up to the nearest foot.
Multiply the height and width of each wall the result is your SF per wall,
Add all the figures (SF/wall in each room) together to get the total minimum square footage.
Now you have the total wall area figured (including windows, doors) If you buy a discount wallpaper ($1-$3/roll) you can ignore those openings. Or designer wallpaper with classics ($250 + per roll) You should measure the larger windows in a room and subtract their SF from your wall Area total.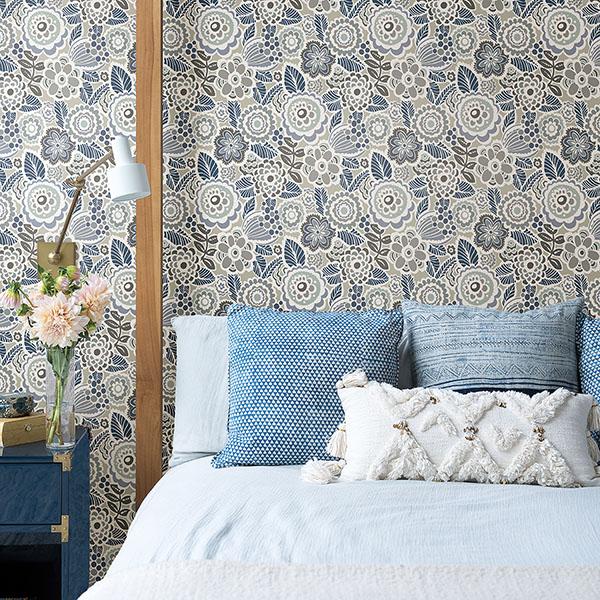 Next step would be to pick out your type and design wallpaper.
I recommend asking your supplier for a sample bock and to take it home. Keep in mind that you will have to look at it for a long time. Even if you do not like it, statistic proves that wallpapers and window dressings are the least changed items.
Once you made your decision, take a closer look at the roll. It should give a measurement of rapport.
What is the rapport and why does it matter?
Let me explain, Wallpaper is produced on rollers similar to newspapers. Therefore, the print design of your wallpaper repeats each time these rollers made a full turn. So it could be that the design on your roll repeats every 18"
That becomes important when you are wallpapering (install /hang) the wallpaper). Let's say you picked a flower decor. And you already snapped a plumb line for the first course of wallpaper on the far left corner of your wall. Further you know that your wall is about 8' tall and you hang the first panel. Now in order to match the flower decor from the next panel (left edge) to the installed one (right edge), you most likely need to move the wallpaper panel a few inches up or down.
For that reason you cut each wallpaper panel length, to the needed wall height plus the repeating pattern (18 Inches). And you cut the excess ones you glued the panel up in place. Therefore, you need allow for the extra wallpaper when you order.
Decorating Ideas for Wallpaper Borders
You should know, that you can use wallpaper Borders, to either accessorize each room individual. As well as pulling all spaces together, by using similar elements in the wallpaper border decor like flowers, shapes or colors.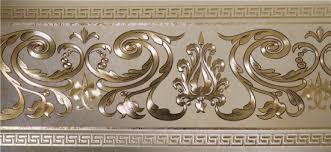 Many people use wallpaper borders that complement their interior decor. Wallpaper borders are not only easy to install, they are also inexpensive, and come in a sheer endless variety.
You can express your personal taste without breaking the bank. There are many great manufacturer deals out there that can help to keep cost down. You can also take advantages of discount rate wallpaper dealer.
Buying Discount Rate Wallpapers & Borders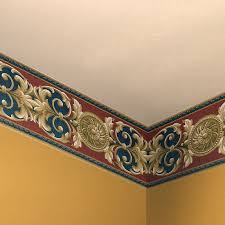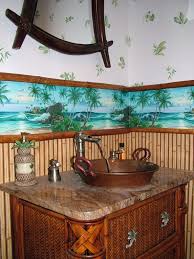 Some people might argue that, these wallpapers are marked down, because they might not be full rolls. Or the dealers don't have enough in stock to complete a room in one design or styles.
However, the fact is that these providers have a great selection of wallpapers. And they might be buying discontinued designs for a much lower price. What in turn, enables them to offer the product to you at a much more reasonable price.
You should focus on 2 factors if you decide to purchase discount wallpaper. Because the best buy is either A. inexpensive or B. a high quality product. And if you pay close attention the wallpaper discount outlet offers wallpapers that contain both.

Those who want to learn more about discount rate wallpaper borders check out the following link. It offers terrific info about how and where to get marked down wallpapers. For additional info, Click Here!
Decorating Ideas with Wallpaper Stencil
Faux finish stenciling is an inexpensive way of adding decorative detail. The key is to apply the embossing material evenly over the stencil, building depth in thin layers. You truly can bring boring wallpaper alive by stenciling. It can also create an eye-catching detail on any surface like cabinetry or doors.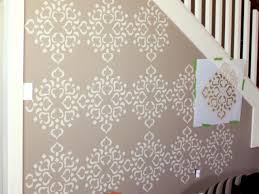 What do you need?
Quality supplies and proper care of stencils is the key to success. You will need the stencil, paint, masking tape and a tool brush or sponge to apply the paint.
You can buy complete stencils kits, or make your own. If you find a painting, drawing, or photo with great stencil potential, it's not difficult to use that image to generate your own stencil. However, like with most other decorative techniques, the simplest schemes are usually best and most successful.
Test your new Stencil: Test out your patterns either by cutting the stencil from colored paper or by drawing it onto a sheet of paper and holding the results up against the surface to be decorated. The wall to be painted should be clean.
Apply a base coat of paint.
Position your stencil. You best fix the stencil position with masking tape.
Load your brush or sponge. Use only a very small amount of paint, starting at the edges of the design and working inwards. Don't remove the stencil till the paint is mostly dry.
Clean the Stencil. Ones you removed the stencil clean it and place it into the next position.
Reapply paint as necessary. When all the stenciling is done you can touch up the painting.
You can, after the stenciling completely dries, sand the faux finish lightly with fine sand paper (200 grid or better) to soften or age them.
Apply the stencil as a ceiling, wainscot or baseboard border, or as an all-over pattern, like wallpaper. If the stencil becomes too build-up with paint, or if you want to save it for another day, scrub it clean with detergent and dry on paper towel.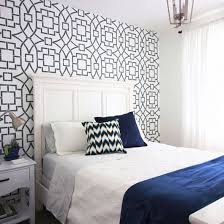 How to texture a wall with paint?
In this example we will produce a rough textured wall with a dark green surface area You will need:
1 gallon of yellow paint
Another gal of a darker green (or any shade you select).
1 3/4 ″ thick paint-roller (for rough area).
A paint tray.
1 cup of granite dust or quartz sand.
Optional a little pouch of silver or gold shine. (great shimmer outcome).
Mix about half of the quartz sand to your yellow paint a half a cup per gallon will be plenty. Mix the sparkles too to the color. Guarantee that you regularly stir the paint throughout the painting process to prevent the sand from settling in the bottom of the can.
Use a paint roller for rough area given that they are thicker and pickup more paint.

How to apply the paint – granite mix?
Utilize a thick coat to your paint roller and paint rows of huge X all over the wall. The size of can be anywhere from 6-12 Inches trust me it does not matter. Continue to do so till you have your wall from causing bottom and from side to side filled with those huge X'es.
Next you fill all the empty locations around those X with smaller sized ones. Continue to submit those areas till your wall is mainly covered. Supply the paint a number of hours to dry.
The following day you mix the green paint as you did the yellow one and continue to paint the X pattern till there vanishes white skim coat obvious.
The result will be a truly structured glittering wall that feels to the touch like rock. The texture is the best at each cross-point thinking about that you layer progressively more textured paint on top of each other.
Merely a last piece of recommendations is you should open your mind to endless possibilities. There are various approaches to establish an unique interior design.
Conclusion:
You could simply choose between elegant silk or flocked living room wallpaper for example. And either texture will add richness to your room walls.
However, when it comes to wall-covering choices, you may want to think outside the box, as they say.
A friend for example, wallpapered her living room with a flowerier decor wallpaper. The wallpaper decor was a nice subtle dark brown on a beige background. … However, she colorized a part of the flower elements with red nail-polish and that insanely idea gave the wallpaper the needed punch and it looks totally awesome.
Consider your options, even think beyond wallpaper covering. You could use traditional materials in new or different way, like hanging a multicolor rug on a wall. Or think of other places to use them, like using decorative tile as dining room art pieces.
The options are endless, because materials like stone, ceramic tile, wood, and different metals can be used to cover a wall just as well.
Here I like to turn it over to you.
Did you find the information you where looking for? Should I add something? What type of wall finish will you try?
Leave us a comment or ask your questions in the box below.
Thanks for reading and sharing. JK J
Learn how to texture with paint, or apply structure to walls only using Sheetrock compound and a brush, For the details, Click Here!